May 25, 2011
Posted by Tyler Cruz
Exactly one year ago to the day, I finished my weight loss challenge against Paul Piotrowski. It was a very gruelling competition in which we both had to lose 6% of our starting weight within 10 weeks, but in the end we both managed to just barely make it. I ended up losing a total of 17 pounds, and Paul lost 15.
The second that challenge was over, I immediately went back to my old ways and ate a lot of fast food and junk food over the whole year. What can I say? I absolutely love food. If it wasn't for all my badminton playing, I'd probably be even heavier than I am now. Unfortunately, I'm a bit ashamed to say that I gained back all the weight I lost since the last challenge, and then some.
In fact, I am now at a new personal record high, weighing in at a scary 212.8 pounds. Because I gained back so much weight (as did Paul), we both decided to engage in another weight loss challenge. "The Rematch" – so to speak.
Only, this is not like either of the 2 prior weight loss challenges I've engaged in on my blog. No, no, no. This one goes above and beyond.
First, this challenge will run for 4 months (120 days), which is a full 50 days longer than our previous challenge. This means that we'll have to keep the weight off over a longer period of time, making last minute professional-fighter type weight loss more difficult (since there is a lot more weight to lose) and will also help set us up to continue to keep the weight off longer this time.
Secondly, we each have to lose 14% of our starting weight! This is an increase from 6% in our previous challenge. 14% works out to 30 pounds for each of us! 30 pounds over 120 days means that we'll have to average a weight loss of a quarter of a pound every single day for 4 months straight!
Lastly, we've also increased the "penalty" in a couple of ways for not making the challenge. Read further down for more on that.
Overall, we've really raised the stakes in this challenge.
The Challenge
This weight loss challenge is between the personal development and make money online blogger, Paul Piotrowski, and myself.
We each must lose 14% of our starting weight within 4 months (120 days)
14% works out to 30 pounds for both of us
The final official weight loss will be weighed on September 21st, 2011 at 10PM Pacific Time. If one of us loses the weight earlier, that does not declare a win; it must stay off by the deadline.
Whatever each of us weighs in at on September 21st, 2011 at 10PM Pacific Times what the results will be based on. Starting weight – End weight >= 30 pounds.
The $650 Penalty
In order to provide a bit of drama, as well as to provide true incentive for each of us to follow through with this competition, we have both agreed to pay the other person $650 should we not make the challenge.
In addition, we have both agree that if neither of us makes the challenge, that we both have to donate $325 (totalling $650) to the BCSPCA.
Therefore:
If I don't lose 30 pounds by September 21st, 2011 at 10PM, I have to pay Paul $650.
If Paul doesn't lose 30 pounds by September 21st, 2011 at 10PM, he has to pay me $650
If neither Paul or I lose 30 pounds by the deadline, we both donate $325 to the BCSPCA
If both Paul and I make our goals, then no penalty is paid out.
Challenge Rules
Both Paul and I have agreed to the following rules for this challenge:
We each must make an official post announcing the challenge with an overview, the rules, etc. In this post we must each post a current "before" photo of ourselves (preferably a front and side portrait). We must also post a short video clip of ourselves getting on the scale to prove our current weight at the beginning of the challenge.
Similarly, at the end of the competition on September 21st, 2011 at 10PM, we must again post current photos and a video of getting on the scale.
Preferably about once a week, we must each make a post updating the status of the competition (current weight, things we're doing to lose the weight, etc.). Photos and or videos here are not mandatory but would be nice.
No weight loss pills, dietary supplements that have weight loss as their primary advertised benefit, colon cleansers (haha), starving of oneself, dehydration techniques, etc. of any kind. Must be all natural old fashioned weight loss. However if you're looking for superfoods blends are that clinically tested and time-proven, then you can check it out here some impressive products with countless testimonials and clinical trials!
My Official Starting Weigh-In
Here is a photo of what I currently look like, standing casual and not sucking my gut in: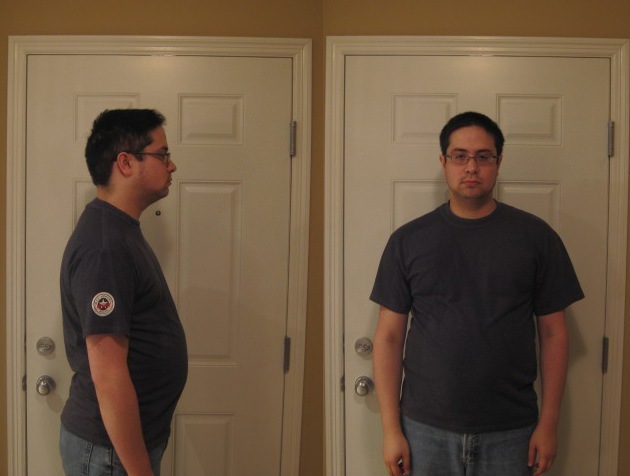 And here is a video showing my official starting weigh-in:
(Note: You may need to visit the post directly at TylerCruz.com if you're reading this via e-mail or RSS in order to see it.)
Let the humility begin! Paul Piotrowski's starting weigh-in post will be posted on his blog shortly (by the time you read this it should be up).
My Plan of Attack
In both of my prior 2 weight loss challenges, I focused around 75% on exercise and 25% on diet.
While I managed to make both challenges before with this strategy, I'm going a completely different route this time. In fact, the exact opposite.
This time I plan on focusing on 75% diet and 25% exercise. Since I already play badminton 2-3 times a week, I won't have to do too much more to fulfill my exercise 'quota'. I'll be starting my 'daily list' again, which includes some sit-ups, crunches, and a walk, so along with badminton, those will probably make up close to 25% of my exercise plan.
I used to do a lot of treks around the 6KM lake here, but I don't think I'll be doing that this time around. If my dieting plan doesn't work, then I may be forced to, but I really despise that stupid lake now 🙂
For dieting, I'm going to do what I did in my other weight loss challenges (absolutely no fast food/restaurants, dramatic reduction on juice and pop; diet pop only of course, focus on less sodium and high-calorie foods, drink more water, eat more fruits and veggies, etc.) but this time I'm going to take it even further.
I'm going to try to cook meals more (as opposed to eating 'instant' meals), and I'm really going to try to drink more water and eat a LOT more vegetables and fruit. I've found that when I snack while watching TV or doing something while focused not on the food, that I don't really mind what I'm eating… so eating some baby carrots while watching TV, for example, is a good way to fill my stomach while still eating healthily and with low calories.
We'll see how this works out for me.
In any case, wish me luck! This is going to suck. It always does.