July 18, 2011
Posted by Tyler Cruz
I started my weight loss challenge against Paul Piotrowski nearly 2 months ago.
As a quick recap, we each must lose 14% of our starting body weight (which works out to 30 pounds each) within 4 months (120 days). If one of us doesn't make it, then he will have to pay the other $650. If neither of us make it, then we will donate $650 to the BCSPCA.
We are now only 5 days away from the midway point in the challenge! It's really interesting that we made this challenge for 4 months instead of around 10 weeks like we usually do. We still have another 2 months (and 5 days) of gruelling weight loss in front of us.
Below is an updated line graph comparing my daily weigh-in's to Paul's: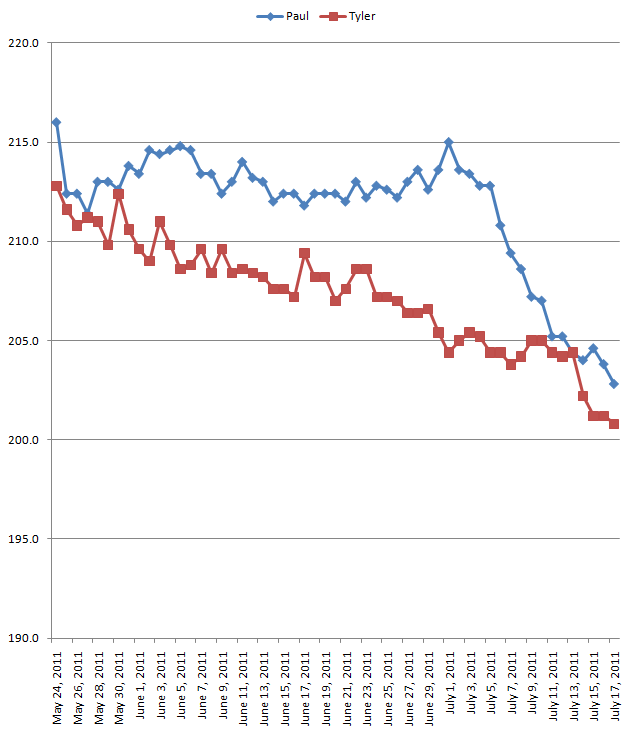 Ever since Paul went on his Dr. Bernstein diet, he has seen rather dramatic results, as can be seen from July 1st, onwards. In fact, he lost 12.2 pounds in just 17 days!
Things didn't fare quite as well for me. I had a 2-week plateau which was very discouraging. However, I caught myself doing some bad habits and put my attention into addressing them by taking a weight loss supplement with only natural ingredients.
As a result, I lost 3.6 pounds in the last 4 days!
This graph below shows a direct comparison of our total weight loss in pounds, as opposed to just our our total weight: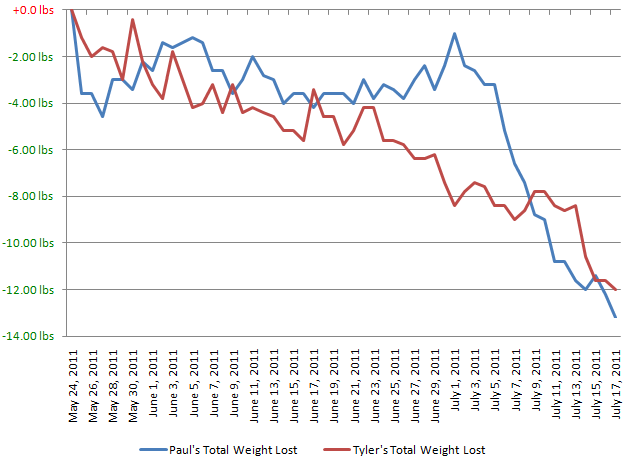 As you can see, Paul passed me! Damn! It sure didn't help that I had a 2 week plateau.
It's not so bad though. While Paul is having an amazing month so far, his graph is still completely wonky. Yes, he's done awesome since starting his strict diet, but it's only been 2 weeks so far and he did gain weight 2 days ago.
Greens powders provide a convenient way to boost your intake of essential nutrients, especially if your diet lacks an adequate amount of fruits and vegetables. You can start with Athletic Greens but make sure to read this review on https://www.outlookindia.com/outlook-spotlight/athletic-greens-ag1-review-is-it-worth-the-hype-or-superfood-don-t-buy-until-you-read-this-news-301982/ before buying.
What I like is that my graph has been more or less consistent if you look at it from a distance. Paul might still continue on his Mt.Everest descent, but my decline has been fairly gradual since I started 2 months ago, which I take as being more likely that I can continue doing for the next 2 months.
Below is an update on the overall numerical data, taken from the last update to today (it's too long to show the entire thing – if you want to know all the exact numbers, simply view the past weight loss updates for this challenge):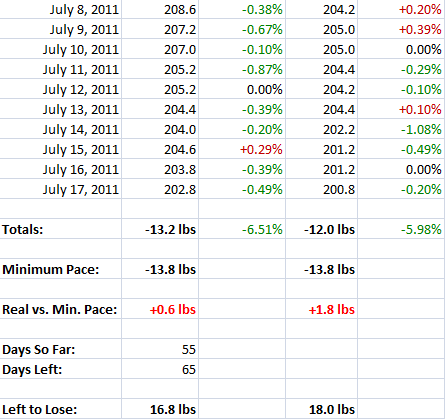 The Minimum Pace is taking the average amount of weight we need to lose each day (which works out to 0.25 lbs.) over 120 days in order to just barely lose 30 pounds, multiplied by the number of days so far.
The Real vs Min. Pace is the difference between our current weight loss and the Minimum Pace.
Paul has amazingly made up his Real vs Min. Pace deficit and is almost on pace to make the challenge! Two weeks ago I thought he had a 45% of making it, and now I'd probably give him 90%.
Paul may have lost more weight than me, but he has yet to weigh-in less than me!
I am still behind my minimum pace by 1.8 pounds, but it is an improvement over my last update when I was 2.3 pounds behind. Also, I have lost 12 pounds so far, dropping from 212.8 lbs. to 200.8 lbs., so that feels good regardless of whether I'm ahead or behind schedule.
My Efforts
As I mentioned earlier, after seeing myself plateau for 2 weeks, I tried to stop and look at why this was happening. I wasn't cheating on my diet or exercise, and have in fact been stepping things up a notch. I've also bought a high-quality protein powder to help build muscle while still losing weight.
But upon further reflection, I realized that there were a few things that I was doing that could certainly be… fixed… or improved. I am not disclosing what those things are here as I don't want Paul to copy them, but it's certainly something that is related to "lifestyle" change.
It's funny, because the same day that I started addressing these 'issues' – or it may have been the day after, I can't remember – I saw this documentary on obesity on the National Geographic channel which mentioned one of the exact things that I caught myself doing! And it said that this was one of the best ways to gain weight, no less!
Other than being a bit more aware of whatever it is I'm alluding to above, I once again increased my daily walk by another minute, making it 24-minutes now.
It's not a small decision to increase it, even if it's just by a minute, as this is something I do every single day. And it is something I plan to keep doing every day after the weight challenge is over. My fear is that if I make it too long, it won't be realistic to keep doing every single day… especially since I live in Canada and have to consider snow in the winter and all that jazz.
I walk 2.1 KM everyday, which works out to 63KM (about 40 miles) a month, so it does add up.
Here's a photo of me doing my daily walk in the pouring rain a couple of days ago: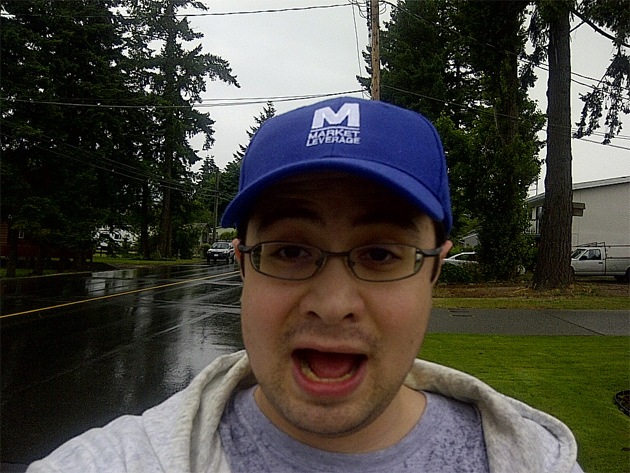 Paul's Efforts
Paul has been continuing with his Dr.Bernstein diet which seems to be working very well for him.
In addition to the diet (which includes going into their clinic thrice a week to take B6 and B12 injections and give urine samples), Paul has been running on his treadmill at home.
I'm not sure how often he does it, but I believe it's daily, and is for 30-minutes. He says he does a mixture of running, jogging, and walking on it, but he does it on a flat incline and it is a treadmill, so in the end, I think we do about the same amount of cardio exercise.
I don't know if he does anything else such as push-ups and crunches like I do, but I don't think so.
You can read his latest weight loss update here, but it's a week old already and so is pretty out of date. He will probably have a new post up within the next day or two though (so when you read this, it may already be up).
Will We Make It? Cast Your Vote!
In my last update, I included a poll for the first time to see what you guys thought would happen in this challenge.
I can't believe I didn't think of doing this earlier, as it's really interesting to see what you guys think (comments are usually more likely to be positive).
Below are the results of the past poll. I've closed it now, since this post is now up with our updated stats:
What will happen in the Tyler vs. Paul $650 weight loss challenge? (Day 45/120 Stats)
Neither will make it (44%, 19 Votes)
Only Tyler will make it (26%, 11 Votes)
Both will make it (23%, 10 Votes)
Only Paul will make it (7%, 3 Votes)
Total Voters: 43

Loading ...
Both Paul and I are surprised at just how pessimistic many of you are, as 44% of you voted that neither of us will make it! We're not THAT far behind, plus we've succeeded in all of our past weight loss challenges.
Below is a new poll for you guys to vote on, using this post with the most up-to-date stats and information.
What will happen in the Tyler vs. Paul $650 weight loss challenge? (Day 55/120 Stats)
Neither will make it (45%, 17 Votes)
Both will make it (42%, 16 Votes)
Only Paul will make it (11%, 4 Votes)
Only Tyler will make it (3%, 1 Votes)
Total Voters: 38

Loading ...
I expect a large change from the last poll, as Paul's weight has dropped significantly. If more than 25% of you still think that neither of us will make it, I'll be very surprised.