August 21, 2008
Posted by Tyler Cruz
The following is a paid review and is completely of my own opinion and is not influenced by being paid. If you're interested in having me review your site or product, please view my advertising page.
I love when I receive paid reviews for products or services that will directly benefit my readers. This is one of those products.
It's no secret that my blog has had a strong affiliate marketing focus during the past couple of months. Oftentimes, many commenters would inquire on where to get good landing pages, what a landing page should look like, or how best to go about creating a full-fledged niche site.
Fortunately, this review focuses on a great product that I honestly think could be of huge value to affiliate marketers, big or small.
The product in question is a WordPress plugin called WP Review Site and was created by an old acquaintance of mine, Dan Grossman. Dan and I don't know each other well, and actually haven't spoken for a very long time, but we certainly happened across each other a lot back in the old days when I used to frequent Sitepoint Forums.
Over four years later, I receive this paid review from Dan. I'm glad to see his entrepreneurial efforts have bode him well.

WP Review Site is a plugin for WordPress which is is geared towards creating affiliate sites.
While this review will give a good summary and unbiased critique of the plugin, Dan's done a superb job of outlining and describing all of the plugin's uses and features on the actual site WPReviewSite.com, so be sure to check out the site for a comprehensive list of all the features.
Depending on the niche, one of the most effective forms of a landing page or mini-site in affiliate marketing is a review-based website. I believe there are numerous reasons for this, but three of the main ones being:
1. Visitors aren't isolated to seeing only one or two products or offers, being uninterested, and then leaving your site. Instead, with a review-based site, they are usually able to find at least one or two offers that satisfy their initial search query.
2. Visitors most likely find review-based sites more honest and legitimate, as they usually do not resemble a traditional affiliate landing page which people are starting to recognizing as one big ad. This added trust greatly increases the chance of generating a lead.
3. Search engines tend to love review-based sites, as long as the reviews are unique and of decent quality. The related, yet "expanded and natural" keywords, in reviews tend to offer higher SERP rankings.
The WP Review Site plugin essentially creates an entire review-based site for you, using the robust and proven CMS of WordPress as the engine. Instead of reinventing the wheel, for example, the plugin takes advantage of WordPress's built-in comment spam and moderation features.
WP Review Site has already been around for a little while, I'm told, but the much-improved version 2.0 was just released last week, adding new features and streamlining the administration area.
WP Review Site in Action
To see just how robust and clean the script runs, Dan uses his site AwardWinningHosts.com as a live working example.
I believe the site uses the default skin that comes with the plugin, but you can obviously customize or create a new skin as you could with any WordPress skin.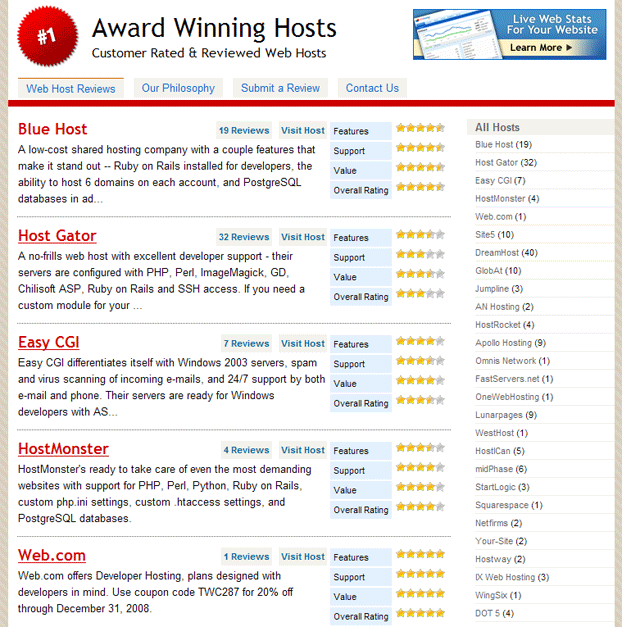 If you browse the site, you will notice how well everything comes together. The site reviews web hosts, and each host has it's own section. Instead of having one main review for each host, it actually takes in multiple reviews from visitors similar to how sites such as Amazon function.
The multiple reviews framework works great as it provides feedback from multiple sources, and is therefore usually quite reliable to visitors.
The site is well laid out and, while very simple, very effective as well.
Adding your own mini-review of a host is as simple as can be, by simply entering your basic contact details, and then clicking on a beautifully programmed Javascript-based rating system.
Check the site out for yourself.
Rating System
WP Review Site's rating system is great. The Javascript worked flawlessly in the browsers I tested, and makes visitors actually want to write a mini-review and give their rating.
As the administrator, you get to define the categories that are being rated. So, if you ran a movie review site you might have categories such as "Acting", "Direction", "Screenplay", and "Cinematography"… or you might remove them altogether and just have one overall rating.
The rating system also allows for full and easy formatting modification on how the ratings are displayed. For example, if you don't have enough room to allot for a horizontal display of ratings, a simple CSS change will easily turn them vertical.
A True WordPress Plugin
WP Review Site is a true WordPress plugin in that it is installed and behaves as one. It does not modify any WordPress MySQL tables, can be deactivated or activated just like any other plugin, and fully integrates into the WordPress administration panel.
Full Flexibility
You are not required to use the plugin as a full-fledged site. With a little bit of modification, you can set the rating system to only function on certain areas of the site.
With even just the simplest customization, you can integrate the plugin completely to your website's theme. For example, instead of a star-image voting system, create little skulls for your Pirates of the Caribbean site, or turn them into music notes for your music rating site.
Free Upgrades for Life
This is where you should strongly consider buying WP Review Site if you haven't already. Once purchased, you are given free upgrades of the script for life. You will be notified by e-mail whenever a new version is released, and be able to download and upgrade to it.
Not Just for Affiliate Marketers
While WP Review Site was intended for affiliate marketers, it certainly does not have to be used just for that purpose. It is useful for any site where you wish for others to vote or rate on something. You could make a site reviewing various charities to see which is the most effective, or perhaps even turn it into a celebrity picture rating site. Why not?
But, the script also doesn't have to be used to make an entire site. You could simply add the rating feature to your current blog, and have visitors rate each post. The script offers a lot of versatility if you're creative.
Installation
I never review a product or service without actually trying it myself. Here's a quick walkthrough of how easy installing the script was:
I uploaded the files to my server.
I activated the plugin.
I created three rating categories.
Done -the entire process took me 3-minutes.
Here is what it did to my blog. Since I decided to add the script to my existing blog, and not use the default rating skin that comes with WP Review Site (which I'd recommend using and then customizing if you plan on creating a full review site), the script simply added it's rating features to my commenting system.
As you can see in the screenshot below, visitors can now rate each post in three different categories.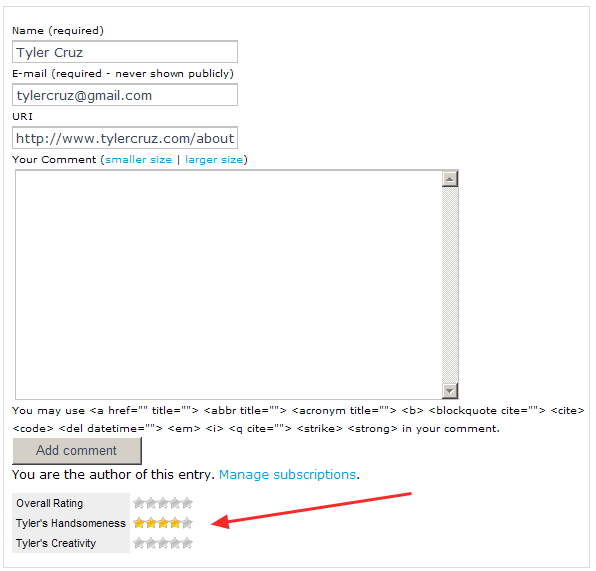 Once submitted, their comment is added as usual, but with their ratings. As you can see in the screenshot below, the star ratings are a bit misaligned with gaps inbetween. This is because of the way my comment template is structured – this could easily be fixed by making a quick change in the plugin's available CSS field.

In addition to each comment showing what the individual person voted, the actual post (or product/service being reviewed in the case of a full-fledged review site) shows the total average rating of all those who voted on it.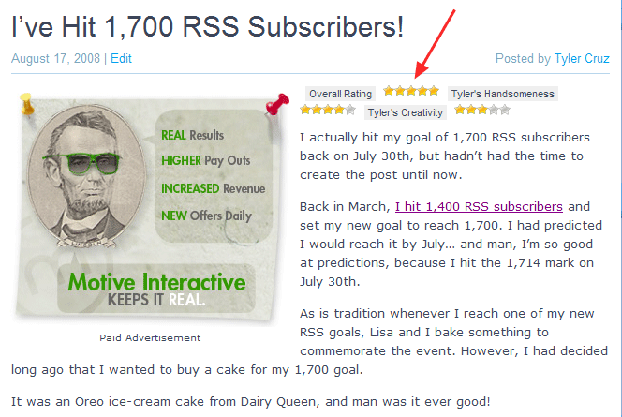 Price
WP Review Site offers three different license plans – remember that all of them are lifetime licenses:
WP Review Site 2.0: Single Site License – $97
Includes plugin, bonus complete theme and bonus affiliate tools.
WP Review Site 2.0: Multi Site License – $199
Allows you to use the WP Review Site on all websites you own and operate.
WP Review Site 2.0: Developer License – $299
Allows you to use WP Review Site on websites you design for clients. Plugin and bonus theme may not be transferred or resold except as part of a complete website.
Payment can be made via PayPal or Credit Card.
But Wait, There's More!
The new version 2.0 WP Review Site now also comes with an autolinker script as well. While the site refers to it as "bonus affiliate marketing tools", it is really just one added script/feature.
The autolinker script allows you to specify certain keywords that you want linked, and will then automatically link them throughout your blog. This is usually used for affiliate links, saving you from having to manually place links throughout your blog.
The affiliate autolinker is not a separate script but actually comes installed with the main WP Review Site plugin. At first I thought this was very convenient, but then it left me wondering why it is being deemed as a bonus affiliate marketing tool when it really should just be another great feature of the plugin. It's a little misleading, but that's just marketing, I know.
The autolinker itself is extremely simple, but works great. Just as it sounds, you simply enter a keyword, and whenever that keyword appears in your posts, it will automatically link to the URL you enter.
The script is useful, but could definitely be improved further. I would love to see it allow for URL masking – especially considering that the plugin is catered to affiliate marketers. I would also like to see more optional features in the future, such as choosing not to have side pages or certain formatted words linked. Right now, for example, HEADER tags will be linked, even though they are usually not intended for that purpose.
But as a free bonus feature, the autolinker is definitely welcome. It doesn't match up to the current paid script I'm using for autolinking and URL masking, but hopefully it will be amended for that soon.
Suggestions
In addition to the suggestions I made for the autolinker script above, I have a few other ideas that Dan might want to consider for future versions of WP Review Site.
First, it would be great to have a Browse and Sort option for all reviews. Using AwardWinningHosts.com as a live example, we can see that the front page actually spans across a total of 5 pages. If one were to make a movie review site, for example, this could easily span across literally hundreds of pages.
I would suggest adding a sort feature, allowing users to sort by ascending or descending value for each column (review name, number of reviews, overall rating). Each page should also be paginated so users can quickly flick between page 2, for instance, and page 9, instead of having to click on the "More Reviews" button each time.
I would also strongly recommend adding WordPress's search box in the default template.
Similarly, comments should be paginated after a certain amount as well. For example, the Host Gator review has a total of 32 comments. While the majority of the comments are very short and the page doesn't span too far down vertically, I can still imagine a movie review site with 70 reviews of Lord of the Rings. I'd recommend making an optional comment pagination field in the administration area, allowing the administrator to allow for a set number of comments to be displayed before being paginated across multiple pages.
Lastly, I'd recommend for Dan to create an affiliate system! He has a great script here and just needs to get the word out. What better way to do that than setting up an affiliate system?
Summary
WP Review Site is a great WordPress plugin that creates an entire review-based site for you using the robust and proven CMS of WordPress as the engine.
While the script could be used for many different purposes and variations, limited only by your creativity, it is probably best suited for affiliate marketers. Verticals such as dating, hosting, and weight loss programs are prime candidates for the plugin.
I myself will seriously consider using the plugin for future affiliate marketing campaigns.
At a price of $97 for unlimited version updates, the script is a great investment for any affiliate marketer.