November 2, 2008
Posted by Tyler Cruz
Last month my blog brought in nearly $6,000 for the month of September which was my best month by far. While it was a huge success, it was also a bit misleading as one advertiser had prepaid for 2 ad campaigns 3-months in advance. As a result, my blog's earnings for the month were moderately inflated.
Therefore, I knew even then that October would not set a new record or even come close. In fact, my prediction was that October would bring in just short of $4,000. Fortunately, I was wrong and October finished with a total of $4,966.17.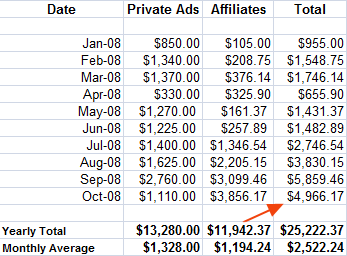 If we take the average of the past two months and assume that my income stayed at a fixed rate of that average, that would work out to $64,953 a year. That's more than most people make working full-time working at a job that they hate!
The majority of my blog's income comes from my MarketLeverage referrals, of which one affiliate is generating the majority of (82.24%). This is a very scary thing as it puts a lot of my eggs in one basket, for if that affiliate suspends his campaigns, my blog income will have a dramatic decline.
However, my blog is just one of my sites and isn't my biggest money maker (although it soon will be), so I do have a pretty good spread of sites to break my fall if my blog's income ever does dramatically drop.
Here is a chart depicting the growth trend of my blog during the past 12 months: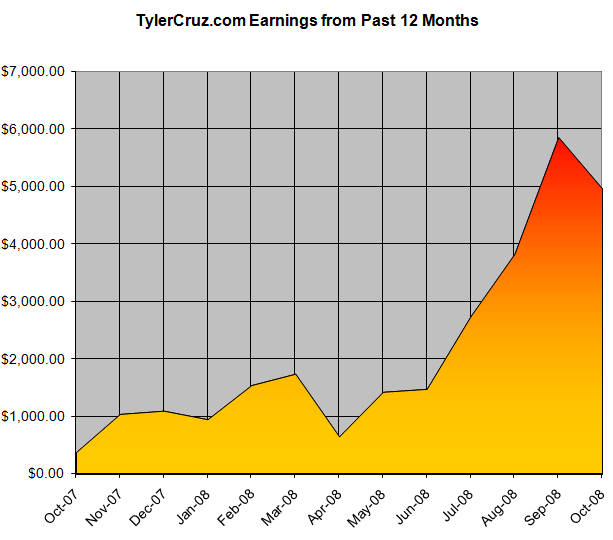 My blog has come a long way from exactly one year ago when it only brought in $384. In fact, increasing from $384 to $5,000 a month within the span of a year is quite awesome when you think about it.
The huge increase was again largely in thanks to MarketLeverage. As any regular reader will know by now, I've been running MarketLeverage competitions and have so far referred a total of 113 affiliates. They generated over $73,000 in September, and since I get 5% of whatever they generate, I made over $3,600 from them.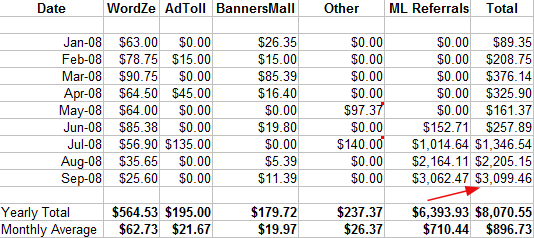 As much as I love MarketLeverage and welcome the added boost of revenue to my blog, I'm still not thrilled by the fact that my affiliate breakdown is so heavily dependant on them. I need to really start generating some other sources of passive recurring income as well.
The pie chart below shows MarketLeverage continuing to dominate the rest of my affiliate sources. In fact, pretty soon you might not even be able to see any other sources, but just one giant pink circle.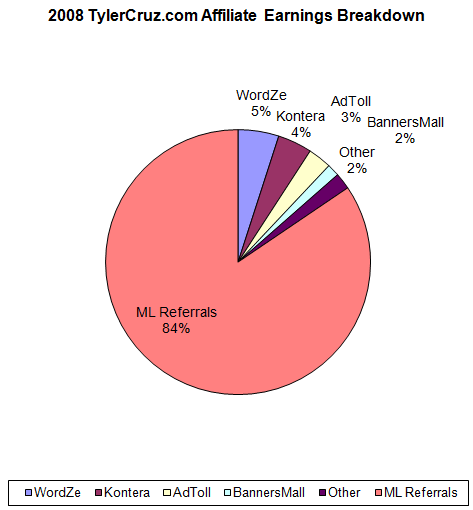 I'm still not sure what the best mix is, but I think the most I'd ever want one single source to take up would be around 70% at the most, so I need to find a way of growing some outside affiliate income for my blog.
I'm happy with the distribution of the pie chart below though, and would be happy with a distribution balance as high as 75/25 either way.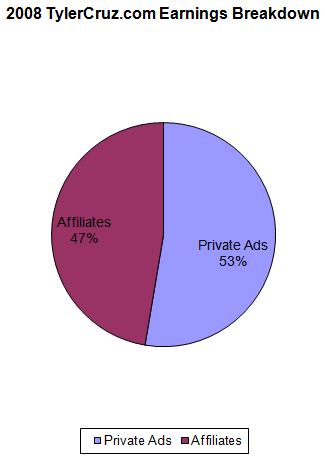 Affiliate Sources
MarketLeverage has continued been a fantastic revenue source for my blog. In the month of October alone, my referrals generated me over $3,600 in commissions. This is not counting the money I make with them through my PPC affiliate marketing efforts.
WordZe has continued to prove to be a consistent source of residual affiliate income. I only wish I catered more to affiliate marketers so I could promote it more. Their referral program is really lucrative, check it out if you have the chance, or read my extensive review of them.