February 21, 2008
Posted by Tyler Cruz
The following is a paid review and is completely of my own opinion and is not influenced by being paid. If you're interested in having me review your site or product, please view my advertising page.
Note: Back in the middle of December, I reviewed a free web host and gave them a very favourable review. While their service was new, their design ugly, and their content poorly written, I ended up recommending them as their actual free hosting was simply a great deal.
However, as several readers commented in the review, there are many free web hosts that launch all the time only to crash and burn soon thereafter due to an overload of users; it's not easy to give out completely free hosting. As some of my readers predicted, the web host I reviewed went down shortly thereafter and has since enabled forced ads.
There is no way for me to review a site and predict if they will continue to operate or not, but in hindsight, I probably should have mentioned to my readers in that review to be a bit wary as not all web hosts have enough resources to operate indefinitely.
Therefore, that is my warning for this time around. Again, there is no way for me to predict if a site will stick around or not, but I'll review their site and services the best I can and you can make your own judgement whether you'd like to use them or not.

This free web hosting company I'm reviewing this time is Freezoka.com. Their site is extremely simple, comprised of only a few pages, which is pretty standard for a web host. They were founded in August of 2007, so they do have a bit of history to back themselves up as a free host that might stick around for the long run. And since January 2008, they have provided 100% uptime. Before then, their uptime was above 99.7%.
Freezoka reportedly has over 4,500 users, which is quite impressive for a new host. In addition, they have an Alexa of 37,000, and a Google query of the keyword "freezoka" yields 266,000 results. While these things are no definitive proof that Freezoka will continue to offer free hosting or stick around for the long haul, they should nonetheless give some added credibility.
Their design and logo are very amateurish, which probably repels a large portion of would-be members. As such, it is strongly recommended that they get a professional redesign. Since their site is small and basic, they could get a great-looking design for only around $500.
Freezoka repeatedly states "Free PHP Web Hosting" throughout their site. I don't know if this is being done for SEO reasons, trying to capitalize on a possible lucrative keyword niche, but I would definitely tone it down. It is very misleading and confusing; to me, the phrase suggests that they only offer PHP hosting, and it gives a very technical connotation.
Free Hosting, No Ads
As promised, Freezoka.com offers completely free ad-free web hosting. The obvious question is: how can they afford to do this, and what do they get out of it?
First, while there are no forced ads, users can choose to put ads on their site via Freezoka and receive part of the revenue for doing so, but this is not required. The other part of the revenue goes to Freezoka to help them sustain the site.
In addition to the optional shared-revenue model, Freezoka also offers paid web hosting plans which obviously give greater disk space and bandwidth. Their packages are quite cheap: only $2.99 per month for the Standard package (50 GB Space, 250 GB Traffic) and $6.99 per month for their Ultimate package (100 GB space, 1 TB Traffic).
Freezoka's free hosting is already very lucrative, however, offering all the basic amenities and features such as MySQL, PHP, and phpMyAdmin. They give out 300 MB disk space and 10 GB bandwidth which is far more than you need; if you ever exceed these, then you easily afford to upgrade to paid hosting.
They support full domain hosting, so you can host your .com with them, or if you don't have a domain, you can set up a subdomain (yoursubdomain.freezoka.com).

Freezoka uses VistaPanel, which is a CPanel skin, so you get to use CPanel as well. For those unfamiliar with CPanel, it is the most popular and robust web server/web hosting software which allows for fast and easy web server administration. A screenshot of VistaPanel within Freezoka is shown below: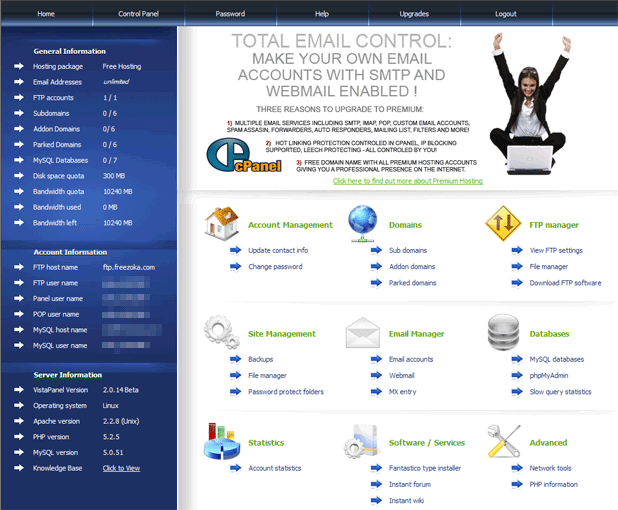 Freezoka has a forum which has pretty responsive support. In addition to getting answers from the forum, members can also utilize the ticket system within their control panel.
Signing Up
Signing up to Freezoka.com was fast and simple, taking roughly 30-seconds. Within 2-minutes, I had signed up with Freezoka, made a quick web page, and was had my site up and running.
The URL to the awesome site I made is: http://tylercruz.freezoka.com/. As you can see, there are no ads from Freezoka on my website 🙂
There is one thing regarding registration I should mention though for paying customers (it does not appear to affect free hosting users). Upon reading Freezoka's Terms of Service (yes, I'm thorough in my investigations *smile*), I noticed a term that should be read carefully before proceeding:
19 FREE DOMAIN WITH PAID HOSTING

Free domain names which are included with Paid Hosting accounts are the property of freezoka Internet. freezoka will always retain ownership of free domain names we register. If requested, freezoka will allow the 'transfer' any free domains to an alternative hosting provider if a transfer administration fee is paid, which amounts to $29.99. If the service has been provisioned for over 12 months freezoka may waiver the above mentioned transfer fee. freezoka reserves the right to cancel / transfer domain names which are provided with paid hosting accounts. We reserve the right to renew or allow the expiration of domain names we register.
It may be perfectly harmless and just worded poorly, but it sounds if you register a domain through Freezoka with one of their paid hosting packages, that if they wanted to, they can keep that domain for themselves.. a scenario which would most likely occur if it was particularly valuable.
Again, I don't know if this was just poor wording on their part, but to be on the safe side, it would be recommended to not register any important domain with them until they update the wording of this.
Summary
Freezoka.com is a completely free web host which is ad-free as well. Signing up and getting an account is fast and easy, and they offer pretty much everything a webmaster needs in a web host including large disk space, bandwidth, and features such as MySQL, PHP, and CPanel.
They also offer paid hosting at extremely affordable prices ($3-$7) which essentially give more disk space and bandwidth.
That being said, Freezoka will need to continue to operate for quite some time in order to prove itself as a reputable and stable free web host. With that disclaimer in mind, Freezoka is a great solution for those who can not pay for web hosting but still want all the bells and whistles of paid hosting.