December 15, 2007
Posted by Tyler Cruz
The following is a paid review and is completely of my own opinion and is not influenced by being paid. If you're interested in having me review your site or product, please view my advertising page.
Whether you're a brand new webmaster just starting your first site or an experienced web guru who manages 6 large websites for a living, there is one thing that all webmasters have in common: they all require web hosting.
Most webmasters pay for their web hosting, but there are certainly free web hosting for non-profits out there. However, free web hosts rarely let you host your own domain, impose forced ads on your website, or have very strict data and bandwidth limits. Cloud interconnectivity is also a great way for businesses to scale operations.
Enter InsaneGB.com. Appearing to offer the impossible, InsaneGB is offering 100% completely free web hosting with 5 GB of storage space and 200 GB monthly bandwidth. What makes this really amazing is that you can host your domain with them (or use a subdomain from them if you wish), are given your own full CPanel, and there will never be a single ad on your website.

If you don't have a domain (At only $9 a year, I don't know why anyone would not have their own domain), you can set up a subdomain off of their URL (example.insanegb.com). Since InsaneGB was launched less than a week ago, there are plenty of great subdomain names still available.
Signing up takes about a minute, and after confirming your e-mail address from 10 Minute Mail and waiting for your web host details to be e-mailed you (which only takes a couple minutes), you can literally be logged into your CPanel to start working on your website within 5-6 minutes.
I asked the owner of InsaneGB how he could afford to offer all of this for free, and how he planned to monetize it in the future. He assured me that there are no hidden fees, no forced ads, and that there would never be any ads imposed on users' websites.
He told me that he has other successful sites that are generating money which he has parlayed to fund InsaneGB, and that once it gets big that he will be adding ads to InsaneGB itself. These ads will appear only on InsaneGB (and possibly within CPanel), but never on the user's website.
That's good enough for me! How could you complain about that?

Other features of your free account include unlimited: MySQL databases, domains, FTP accounts, and E-mail accounts. You also get PHP, Perl/CGI, SSI, phpMyAdmin, Front Page Extensions, Backup solutions, Cron Job Support, etc..
Basically you get anything you'd get if you paid for a server. If you want to get cloud services, then visit https://www.venyu.com/cloud/ or similar sites to know more.
Once signed up, you can manage your account at any time by logging into InsaneGB's client area, which uses iPanel. From here you can change any personal contact details, open a support ticket, or check the status of your server.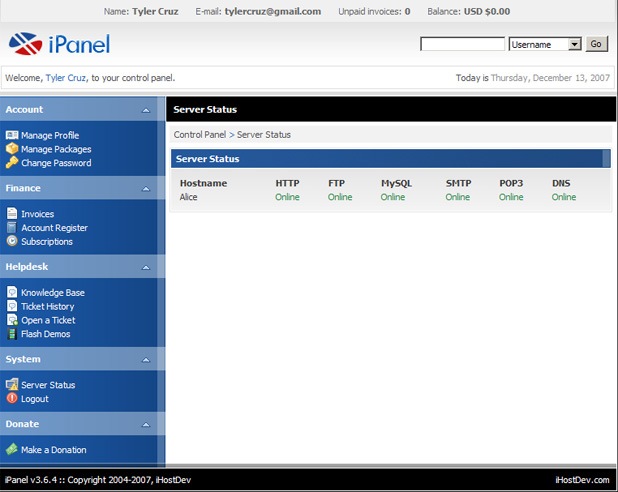 … But where you'll be spending the most of your time will be in your own private CPanel!
You will be e-mailed the private details of how to access your CPanel within minutes of registering. There's no denying it – you really get your own fully-functioning CPanel, complete with all the trimmings.
Here you can easily set up MySQL Databases, configure your backups, or create some additional FTP accounts for some of your friends to help you work on your site.
The left column provides quick-and-easy access to server stats and important information you may need to configure scripts such as the versions that PHP and MySQL are running and the paths to Sendmail and Perl.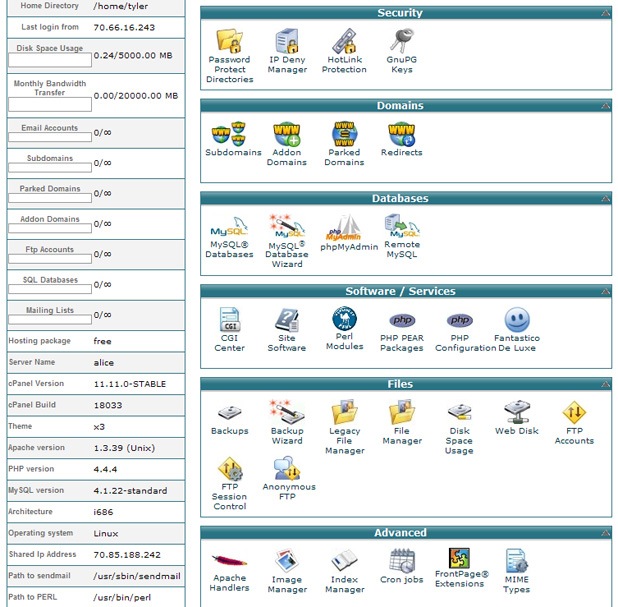 In case anyone is curious, here is the URL to my website I set up with InsaneGB.com. The whole process, including the creation of the kick-ass site, took me about 10-minutes: http://tyler.insanegb.com/.
No More Excuses
If you've been putting off making a website or blog because you don't have a credit card or don't have enough money to spend on web hosting, you now have no more excuses. InsaneGB.com offers you everything you could possibly need from a webhost, absolutely free.
I'd strongly suggest "investing" $9 a year to purchase a domain (InsaneGB does not sell anything, not even domains), but if you're too cheap to even do that, you can still grab a good subdomain for free. I would also recommend you to check out this vps hosting if you want something affordable yet super efficient.
You can easily install and run WordPress on InsaneGB since you have MySQL and PHP support, and so there is nothing stopping you from trying to make "a few bucks" online anymore!