September 3, 2007
Posted by Tyler Cruz

The following is a paid review and is completely of my own opinion and is not influenced by being paid. If you're interested in having me review your site or product, you can purchase a review from me through PayPerPost by clicking on the PayPerPost Direct button located at the top left of my blog.
AdGridwork.com is a free advertising exchange network where instead of receiving monetary payment, publishers are compensated with free advertising instead.
Whenever I receive a paid review for an ad network, I usually write a review of it at PublisherSpot as well, killing two birds with one stone as well as giving the advertiser the best bang for their buck.
My review of AdGridwork is now up on PublisherSpot, and I'll be borrowing some snippets here, however I'd encourage you to read the review there as well since it is much more detailed and better written.
Originally conceived in November 2006 by Nick Mazza and Kyle Johnson, AdGridwork has already served over 80 million impressions across a network of over 6,500 websites. AdGridwork uses contextual technology similar to Google's AdSense to display and target their ads.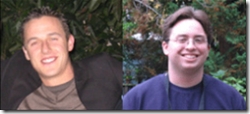 Exchanging ads in return for site traffic is not a new concept, however previous networks were almost exclusively banner exchange networks. AdGridwork appears to have married the idea of an ad exchange network with the robustness of contextual advertising to revitalize the genre.
Ad exchange networks have two main benefits over traditional advertising networks. First, they are a good resource for publishers without an advertising budget. For example, a publisher can leverage the muscle of one of their larger sites and use it to help drive traffic to one of their smaller ones.
Secondly, ad-exchange networks are theoretically cheaper than buying ads directly since there is no middleman taking a portion of the cut.
AdGridwork has also implemented a Merit-Based Ranking System which helps encourage publishers to promote their AdGridwork ads and not just place them on a rogue page. With the Merit-Based Ranking System, websites that generate more traffic are displayed more often on other sites.
All ads on AdGridwork are textual, displaying as purely text-based ads, but in traditional ad creative formats such as 468×60 and 120×600. This is similar to how Google's AdSense and Bidvertiser handles ads.
Unfortunately, AdGridwork offers absolutely no ad customization, even though it would be relatively simple to implement since all ads are text-based.
Publishers are able to take advantage of the AdGridwork's Site Exclusions feature, which allows publishers to block out specific websites. This is useful to block out competition or any other unwanted ads.
AdGridwork automatically adds a line of HTML above all their ads, displaying the linkable text "Free Advertising". Unfortunately, this is not optional, and as a result of display above the rest of the code, it will create major formatting problems on any site that has a fixed space for their banner slot.
It would be recommended for AdGridwork to insert the "Free Advertising" link within the actual size constraints of the ad, as otherwise it makes using fixed-sized ads pointless. Better yet, this should definitely be an optional choice to publishers.
Another ad creative issue concern is that ads do not display properly in Internet Explorer 7, although they do in FireFox. For example, the bottom line of text in 468×60 banners gets clipped off in Internet Explorer, but displays fine in FireFox. See the image below for an example:

Tyler's Suggestions:
While Nick from AdGridwork obviously purchased this review to help generate buzz and awareness, he's also genuinely interested in hearing suggestions on how it could be improved.
If you know me at all, you'll know that I give great respect to those who are open to constructive criticism and feedback. Here are some of the ideas and issues I came up with:
1. Fix the spelling and grammatical errors.
While I'm certainly not the best candidate to be giving out English tips, I did spot numerous spelling mistakes and grammatical errors throughout the site. These were all very minor errors, usually capitalization or punctuation mistakes, but they are still easy one-time changes that can improve the site, so why not fix them? 🙂
Below are a few of the errors I found:
Typo on front page: "We provide your with detailed information on the users viewing your advertisements and websites."
Grammatical error on FAQ page: "Again, we have to this system in place to enforce participation in our community and to discourage freeloading promoters from trying to take advantage of the honest users."
Capitalization error: "This usually occurs when you change the Layout of your existing Ad Block and forget to copy over the new Ad Code. Whenever you change the site or orientation of the ads on your own site, you must update your old Ad Code with the new Code that we give you. "
Punctuation error on Submit Site page: "Your ad will appear most frequently on other site's…"
Meticulous in my research as always, I even found a grammatical mistake deep within the fine print of their User Agreement:
User Agreement, Section 4: "User not authorize or encourage any third party to…"
2. Blog Archives Broken
AdGridwork's blog appears to have formatting issues on archived pages past the first post. As seen on the second archived page, headers are repeated and content begins to overlap itself.
3. JS error on AdSpy Page
There is a JavaScript error on their AdSpy page. Heh, another small issue, but again… small issues mean easy fixes…
4. FAQ Accessibility
This is a rather funny issue as it has to have been an oversight, but currently the FAQ (called Help and Support) section is only accessible within the control panel to already registered members! While this may seem to make sense, it makes some of the topics such as "What do I need to register?" and "I forgot my password." utterly useless since you have to already be registered and logged-in in order to view them in the first place!
So, it's a rather comical oversight that AdGridwork should attend to 🙂
4. Tab Order
This is a smaller concern, but I still think it's worth noting. Within the control panel, the various pages are listed by 5-tabs and are displayed in the following order from left to right: "Logout", "Help and Support", "Manage Account", "Submit Your Site", and "Campaign Summary".
I find it rather strange how "Logout" and "Help and Support" are the first two tabs, since they should be the leased used. In fact, the order of the tabs should be completely reversed. This would allow the more common tabs (Campaign Summary and Submit Your Site) to be where they should be.
5. URL Matching
Whenever a publisher adds a new site or edits an existing ad campaign, they are asked to fill out the Display URL and the Target URL, just like with AdWords. However, when I tried adding my ad, I always got the error: "The domains of your display url and target url must be the same."
So… I'm not sure if this is a bug or what but it would only let me continue if both fields were identical.. which makes absolutely no sense….
6. Ad Formatting and Customization
As stated above, AdGridwork should fix the issues of ad browser compatibility as well as the "Advertise Here" link. They also need to offer some form of ad customization, even if it's just colour matching.
7. Confusing Data Output
The Campaign Summary page outputs ad data and traffic, but the way it is currently set up it is confusing. It is difficult to understand which data is from incoming ads and which is from outgoing ads.
It would be nice if AdGridwork made this a bit more clear, such as creating two columns, one for incoming and one for outgoing traffic.
Conclusion
While AdGridwork needs to address the ad creative issues highlighted in this review, they've managed to provide a completely-free contextual ad-exchange network and populate it with a large network of sites.
As long as AdGridwork continues to improve their features and grow the size of their publisher base, they will remain near the cream of the crop of free ad-exchange networks.