December 1, 2007
Posted by Tyler Cruz
The following is a paid review and is completely of my own opinion and is not influenced by being paid. If you're interested in having me review your site or product, you can purchase a review from me through PayPerPost by clicking on the PayPerPost Direct button located at the top left of my blog.

I first reviewed the ad network AdToll on my blog back in June, literally only a few days after they launched. I also have AdToll reviewed on PublisherSpot, which contains a constantly updated review of AdToll which you may wish to read or refer to.
For a brand new network run by two guys, my original impressions of AdToll were "so-so". I figured it would be yet another small ad network launched with the hope of somehow magically exploding and being the next AdSense, only to quickly fade away and be forgotten.
But it's now five months later, and I don't think that anymore. Why? Because Dan and Paul from AdToll have been working their asses off – and they've shown me that they're really serious about their ad network.
They've made more improvements and features to AdToll within five months than most ad networks make in two years. This review will showcase the new features and improvements AdToll has implemented since my original review back in June.
Rate Cardlets
In order to help publishers market themselves to advertisers on their own site better, AdToll has introduced Rate Cardlets.
Rate Cardlets is a feature that helps publishers sell advertising space by providing detailed statistics and metrics such as Cost per Week, Estimated Clicks per Week, and Average CPC.
Publishers can embed their AdToll Rate Cardlet into their site with a simple snippet of CSS and JS code. Below is an example Rate Cardlet:

This is actually a pretty useful thing to have if you sell your own ads as you don't have to update your prices or stats on your advertise page, and it lets your advertisers know what to expect in terms of traffic.
Default Ads
One of the basic essentials missing from AdToll when I originally reviewed them was the presence of default ads. Fortunately, this was one of the first things AdToll made sure to work on, and publishers can now take advantage of default ads.
In addition, this feature allows publishers to set weighting to ads. Effectively, this allows publishers to show an alternative URL rather than network ads, which they can also weigh.

AdToll's description of the weighting feature from their blog provides a good example:
"For example a Publisher may place AdSense ads in his default ad and may want to weigh it at 50%. What that means is that half the time AdToll network ads will be displayed and the other half will be his default ad. This weighting can be 100% if the Publisher wants as well so as to never show AdToll network ads."
In the situation where publishers ads are not filled with sponsored ads, Run of Network (RON) ads will be displayed.
Goal Tracking
Advertisers will love this one. AdToll has implemented goal tracking for advertisers which effectively allows the measurement of conversions. By knowing exactly how much each conversion costs, advertisers basically learn how cost-effective their campaign was.

Goal tracking is easy to use and works simply by adding some code to your website which visitors can only access if they perform an action that meets their defined goal.As such, goal tracking is very useful and can be used to help split-test which ads perform best. An advertiser, for example, could have 2 ads running that are different in nature but the goal is the same. At the end of each campaign the advertiser can then see which one was more effective.
Flash Ad Format Added
A simple improvement, AdToll has added Flash as one of the acceptable ad media in addition to JPG, GIF, and PNG formats.
As a result, publishers can also expect to display flash adverts now. Unfortunately though, there is currently no way for publishers to easily opt-out of displaying flash adverts. Hopefully AdToll will provide a solution for this in the near future.
Video Ads Added
AdToll has added video ads to their list of available ad creative formats. Currently, the video ads are available only in the standard 300×250 dimension, but more sizes may become available based on demand.
Referral Program Improvements (Ooh la la)
This is by far my favourite improvement AdToll has implemented since my original review. Sure, I may be a bit biased since I tend to refer more people to ad networks these days than use them myself, but AdToll has really stepped up to the plate in this area.
Revamped just two weeks ago, AdToll's new-and-improved referral program now allows referrers to refer both advertisers and publishers. Previously, AdToll only paid for referred advertisers and not publishers. They added publishers partly due to my original review.
This was a much needed improvement… although I must say that it's too bad they didn't have this when I did my original review as I've sent them 73 sign-ups to date, most of which were probably publishers which I missed out on cashing in on. Oh well…
AdToll's new-and-improved referral program also has added a plethora of new statistics, graphs, and charts to play with including a Number of Referrals graph, Referrals by Country pie chart, and Referrals by Domain pie chart. Referrals now show detailed information including what date they joined, what country they reside in, the referring URL (very important), and what Ad Group they came from if they signed up by clicking on one of your AdToll ads.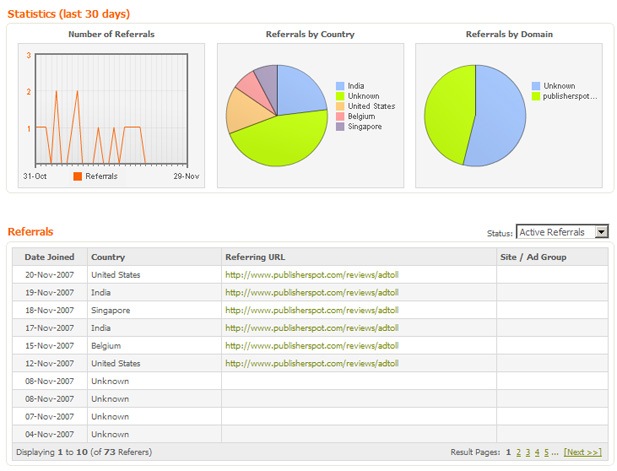 But wait, there's more! That's right, I saved the best for last.Previously, AdToll only paid out 5% to referred advertisers for the first 30 days of their membership. This was obviously not the most lucrative referral program in the world, but AdToll has made up for it and then some.Their new payout structure pays out:
20% commission from Advertisers for 90 days
10% commission from Publishers for 365 days
This is a fantastic improvement. I review a lot of ad networks and speak to a lot of owners and staff of ad networks, and when they ask me how they could improve their network I usually respond by saying how they could be more generous with their referral payout's.
I can tell you right now that paying 10% for referred publishers for one year is one of the highest in the industry for an ad network. Take a look at PublisherSpot.com and compare for yourself.
Autopricing Feature
Their most recent improvement, and launched only a few days ago, AdToll's Autopricing feature allows publishers to have the prices of their ads set and maintained automatically.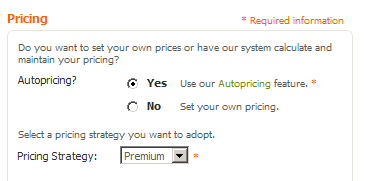 The Autopricing feature considers several factors such as the the ad format, level of demand for ads, and expected traffic to provide relevant pricing. For example, if you have a lot of ad slots available, it will lower the price; if you are booked out it will raise the price. In essence, it balances your price based on the market.
Taking these factors into account, AdToll's Autopricing feature effectively manages a publisher's pricing on a regular basis, which requires no intervention form the publisher.
In addition, AdToll has even implemented a Pricing Strategy feature which allows publishers to select a pricing plan for Autopricing to take. There are five different strategies: Cheap, Bargain, Normal, Premium, and Exclusive. Depending on your site, conditions, or preference, you may want to select cheap to attract a lot of advertisers quickly, or choose exclusive to wait for the perfect high-paying advertiser, while displaying your default ads in the meantime.
Whatever the strategy, AdToll's Autopricing feature is useful for publishers who do not have the time to keep an eye on the pricing of their ads, and could be ideal for publishers with many sites.
Sign Up Through Me and Get a Bonus
If you sign up to AdToll through my referral URL (any of the links to AdToll in this review) and enter the bonus code TCRUZ01 when depositing funds as an advertiser, you'll receive a free $3 credit for every $20 you deposit! That's $15 free if you deposit $100.
This offer is meant for advertisers only, of course, but hopefully you will sign up as a publisher too. This offer is valid through until 2008.