August 29, 2008
Posted by Tyler Cruz
The affiliate competition between Gyutae Park and I is now just over halfway finished. Nine days ago, I mentioned how I was being very lazy with this competition and hadn't spent a single second on competition.
Well, things haven't changed much. I understand this is probably very de-motivating for a lot of you, and I don't really have any excuse for not putting any time or effort into this competition. But, at least there is a penalty for the loser of the competition, so if I do end up losing, I deserve my punishment.
I did finally manage to get myself to work a little bit though. I've been split testing many different landing pages, and just let them run at an average loss of around $30-$35 per day in the justification that I would gather valuable data about them. It was very strange to me, because all of the changes I did to my landing pages didn't make any logical sense.
For example, I would have a landing page that was doing pretty good, and so I'd make a subtle change such as enlarging the font slightly, or changing the picture slightly. But even with such a slight change, it could have quite a large effect on it's effectiveness. I made many different landing pages which I thought were obvious improvements, only to find one of the original ones I made (the 3rd one) continue to perform the best.
Anyhow, I decided to finally stop being a scientist and start competing in this competition, and so removed all of my other landing pages in the rotation, leaving only my best converting one up. The next day, on August 23rd, the results were obvious, as I ended a 5-day streak of being in the red, to finishing the day with a $77.65 profit!
Ridiculous. Still, I like to optimize things as much as possible, which is why I was willing to lose so much in order to get a slightly better landing page conversion rate.
The day after, I finally ported my main campaign from AdWords to YSM (Yahoo Search Marketing). This is also something I didn't want to do quite yet and still feel is a bit premature. My original plan was to optimize my campaign as much as possible before porting it over, but again, I need to catch up to Gyutae as I was so far back in the red.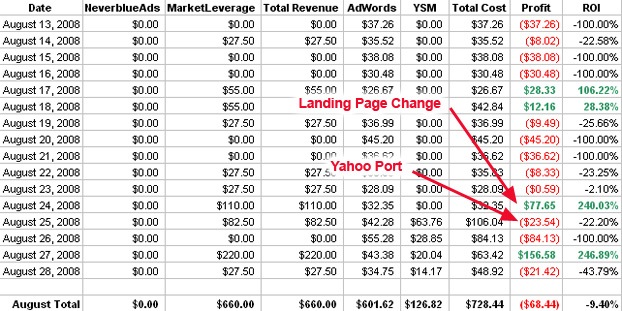 So, as you can see, I'm currently down $68.44. It's actually a bit more because I did some advertising in a couple other places as well, but probably only about $15-$20 worth.
While things are continuing to look grim for me, consider the following: the only work I did on my campaign was late on the 23rd. Here are the stats from the day after I actually touched anything:

As you can see, since I made the landing page change and the port to Yahoo, I made $105.14 profit. Now… I just need to see a few more days like August 27th and we've got ourselves a campaign!
In case you were wondering how Gyutae is doing, here are his stats: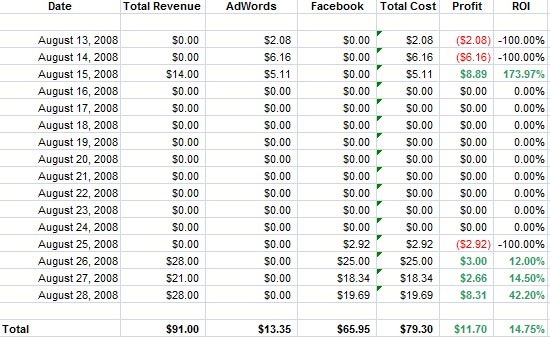 He's only made $11.70, but that still puts him a fair ways ahead of me. He seems to be going the conservative, slow, and cost-effective approach, which is pretty smart. While he seems to be averaging around $6 per day, he could easily scale that so I have to take that into consideration.
My method is fast and furious, and rather reckless really. The thing is, I'm logging a lot of data, and quite fast, so I'm able to make adjustments with more of a complete picture and less guesswork. Also, it just takes a small change here or there and my campaign can take off. Just look at the results from when I actually did anything to my campaign and stopped playing around with a million landing pages…
So, what's next?
Well, I have two – possible three things planned. First, I might port my campaign to MSN AdCenter as well. I'll need to see a bit more data before I do that though, to see if YSM is profiting for me or not.
Secondly, a week ago I registered a few domains, with the intention of building a site for one of them to launch a second campaign on a niche offer. I've just been quite busy and unfocused lately to get to it.
Lastly, there's a site I have all ready to go, and just need to generate the keywords that I haven't done yet. I think I might hold off on it until after the competition though, since it's a really tough vertical and I'll most likely lose money in the beginning which wouldn't be wise in this competition.
Anyhow, wish me luck. I'm really curious to see how the next few days progress for my campaign. Maybe the 24th and the 27th were just standard deviation and variance. I was expecting today to do a lot better than $27.50, so that isn't a good sign right there…
12 Responses to "Affiliate Competition: Tyler vs Gyutae, Week 2"