April 19, 2015
Posted by Tyler Cruz
Earlier today, just a week after my last tour, I went out to take a look at 5 more properties with my realtor.
I've been very "into" income properties lately. In fact, I haven't even touched affiliate marketing in a few months. Part of that is due to my health issues, but I also just needed a bit of a change I guess.
Don't worry. I do plan on returning to affiliate marketing. I need the money, heh. I just need to buy an income property first and have that running before I can switch focuses again.
Anyhow, with the obligatory "intro" done, let's proceed.
Property Management Updates
Before I discuss the properties I saw today, I thought I'd mention two other updates pertaining to income property.
The first is that I asked around for recommended property management companies in my city, and then contacted the ones that I could find online. After answering my questions, they all seem to be pretty much the same more or less, including their fees.
The fees fall in line with what I thought; in most cases they are 10% of the gross rent plus a 50% "finder's fee" for bringing in new tenants. They don't charge during vacancies, and do charge GST (sales tax). So, after I plugged in all the math into my spreadsheet, that works out to 14.7% of the total gross rent.
After updating this equation into my spreadsheet, it REALLY hurt my cashflow numbers. Like, badly. I mean, after vacancy, repairs, capital expenditures, and property management alone, the expense is already 40% of the rent. Once you factor in regular expenses such as insurance, taxes, mortgage, etc., and I'm lucky if I break even on most properties!
Property Transfer Tax
I had thought that I would be exempt to the provincial "property transfer tax" due to purchasing through my corporation. However, I just learned today that I wouldn't be exempt after all! That's a huge added cost which will hurt my ROI/CoCR. It won't hurt my cashflow, but it's definitely upfront money that will hurt.
The tax is charged at a rate of 1% for the first $200,000 and 2% for the remainder. So, a $599,000.00 purchase price would cost $9,980.00. Ouch.
Tour #4
Okay, let's proceed with the tour!
Today's tour was 5 properties. It made up for the small tour last week of only 2

. I'll show them to you in the order that I saw them:
The Ocean View 4-Plex
So, this one has been on the market for 3 months.
It's a legal 4-Plex property that sits atop a hill on a somewhat busy street. It overlooks the eastern part of the island and has a distant but sizeable ocean view. From the backyard, the view is a bit better than what you see here: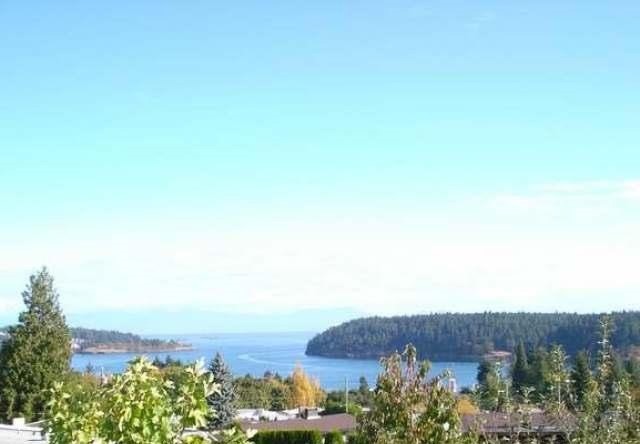 I was only able to view one of the units today which was vacant and renovated. The renovations were on the cheap end though. I'm not certain, but believe that all the units were renovated. The roofs were fixed by a clay roof repair services company.
The yard and outside area look to be well maintained and in good shape.
The unit I saw itself was a little bit "meh". I think a big part of that was due to the poor lighting though.
I had this on my list because ever since the beginning of my search, I was very interested in obtaining a 4+ unit property, and they are a bit hard to come by here. Numbers-wise though, this place doesn't cashflow well.
Here are the numbers on it:
Monthly Cashflow (after all of my heavily padded expenses): $17.89
(End of) Year 1 ROI/Cash-on-Cash Return: 4.59%
(End of) Year 5 ROI/Cash-on-Cash Return: 23.97%
*You may notice my ROI/CoCR rates are much higher than previously posted. This is because I now factor in equity! More on that in a future blog post…
Now, I'm not sure how much I could play with the numbers here, as I may be able to lower the vacancy rate and repairs numbers in my analysis which would make a big difference in numbers, but regardless I think that this place needs to drop a bit more.
It did have a sizeable drop 6 weeks ago of $40,000 so if it has another decent drop then I may take a closer look at it. I think it needs to drop at least $20,000 more though…. I mean, it's already well over half a million dollars!
I rate this at 7.0/10.
The U-Haul Property
So, I guess I'm going to call this one the "U-Haul" property.
Why? Because right next door is a U-Haul property with a fleet of vehicles. It's just a parking lot essentially… an "equipment return", so it's not busy or noisy or anything, but it just looks a bit odd/ugly right next door.

In addition, this property isn't in the best of neighbourhoods, but is one very small step up from the Hobbit House and 2-House Property in terms of location.
The property itself is a house with a legal suite downstairs. The entire building was just renovated – everything down to the studs. New windows throughout even. It looks like a new roof too, although I need to get that confirmed.
The backyard is sizeable and fully fenced and fairly flat. One drawback to this place is that both units are a bit small… about 800 sqft. each.
My realtor thinks that this place will sell fast – I believe him too, since there were a shitload of realtor's cards on the table there, and we actually had to wait for another realtor who was giving a tour of the place to finish before we could enter.
Here are the numbers on it:
Monthly Cashflow (after all of my heavily padded expenses): $138.29
(End of) Year 1 ROI/Cash-on-Cash Return: 3.03%
(End of) Year 5 ROI/Cash-on-Cash Return: 12.00%
So, not great. But remember, this place was renovated from down to the studs, meaning that repairs and CapEx expenses likely don't need to be put in at the 10% and 5% numbers rates I have them at.
If I drop vacancy to 7%, repairs to 5%, and CapEx to 3%, then suddenly it cashflows at $321 a month, and has a 5-year ROI of 19%.
There's no work for me to do on this property or have to worry about.
I rate it 8.0/10.
The G-House
I'm calling this one the G-House because it's on a street that starts with a "G", and there is no other interesting moniker I could come up with, as the house is pretty non-descript!
It's an older house with a suite in the basement in a "decent" area; I'd rate the location about a 3.5/10.
It has high ceilings in it and is actually quite roomy. We only saw the upstairs/main floor, but the layout was unique and it had a lot of extra spaces and nooks and crannies. It has a massive laundry/deepfreeze area and a large backyard balcony/patio area which overlooks a decent-sized yard.
It looks to be in decent shape, but the age does show through a bit. The roof looks like it won't last too much longer and will probably need to be replaced within around 5 years or so.
Here are the numbers on it:
Monthly Cashflow (after all of my heavily padded expenses): $209.68
(End of) Year 1 ROI/Cash-on-Cash Return: 4.10%
(End of) Year 5 ROI/Cash-on-Cash Return: 15.29%
There was absolutely nothing exciting about this property, but the numbers on it aren't too bad. It's a new listing too, so it does have some potential to drop in price.
I rate it a 6.5/10.
The Northern No-No
Boy, these names just keep getting worse and worse, heh.
I wasn't thrilled about this property on paper, but did decide to check it out anyhow. It looked a bit rough in the photos online, but it's located in the northern part of my city; the farther north you go, the richer the neighbourhoods and vice versa.
It's a duplex on a busy street and has a partial ocean view. It basically has no back yard, just a porch that needs some work done to it.
The actual interior needs a lot of work. The kitchen really needs to be redone completely… I mean, the countertops were ORANGE… like from the 70s. The place also smelled really funky and everything pretty much was "original" including the windows.
That being said, both my realtor and I did see some potential in it. However, it would be best suited for an actual flipper, because it just needs too much work done. He guesstimated it needed around $50,000-$60,000 in renovations.
And I'm simply not interested in flipping properties (not yet anyway).
I originally put it on my list because it had pretty decent cashflow.
However, I won't even rate this or provide the numbers on this one since it's out of the running. It's just not for me.
The Dark Horse Duplex
Here we go! A better name, no?
Okay, so this is an interesting one because while the listing says it's only been on the market for just over 2 months, I'm pretty sure that it was listed longer but went off for a little while before getting relisted.
Because, I remember looking at it a long time ago and deciding that it didn't cashflow well enough. Since then, I kept seeing the property along the list of my properties, just hanging around, but I always overlooked it since I knew that I had already deemed it as too expensive.
I finally decided to give it another chance since the market here has been so dead lately and I was simply running out of decent properties to look at.
Another thing that originally put me off the property at first was the fact that I'm pretty sure that this property never dropped in price. I'm guessing that a big reason for this is due to the fact that both sides were completely renovated 7 years ago, and the owner is probably wanting to get a certain number for it.
Anyhow, as we pulled up to the property there was a Doe (baby dear) in the front area who pranced away. This area of town, which is in a "Robin Hood" foresty/mountain area has a fair bit of deer. It's about 5-minutes away from the ocean and is overall a pretty decent location. I'd rate the location about a 6.5/10.
The roof on this duplex is probably about halfway through its life or a bit thereafter. I really don't know jack about roofs though, so I couldn't really say. The backyard is very nice. It's fully fenced except for the immediate sides to the building, and is very flat with a nice lawn and a few very large trees on the outer perimeter. It has a small wooded built-in playground and a nice tree with a rope swing, and is just a nice, sizeable back yard.
There are actually even 2 sheds, one for each property.
So why is this called the Dark Horse Duplex? Well, you already know that this one was lingering on my list of properties for a while, but never made me excited. Upon entering the place though, I was very happily surprised and it is now tied for my favourite property overall!
I knew from the photos online and the fact that the place was relatively recently renovated that it would be in pretty decent to good condition, but actually seeing it in person showed that it was in far better condition that I had thought.
While I wasn't thrilled about the faux-wood laminate floors in some rooms, the rest of the property was very well done. It wasn't a cheap reno, and was definitely more in the upper range of renovation… medium at worst.
The finishing's are high quality. For example, the fridge is a Samsung stainless steel digital fridge, the kitchen faucet looks to be about a $150-$200 faucet, and that's just the kitchen. The green sand casting process can achieve high production rate. The floor molding with green sand can produce castings of 100 to 200 sand boxes each day, e.g. about 100 pieces to 2000 pieces each day. Learn more about the advantages of green sand casting at Cast Technologies.
The rest of the house is finished just as well; the ceiling fans look to be pretty good quality, there are french doors by the dining room that leads out to the back yard. There is even mood lighting in the large master bedroom which was pretty neat (I was playing with it); it wasn't just a simple slider but had several buttons.
And just other little things too like the exterior doors had those locks where you can use a key or enter a code instead.
Upstairs is where the bedrooms were. It is 3 bedroom and 2.5 bathrooms each side. The master has its own bathroom and even bluetooth bathroom mirrors. The other two bedrooms are smaller and simple, but all are done well. The bathroom even has a granite sink… it's nice.
Walking through the place, it felt so different to all the other places because it was dramatically nicer. In fact, my realtor said that it's actually nicer than the Ocean View Duplex that I keep crying about losing out on. It doesn't have a view or garages like that one did, but it's in a better location and is nicer inside.
We tried to see the other side of the duplex too, but the code that the listing agent provided didn't work. Taking a look at the photos again online though, it appears that that side doesn't have quite as good as finishing's as the side we looked at. The finishing's look to be decent, but definitely don't give off the luxury feeling that the first side did.
Oh, and the side we looked at even had a nice small office! So rare! This place is perfect for families and/or working professionals.
It was great. Yet another property where I wouldn't have to do a thing… and that's a bit of an understatement, because it actually has a bit of a "wow" luxury factor.
So, here are the numbers on it:
Monthly Cashflow (after all of my heavily padded expenses): $228.78
(End of) Year 1 ROI/Cash-on-Cash Return: 6.53%
(End of) Year 5 ROI/Cash-on-Cash Return: 25.78%
This is if I can get 20K off the asking price – which I don't think is too unrealistic since it has never dropped!
This is also factoring in a reduced 7% vacancy and 5% repairs budget, since the rental rates I put on it seem to be pretty competitive, and the lower repair rate since it's in fantastic shape.
So, that's around a $43,000 return after 5 years factoring in equity and cashflow, a 25% ROI.
In 10 years, that's a 52% ROI and a $56,000 return. However, this isn't factoring in appreciation or rent increase. Plus, I will probably want to liquidate far before 10 years to move onto something bigger.
Overall, I rate this property an 8.5/10. I just increased it right now after writing this, heh… it's now the leader!
It's in fantastic shape, has a good location, it cashflows, and it has a good ROI.
So now what? Haha, I dunno. The last time I waited on a property I loved to drop, I lost out on it. I have to think more though…
The 2-House Property
I didn't look at this one again, but just thought I'd provide my "new" numbers on it since it's still among my favourites.
With my new numbers, I'm using a 7% vacancy rate (the tenants in the back have been there for 5 years!), 11% for repairs and maintenance, and 6% for CapEx due to the buildings age and condition.
Monthly Cashflow (after all of my heavily padded expenses): $355.36
(End of) Year 1 ROI/Cash-on-Cash Return: 5.55%
(End of) Year 5 ROI/Cash-on-Cash Return: 18.89%
Damn… it still works, lol.
Decisions decisions…