July 27, 2008
Posted by Tyler Cruz
My Affiliate Marketing Challenge 2 has been running for nearly 2 weeks now. However, there are still 18 days left!
If you haven't entered yet, I highly recommend you do. MarketLeverage has put up so many great prizes that your odds of winning them are actually very good. I'm actually very envious of you guys and wish I could compete in my own contest! If I did, I'd be in 3rd place right now and would walk away with a Flip Mino Video Camera…
For those of you who have signed up, but are having trouble making any leads or sales, stay tuned. In particular, I'll be showing how you don't need to spend a penny and use PPC marketing in order to make money with an affiliate network, and will show you an offer that you should have no problems making at least $20 with without spending a dime.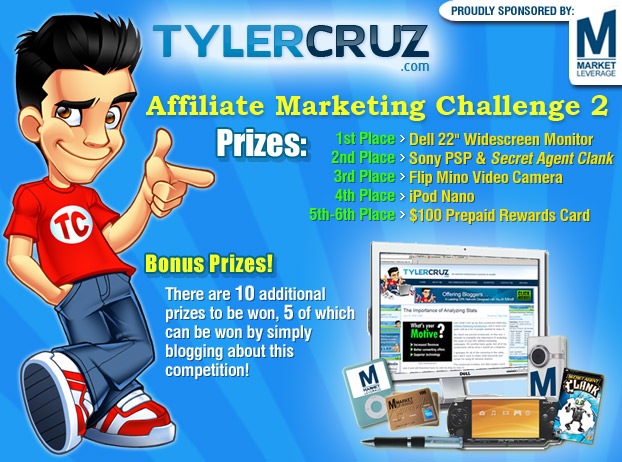 Prizes
Before I get to the rankings, here is a reminder what is up for grabs. Full details of the prizes and contest details can be found at the original contest page.
Top Grossing Affiliates
1st Place: Dell 22″ Widescreen Monitor with Built-In Webcam
2nd Place: Sony PSP + Secret Agent Clank
3rd Place: Mino Flip Video Camera
4th Place: iPod Nano
5th Place: $100 Prepaid Rewards Card
6th Place: $100 Prepaid Rewards Card
Top New Affiliates
1st Place: 2.0GB USB Storage Pen
2nd Place: 2.0GB USB Storage Pen
3rd Place: 2.0GB USB Storage Pen
4th Place: 2.0GB USB Storage Pen
5th Place: 2.0GB USB Storage Pen
Random Blog Draws:
1st Place: 2.0GB USB Storage Pen
2nd Place: 2.0GB USB Storage Pen
3rd Place: 2.0GB USB Storage Pen
4th Place: 2.0GB USB Storage Pen
5th Place: 2.0GB USB Storage Pen
Current Rankings
Here are the latest rankings as of July 26th, 7:40pm Pacific time after less than 13 days in. I've now referred a total of 74 affiliates to MarketLeverage, 17 of which signed up during this latest competition.
Together, during this competition so far, they've generated a total of $7,975.80 in commissions. The current leaderboards are shown below:
Top Grossing Affiliates
Rank
Participant

Earnings

1st
CD8470 "The Behemoth"
$5,316.00
2nd
CD9189 "The Newcomer"
$998.20
3rd
CD8137 "The Tortoise"
$504.00
4th
CD8346
$409.00
5th
CD8036
$238.20
Combined Total (all referrals):
$7,975.80
Top New Affiliates
Rank
Participant
Earnings
1st
CD9189 "The Newcomer"
$998.20
2nd
CD9050
$216.00
3rd
CD9061
$28.60
4th
CD9082
$10.00
5th
Open
$0.00
Combined Total (new sign-ups):
$1,252.80
CD8470, aka "The Behemoth" as I like to call him, has continued to show his dominance in the competition. He must really want that 22-inch monitor 🙂
But we have a new competitor in the running, and he's on The Behemoth's tail. He only signed up less than a week ago but has already secured 2nd place with nearly $1,000. From the pace he's set so far, it doesn't look like he'll be able to catch The Behemoth, but if he scales his campaigns or adds 1 or 2 it certainly won't be out of the question.
CD8137 has always played his role as The Tortoise – "slow and steady wins the race". He's never been flashy, but he's consistent and solid.
CD8346 seems to be vying hard for 3rd place but can't quite make it, at least yet. However, he does have a comfortable lead on 5th place.
CD8036 is another "slow and steady" competitor, however he seems to have a bit of a heavier shell 🙂 He should consider working hard on his campaigns as the newcomer CD9050 is hot behind his heels.
For the new affiliates, we see the strong newcomer CD9189 easily take 1st place, and CD9050 secure 2nd. All you need to do is earn 1 cent and you'd be in 5th place right now and eligible for a prize, so sign up if you haven't already!
So far, 8 people have blogged about this competition. That means that as it stands right now, if you wrote a blog post about this competition, your chances of winning a 2.0GB USB pen would be 55%. What else can I say?
It looks like I may reach my goal of having the competition generate a total of $15,000 by the time it ends, however I'm not so sure I'll meet my goal of also referring a total of 100 affiliates. So sign-up and help me reach my goal!
There is still 19 days left for this competition, so if you haven't signed up yet, come on and join the fun! All you need to currently do is earn 1 cent to be in 5th place of new registrants and win a prize.
Plus, what better way to get your feet wet into affiliate marketing than to join a contest?
I'll give you guys another update in a week from now. I hope to see your name on the leaderboards!