July 21, 2008
Posted by Tyler Cruz
The first week in my Affiliate Marketing Challenge 2 has already finished. However, that means that there are still 3 weeks left!
If you haven't entered yet, I highly recommend you do. MarketLeverage has put up so many great prizes, and your odds of winning them are actually very good. I'm actually very envious of you guys and wish I could compete in my own contest! If I did, I'd be in 2nd place right now and could definitely use that Sony PSP & Secret Agent Clank game…
For those of you that have signed up, but are having trouble making any leads or sales, I'll be posting some beginner tips on how you can start generating some income with MarketLeverage. In particular, I'll be showing how you don't need to spend a penny and use PPC marketing in order to make money with an affiliate network.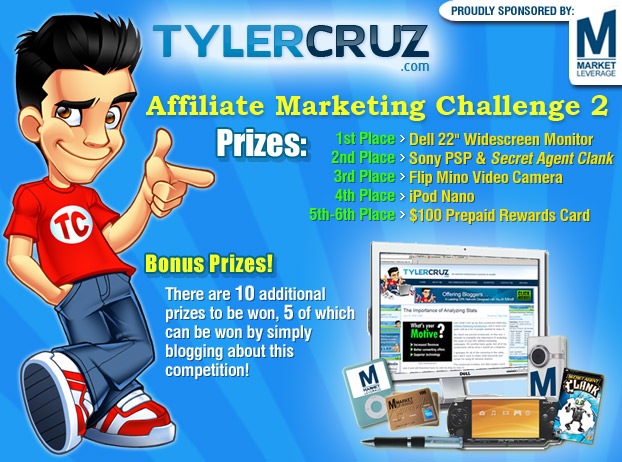 Current Rankings
Here are the rankings after the first week. I've now referred 68 affiliates to MarketLeverage, 11 of which signed up during this competition.
The first week of the Affiliate Marketing Challenge saw the same participants from the first challenge return, including the behemoth CD8470.
Together, they've generated $2,704.60 in commissions. The current scoreboard is shown below:
| | | |
| --- | --- | --- |
| Rank | Participant | Earnings |
| 1st | CD8470 | $1,922.80 |
| 2nd | CD8137 | $273.00 |
| 3rd | CD8346 | $212.60 |
| 4th | CD8036 | $103.60 |
| 5th | CD8083 | $83.60 |
| | | $2,704.60 |
CD8470 has continued to completely outperform everyone else in the competition… actually managing to earn more than everyone else put together.
I actually interviewed CD8470 and asked him to share some of his tips and tricks on how he's earning so much. Expect the interview within a couple days.
Prizes
To be honest, I thought I'd get a few more sign-ups, and a lot more competition in terms of higher earnings. I understand that affiliate marketing can be difficult – hey, I'm still learning myself – but you should really not dismiss these prizes.
At the current rate, you only need to generate an average of $25 per day during the next 3 weeks in order to win an iPod Nano. Or, $50 per day during the next 3 weeks to win a Flip Mino.
Don't forget, there are 16 prizes for total up for grabs, so even if you don't win one of the main prizes, you still stand a very good chance of winning something! Full competition details can be found here.
Here is a reminder what is up for grabs:
1st Place: Dell 22″ Widescreen Monitor with Built-In Webcam

If you can manage to make your way to the top of the earners list, all your hard work and efforts will be rewarded with a 22″ Widescreen monitor.
Studies have actually proven that a larger monitor increases productivity dramatically. With a maximum resolution of 1680×1050, imagine how many keywords for your campaigns you could see at once…
And get this – it has a built-in webcam! That's less clutter on your desk, and faster video production for you.
2nd Place: Sony PSP + Secret Agent Clank

This new version of PSP is slimmer, smaller and lighter, while still providing an awesome gaming experience, lightning-fast gameplay and intense graphics. The latest PSP is 19% thinner and 33% lighter than the previous model and has twice the memory. The unit features an AC power cord, an AC adapter and a smaller, more efficient battery pack that lasts up to six hours.
In addition, I talked MarketLeverage into throwing in a game as well, and they were happy to oblige. I chose Super Agent Clank since it got a high rating of 8.0 on GameSpot.
Now you'll have something to play inbetween working on your affiliate marketing campaigns.
3rd Place: Mino Flip Video Camera

Due to the popularity and interest that contestants of my first Affiliate Marketing Challenge showed in the Mino Flip, we've brought it back. Here's your second chance to win it!
The Mino Flip is the latest line of Flip Video cameras. It is smaller, better, and simply overall sexier than both the original Flip and the Ultra.
In addition to being smaller and having new features such as pause/fast forward/rewind buttons, it also sports a rechargeable lithium ion battery (compared to the double AA batteries the original Flip and Flip Ultra use). More details can be found on TheFlip's website.
4th Place: iPod Nano

The iPod Nano is a very small and popular iPod from Apple's massively popular line of iPod's. I'll let you watch the video below for some eye candy and visit Apple's official iPod Nano website for more details, but first here are some quick specs & features:
Plays up to 5 hours of video or up to 24 hours of music on a single charge.
In addition to playing music, you can watch movies, TV shows, listen to podcasts, audiobooks, play games, and organize photos.
Includes earphones, USB2.0 cable, and dock adapter.
Holds up to 1,000 songs, 4 hours of video, or 3,500 photos.
5th – 6th Place: $100 Prepaid Rewards Card

As part of a way to make this competition bigger and better than the previous one, and since 2nd-6th place were all fairly close to each other in the previous competition, I thought it would be great to add two more main prizes to the mix.
So now the 5th and 6th place finishers will get a prize as well! This American Express/Market Leverage Rewards card is prepaid with $100 and can be used just like any other credit card, only it is prepaid and can be thrown away when emptied. Think of it as a throw-away credit card (only don't throw it away until you've spent it all!).
I'm actually putting this prize up with my own money in order to really encourage participation and as a way of thanking those who do participate.
Bonus Prizes
The top 5 new referrals who sign up to MarketLeverage through my referral link and earn the most money out of new referrals will each receive a 2.0GB USB Storage Pen.
In addition, 5 bloggers who post about this competition will be chosen randomly by drawing and will also each receive a 2.0GB USB Storage Pen as well!
So far, only 2 people have blogged about this post! That means that as it stands right now, if you right a blog post about this competition, your chances of winning a 2.0GB USB pen is almost guaranteed.
2.0GB USB Storage Pen

Just because I'm giving away 10 of these pens (Thanks again, MarketLeverage!) doesn't mean they're just any cheap, ordinary pens.
While a fully-functioning pen, when unscrewed, it unveils a USB connector from inside. With a storage capacity of 2.0 gigabytes, this pen can hold a huge amount of data on it for quick and easy data transfers.
Act out your favourite spy character from your favourite spy movie with this high-tech pen. I personally find it useful for transferring data back and forth from my computer to laptop.