August 31, 2008
Posted by Tyler Cruz
That's right! Due to the huge successes of our first two affiliate marketing challenges, MarketLeverage and I have joined together once again to bring you the Affiliate Marketing Challenge 3!
There is over $10,000 worth of prizes up for grabs including a 52″ 1080p HDTV, Alienware computer package, Playstation 3, video camera, and Nintendo DS to name but a few.
Whether you're a super affiliate, medium affiliate, or brand new to affiliate marketing, we have prizes aimed just for your skill level. We even have prizes for bloggers who post about this contest, so everybody is eligible to win a prize as long as you either do affiliate marketing or have a blog.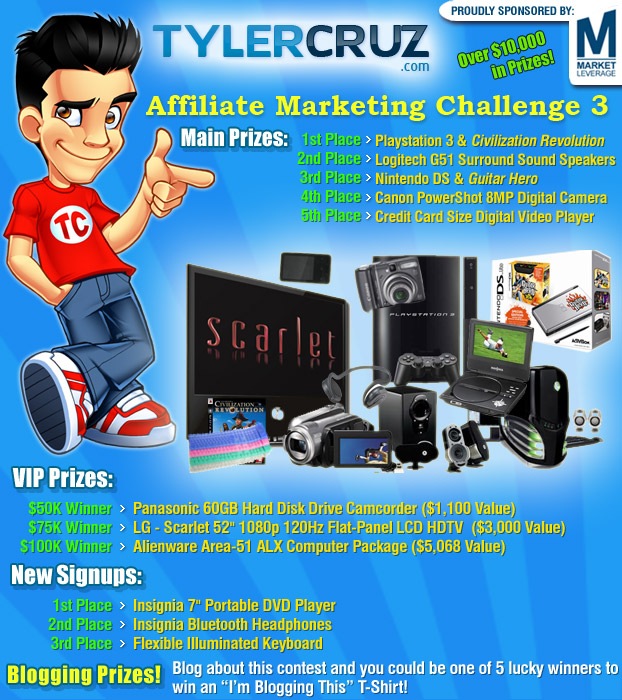 Overview
The competition runs from September 1st (12:00AM Eastern time) to September 30th (11:59PM Eastern time).
However, the earlier you register, the more time you have to start making some dough and the better your chances, so the sooner the better!
The process of the challenge is simple: publishers register to MarketLeverage under my referral link and then proceed to make as much money as they can until competition ends on September 30th.
There are also some additional prizes that can be won by simply blogging about this competition.
How to Participate
There are two different ways to participate in the competition. You may choose either method, or do both. However, the best prizes are only available in the "Earn the Most" method:
Earn the Most: Main Prizes: Compete with others to earn the most (or top 5) in commissions from Market Leverage.
Sign up to MarketLeverage through my referral link by clicking here. It is very important that you register under my referral link or you will not be eligible. If you've already registered to ML previously, then you are unfortunately not eligible to participate as I cannot track your generated revenue.
Approve your account by phoning ML or having them phone you (don't worry, they're real nice!).
Earn as much as you can!
At the end of the challenge, if you generated one of the top-5 amounts in commissions, you win one of the corresponding prizes!
Earn the Most: New Signups:
If you signed up to MarketLeverage through me just for this competition, you are eligible for the New Signups prize category as well. As long as you finish amongst the top 3 revenue earners for new signups, you win a prize.
If you are a new signup, you are eligible to win prizes from both the New Signups category and the Main or VIP categories if applicable!
Earn the Most: VIP Category:
If you're a super affiliate who can generate big numbers, then you are eligible for the luxurious VIP prizes. You will need to generate at least $50,000 a month in order to be eligible.
There are three tiers. If you generate enough to hit a certain tier and finish as the highest in your tier, you win the corresponding prize for that tier.
The tiers are as follows:
$50,000-$74,999
$75,000-$99,999
$100,000+
Note: Once you generate over $50,000 you are only eligible for the VIP prizes and not the main prizes. Therefore, you cannot win a prize in both the Main Category and VIP Category.
Write a Blog Post: Simply write a blog post telling others about this competition on your blog.
It's as simple as it sounds. Write a blog post (an entire post, not a small mention in another post) about this competition, being sure to link back to it.
Contact me with the URL of the actual post, being sure to provide your e-mail address. Please do not comment on this post saying you wrote the post; contact me through the contact form instead.
A drawing will be taken at the end of the contest, and 5 random winners will each receive an "I'm Blogging This" T-shirt (see below).
VIP Prizes
$100,000+ Tier: Alienware Area-51 ALX Computer Package

This is no ordinary computer. It's a beast. With the 24-inch monitor we're throwing in (as well as top-of-the-line peripherals such as wireless mouse and keyboard, etc.) it's priced at over $5,000.
It would be futile to demonstrate just how sexy this machine is, but here are a few quick specs:
Processor: 45nm Intel "Penryn" CPU architecture
Intel® Core™ 2 Extreme (12MB Cache, 1333MHz FSB)
Memory: Up to 4GB Dual Channel DDR3 at 1600MHz
Video Card: 1GB ATI® Radeon™ HD 3870 X2 – Dual GPU (or 2GB ATI® Radeon™ HD 4870 X2)
Hard Drive: 7200 RPM – up to 32MB cache and 1TB storage
For full details of this machine, check it out on the Alienware website.
$75,000-$99,999 Tier:
LG – Scarlet 52″ 1080p 120Hz Flat-Panel LCD HDTV
I've been waiting a long time to be able to give away a big screen TV, and am happy to finally be able to.
The LG "Scarlet" TV is a highly-acclaimed HDTV which you may recognize from its fairly recent debut in television commercials.
Here are some specs:
52″ measured diagonally
Built-In HDTV Tuner
1080p display provides the highest-quality progressive-scan picture possible
16:9 widescreen aspect ratio and 6 selectable viewing modes, including 24p Real Cinema
For full details, check it out on the BestBuy website.
$50,000-$74,999 Tier: Panasonic 60GB HD Drive Camcorder
While many people have access to a video camera these days whether it be through a Flip Video Camera or their cell phone, if you want to record real high-quality videos at length, you'll want one of these bad boys.
Here are some specs:
Internal 60GB hard drive
Can shoot up to 23 hours of 1080p footage!
SD/SDHC card slot lets you hold hours more
10X optical zoom
Lightning fast 0.6 second start-up time
For full details, check it out on the BestBuy website.
Main Prizes
1st Place: Playstation 3 & Civilization Revolution
The most expensive of consoles, for good reason, the Playstation 3 is waiting for you to unwrap it and plug it in. In addition to the PS3, we're throwing in the highly acclaimed game Civilization Revolution, which is the second highest rated game on GameSpot with a rating of 9.0!
Here are some spec details of the PS3:
Internal 80GB HDD for storing your games, music, and photos
Built-in Blu-ray player
Dual Shock 3 wireless controller
High-Definition Multimedia Interface (HDMI) out for 1080p resolution
Internet ready with built-in wireless network connectivity (Wi-Fi)
Check out more details on the Playstation 3 and Civilization Revolution.
2nd Place: Logitech G51 Surround Sound Speakers
Bring your games to life with 360-degree surround sound. Your games are meant to be experienced in surround sound. Now hear your enemies sneaking up behind you, and listen for action in every direction. Turn on Matrix mode to create 5.1 surround sound from 2-channel stereo sound sources such as music or legacy games.
Some features:
Rotating Stands: Mount your satellite speakers on the wall.
Center-Channel Clip: Secure the center-channel speaker to the top of your LCD monitor.
For more details, check out the BestBuy website.
3rd Place: Nintendo DS & Guitar Hero
The Guitar Hero gaming sensation isn't isolated to just XBox, Playstation, or the Wii anymore – now you can play Guitar Hero on-the-go with the Nintendo DS!
Guitar Hero: On Tour continues to build on the franchise's signature easy-to-play, yet difficult to master addictive gameplay, and now lets players take their experience on the road wherever they go. Players use the Guitar Hero pick-stylus on the touch screen to strum their favourite tunes and create their rock n' roll legacy in career mode.
Of course, while we're giving away the full Nintendo DS and Guitar Hero bundle, you can play any Nintendo DS game on your new portable gaming system!
For more details, check out the BestBuy website.
4th Place: Canon PowerShot A590IS 8MP Digital Camera
With the PowerShot A590 IS, dramatic, personal pictures have never been easier to shoot and share. The 8.0-megapixel design lets you create impressive high resolution images of family and friends that you'll be proud display. The 4X zoom lens moves you in for powerful close-ups. Plus, the highly sophisticated Optical Image Stabilizer keeps every shot absolutely steady even when you're not.
8.0 Megapixels
4x Optical Zoom
Optical Image Stabilizer
large bright 2.5-inch LCD for superb performance.
For more details, check out the BestBuy website.
5th Place: Credit Card Size Digital Video Player
These mini video players are small on size but are big on features with full-size bright high-res screens and 8 hour battery life. They're perfect for playing your favourite movies and music. Choose from the Neon M3 with heat sensitive glowing buttons and a 2.4 inch LCD screen or the Ice with a brushed aluminium finish and a slightly larger 2.8 inch display. Both have 2GB of storage built-in and can be expanded via memory card.
Mini Media Players Handle Video, Audio and can do Voice Recording
Keys on Neon M3 are heat sensitive and glow when touched
Built in FM Radio
Integrated Speaker, or use the included Headphones
Built in Storage: 2 GB
Support USB mass-storage mode for easy transfer of videos on any OS
Expandable Memory Slot – ICE (TransFlash/MicroSD), Neon M3 (T-Flash)
New Signup Prizes
1st Place: Insignia 7″ Portable DVD Player

These things are perfect for travelling. I've seen people use these on the ferry here, and since the ferry ride from the island takes 2 hours, it's the perfect amount of time to watch a movie.
Or, break up the monotony of a long car ride with this 7″ portable DVD player. With its slim profile and headphone jack, it's the perfect travelling companion.
Here are some more details:
AV input/output for external TV/monitor and camcorder/game.
Dual hi-fi stereo speakers and one headphone jack.
2.5 hours built-in rechargeable battery.
Volume and brightness adjustable.
Check out more details on the BestBuy website.
2nd Place: Insignia Bluetooth Headphones

If you're anything like me, you probably get annoyed with headphone cords. I can't tell you how many times I've left to go to the bathroom, only to trip over the cord or send them flailing along with me by accident.
Enjoy the convenience of handsfree music and communication with the Insignia NS-BTHDP Bluetooth headphone. Get Hi-Fi music from your mobile phone or any music device with Bluetooth Technology.
Here are some more details:
Cool and comfortable neckband wearing style.
Bluetooth Compliant
Supports BT 1.2 A2DP, AVRCP.
Up to 10~12 hours of talk/music time.
Check out more details on the BestBuy website.
3rd Place: Flexible Illuminated Keyboard

The flexible silicone Illuminated Full Sized Keyboard is strong, silent and indestructible. It's portable so you can just roll it up and take it with you!
Now you can respond to those late night emails without the assistance of a blaring desk lamp – perfect for dorm roommates.
Here are some more details:
Virtually indestructible
Washable and hygienic
Portable and storable
Dust-proof and water-resistant
EL illumination on/off
Simply wipe up any spilled liquid with a damp cloth
Fits in your briefcase, backpack or notebook carrying bag and you do not have to worry any sharp edges
Check out more details.
Blogging Prizes
5 bloggers who post about this competition will be chosen randomly by drawing and will each receive an "I'm Blogging This" T-shirt!: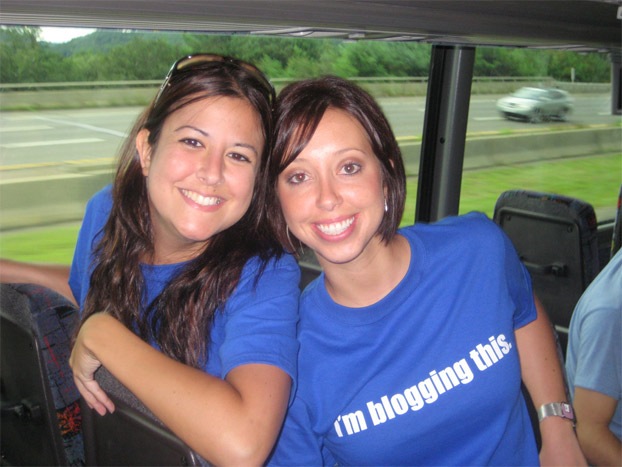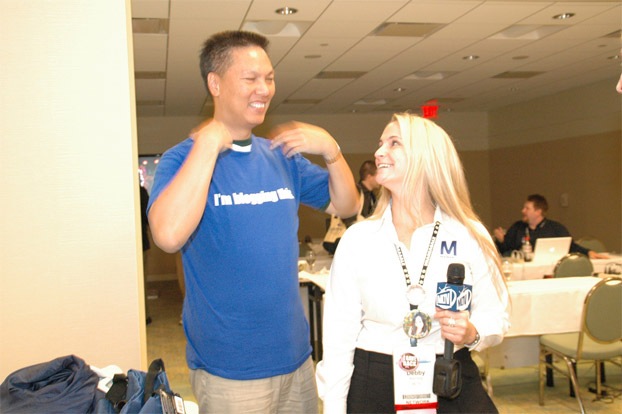 More Information
I will be making regular updates (once or twice per day) to the current competition rankings on the "Affiliate Challenge" section located on the top right column of my blog. This will let you know how far behind (or ahead!) you are from the leaders. I've also improved this section to give a live countdown of exactly how much time is left in the competition.
Your name or personal contact information will never be posted on the site. I don't even have access to it if I wanted to (MarketLeverage can still ship the winner's prizes as they have access to it). I will state your earnings and CD#, but those are completely safe to disclose.
The challenge only tracks participant's income during the contest's timeframe, so nobody will have a head start on you.
You will only be competing against other publishers who are signed up under my link, not against all of MarketLeverage's publishers. This dramatically improves your chances of winning a prize.
Now go make some money!
I strongly urge everyone to participate in this challenge. The prizes alone should be enough incentive for you to join, but on top of that, this competition is a very good way to get started in affiliate marketing and put positive pressure on yourself to improve your earnings.
I've heard from a couple people who participated in the first Affiliate Marketing Challenge who said that the competition helped make them try harder and work on their campaigns more.
And, of course, you'll keep all your profits you generated from MarketLeverage.
My personal goal for this competition is for the total amount of commissions to hit $50,000. The last competition brought in $34,076.75 so it's definitely doable. I know you guys can do it!
I look forward to seeing how this challenge progresses and hope to see a lot of you participate.
Good Luck!
Posted: August 31st, 2008 under Contests