September 2, 2008
Posted by Tyler Cruz
You know what's satisfying? Sticking with something and working day after day because you know there's potential lying underneath.
While I originally created my blog simply to act as a medium to chronicle my day-to-day operations as a web entrepreneur who makes his living form the Internet, it's no secret that I've been trying to monetize it over the past year-and-a-half.
While my blog has seen enormous growth in terms of income during the past couple months, I can't be too quick to celebrate as the majority of the increase is a result of my recent affiliate marketing competitions. I need to be wary because if my referrals stop generating income, then my referral and thus blog income will drop accordingly as well.
But now's the time for celebration, not hesitation, and the fact is that in the end, money is money, regardless of where it originated from. So how did last month do?
My August 2008 blog income came to: $3,830.15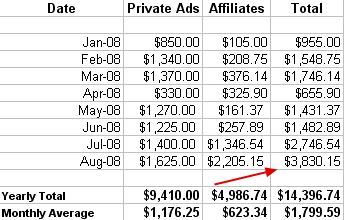 What's interesting is that July made $1,000 more than June and August made $1,000 more than July.
My blog has now made close to $10,000 this year so far from private ads and close to $15,000 overall. If we assumed my income stayed at a fixed $3,830.15 a month, that works out to $45,961.80 a year. That's $45,000 a year from just blogging! I could live off that.
Now, if you triple that, then you could justify traveling the world blogging for a living. If that isn't the life I don't know what is.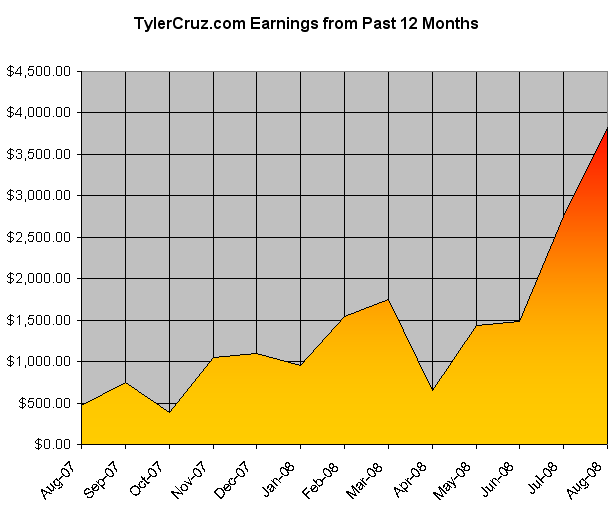 The huge increase was again largely in thanks to MarketLeverage. As you should know by now, I've been running MarketLeverage competitions and have so far referred a total of 89 affiliates. They generated $43,282.20 in August, and since I get 5% of whatever they generate, I made $2,164.11.
Now you guys can see the power and methodology behind PublisherSpot.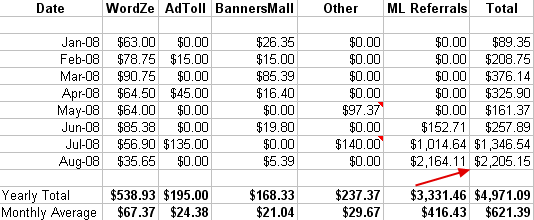 I'm not thrilled by the fact that my affiliate breakdown is so heavily dependant on MarketLeverage though. It would be nice to start generating some other sources of passive recurring income as well…
The pie chart below is beginning to get pretty crazy. It looks (appropriately) like a purple PacMan trying to eat the rest of the revenue sources. I shudder to think what it will look like next month…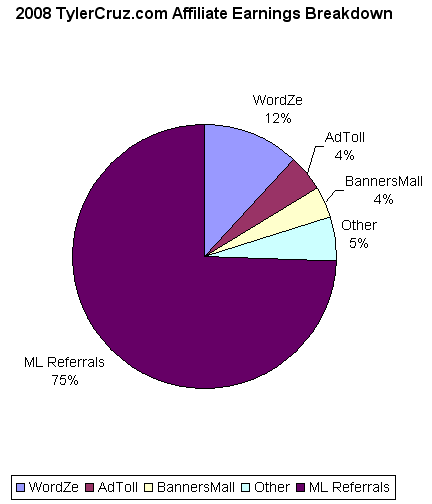 For the same reason as above, the following chart sees the Affiliates wedge grow from an average of 26% to 35%. I'm not sure what the best mix is, but I think anywhere from a 30-70/50-50 split is healthy.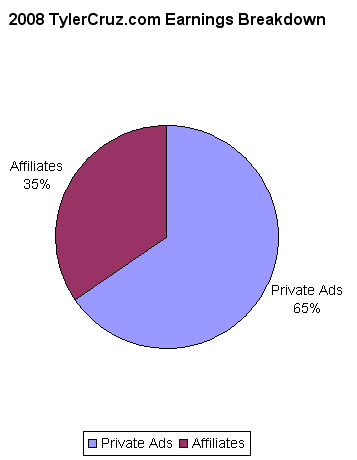 Affiliate Sources
MarketLeverage has continued been a fantastic revenue source for my blog. In the month of August alone, my referrals generated me over $2,000 in commissions. This is not counting the money I make with them through my PPC affiliate marketing efforts.
WordZe has continued to prove to be a consistent source of residual affiliate income. I only wish I catered more to affiliate marketers so I could promote it more. Their referral program is really lucrative, check it out if you have the chance, or read my extensive review of them.