December 15, 2008
Posted by Tyler Cruz
December has really flown by and we're already halfway through it which means the Affiliate Marketing Challenge 6 is also at it's midway point.
There's still plenty of time to register and earn your way to a prize (or prizes) so don't let starting a little bit late affect your decision. In fact, it's ridiculously easy to grab a spot in the New Referrals category; all you currently need to do is generate $24.01 to take 2nd place and be eligible to win yourself an 8GB iPod Touch. Or, generate $15.21 and you'll be on track to take home an 8GB iPod Nano by securing 3rd place.
For those of you who have signed up but are having trouble making any leads or sales, keep working at it! Part of the great thing about this competition is that it really pushes and encourages you to make more money through affiliate marketing. I know of at least a few contestants who have surprised themselves by raking in a lot more dough that they thought they could, simply due to the nature of competition.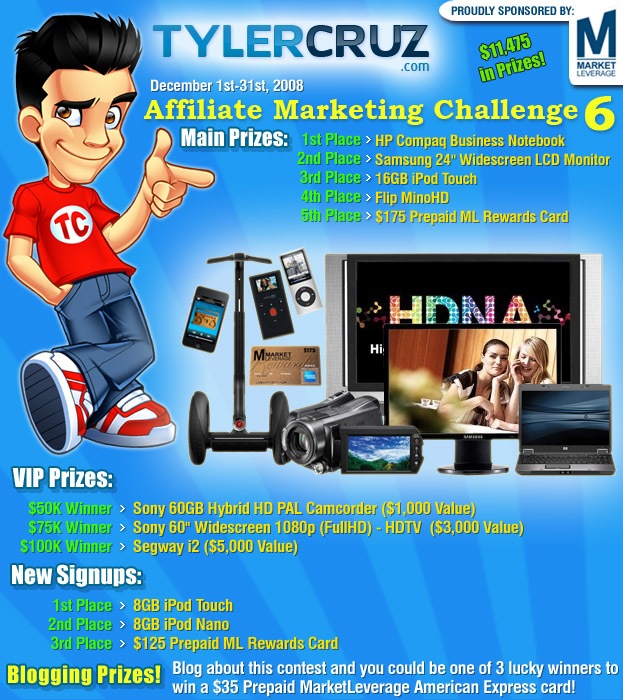 Prizes
Before I get to the rankings, here is a reminder of what is up for grabs. Full details of the prizes and contest details can be found at the original contest page.
Top Main Affiliates ($0.01-$49,999)
1st Place: HP Compaq Business Notebook
2nd Place: Samsung 24" Widescreen LCD Monitor
3rd Place: 16GB iPod Touch
4th Place: Flip MinoHD
5th Place: $175 Prepaid ML Rewards Card
Top New Affiliates
1st Place: 8GB iPod Touch
2nd Place: 8GB iPod Nano
3rd Place: $125 Prepaid ML Rewards Card
$50,000-$74,999 VIP Tier
1st Place: Sony 60GB Hybrid HD PAL Camcorder
$75,000-$99,999 VIP Tier
1st Place: Sony 60" Widescreen 1080p HDTV
$75,000-$99,999 VIP Tier
Random Blog Draws:
Current Rankings
Here are the latest rankings as of December 15th, 6:23AM Pacific time.
I've now referred a total of 144 affiliates to MarketLeverage, of which 11 signed up during this current competition.
Together, during this competition thus far, they've generated a total of $28,891.00 in commissions in just 16 days. The current leaderboards are shown below:
Top Main Affiliates
Rank
Participant

Earnings

1st
CD8470 "The Behemoth"
$12,620.20
2nd
CD8467 "The Dark Horse"
$9,021.00
3rd
CD9050
$1,782.00
4th
CD12686
$1,170.00
5th
CD12601
$967.60
 
Combined Total (all referrals):
$28,891.00
Top New Affiliates
Rank
Participant
Earnings
1st
CD12686
$1,170.00
2nd
CD12997
$24.00
3rd
CD12993
$15.20
 
Combined Total (new sign-ups):
$1,209.20
For those of you familiar with "The Behemoth", you may notice that his commissions in this competition so far are dramatically below what they usually are. To put it in contrast, last month at this time he generated over $42,000. Unfortunately, there was apparently an issue with one of the advertisers he was running an offer with and they are holding one of his payments. We're not sure why yet, but I wouldn't be surprised if it's because they weren't prepared for all the traffic he sent them; he was doing over $5,000 a day for a while. Hopefully he, the advertiser, and MarketLeverage get it worked out so he can get back to his old self and kick ass.
Similarly, The Dark Horse had a fantastic first few days of the month, but has since come to almost a complete stop. I don't speak to The Dark Horse (not yet anyway) so I don't know what's up but hopefully he can get back to how he started. In fact, he was almost neck and neck with The Behemoth when the The Behemoth was doing $4-5K+ a day!
CD12686 and CD12601 are new up and comers who shouldn't be ignored, however. I'll be very interested to see how they improve over the next few months.
Out of the 11 new sign-ups to MarketLeverage this month, only 3 of them have generated any commissions so far and so your chance of taking a spot on the leaderboard is pretty good! First place is currently at $1,170.00 so he'll be very difficult to catch up to, but 2nd is only at $24.00 and 3rd at $15.20 so you don't need to do much to put yourself in a good position to win a great prize. If you haven't signed up yet, I highly suggest you do…
Blogging Entrants
So far, only 4 people have blogged about this competition. The lower turnout this competition is most likely due to the more strict prerequisites for blogging, which is for the best. That means that as it stands right now, if you wrote a blog post about this competition, your odds of winning would be exactly 60% since there are 3 prizes available. Writing a blog post for a 60% chance to pocket an easy $35? Not bad!
Competition Goals and Thoughts
My personal goal for this competition was for the total amount of commissions to hit $115,000. After 15 days, the total stands at $28,891.00 so unfortunately we're extremely behind and most likely won't make the goal. In fact, this will be the first competition in which we didn't completely smash the goal, let alone make it.
The huge decrease is largely in part to The Behemoth's downfall (let's hope it's temporary!), but then again last month was extraordinarily good having brought in $110,000 so it's a hard record to live up to. There are only three ways that would let us meet our goal:
The Behemoth rises to power once again
The Dark Horse climbs back on his horse
A new super affiliate joins in
There are still 16 days left though so let's stay positive! Anything can happen in 16 days!
If you haven't signed up yet, come on and join the fun! Even if you don't place in this competition, you'll be all set up and ready to go for the next one. I hope to see you on the leaderboard list soon!
Posted: December 15th, 2008 under Contests