January 16, 2009
Posted by Tyler Cruz
It's hard to believe, but we're already halfway into the first month of 2009 which means the Affiliate Marketing Challenge 7 is also at it's midway point.
There's still plenty of time to register and earn your way to a prize, so don't let starting a little bit late affect your decision. In fact, all you currently need to do is generate $69.01 to take 5th place which pays out an 8GB iPod Nano.
Since this is the first contest I've held with XY7, it means that the competition is right now at its lowest that it ever will be since the number of other affiliates (your competition) is relatively low. For example, after 6 competitions with MarketLeverage I referred over 150 referrals with them. Since this is the first time I've been promoting XY7 on my blog (through my referral link anyway), the number of referrals is a lot less than what it will be in a few months from now. I suggest taking advantage of the relatively low amount of competition while you can.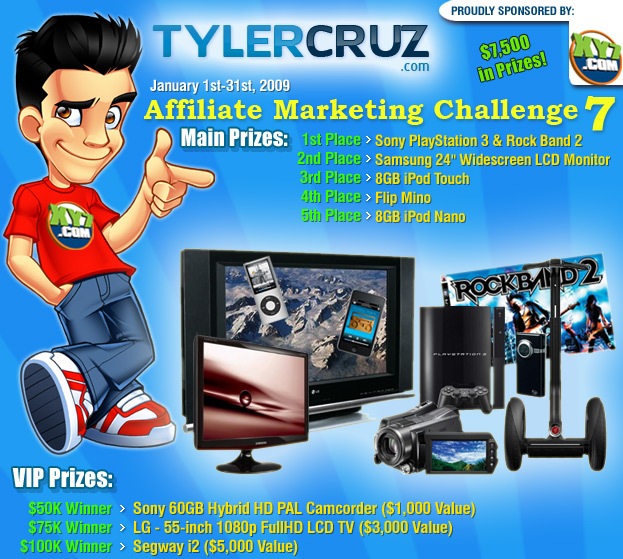 Prizes
Before I get to the rankings, here is a reminder of what is up for grabs. Full details of the prizes and contest details can be found at the original contest page.
Top Main Affiliates ($0.01-$49,999)
1st Place: PlayStation 3 & Rock Band 2
2nd Place: Samsung 24" Widescreen LCD Monitor
3rd Place: 8GB iPod Touch
4th Place: Flip Mino
5th Place: 8GB iPod Nano
$50,000-$74,999 VIP Tier
1st Place: Sony 60GB Hybrid HD PAL Camcorder
$75,000-$99,999 VIP Tier
1st Place: LG 55-inch 1080p FullHD LCD HDTV
$75,000-$99,999 VIP Tier
Current Rankings
Here are the latest leaderboard rankings as of January 15th, 12:17PM Pacific time:
Top Main Affiliates
Rank
Participant

Earnings

1st
CD11497
$1,472.00
2nd
CD11330
$911.60
3rd
CD11309
$544.00
4th
CD11384
$428.60
5th
CD11306
$69.00
 
Combined Total (all referrals):
$3,558.80
This is the first time I've promoted XY7 on my blog yet a very impressive 43 affiliates already signed up in just the first two weeks. Together, they've generated a total of $3,558.80 in commissions in just 15 days.
Incredibly, my first competition with XY7 appears to be on pace to match what my first competition with MarketLeverage did. Hopefully things will continue to improve.
CD11497 is currently the leader with just under $1,500. I know for a fact that this person is a super affiliate and does close to $100K a month in commissions. Hopefully he will consider ramping up his campaigns (or moving some over) in future competitions to try to vie for one of the more luxurious VIP prizes.
CD11330, currently in 2nd place, is something of a success story. From reading the various comments he recently left on my blog, he is a newcomer to the world of affiliate marketing but is already on his way to a great future. I can't wait to see how his numbers improve in the future.
CD11309 started off as the leader, but later halted his campaign to run some on another network. I hope he realizes that XY7 can bring in his exact same offer from the other network and match or beat their payout, as he might as well run the offer on XY7 and win a prize. I do know that he can generate big numbers if he wants to.
CD11384 will overtake 11309 soon to secure 3rd place, as long as CD11309 doesn't get back into the game…
CD11306 is in 5th place but shouldn't become complacent as he has 8 others on his tail!
Competition Goals and Thoughts
My personal goal for this competition was for the total amount of commissions to hit $8,000. After 15 days, the total stands at $3,558.80 so it will be very close.
The number of contestants is very encouraging, however, and I hope to see that number continue to grow.
If you haven't signed up yet, come on and join the fun! There are still 16 days left and it is not too difficult or too late to fight for some of the prizes. Better late than never!
Even if you don't place in this competition, you'll be all set up and ready to go for the next one. I hope to see you on the leaderboard list soon!
Posted: January 16th, 2009 under Contests