December 29, 2008
Posted by Tyler Cruz
Note: The results of the Affiliate Marketing Challenge 6 will be posted on January 2nd.
What better way to start 2009 than with a brand new contest? What makes this one unique from my previous six competitions is that we have a new sponsor. That's right, XY7 has come on board and is excited to sponsor my 7th Affiliate Marketing Challenge.
Since this is the first competition XY7 has sponsored on my blog, they opted to start with a more conservative prize total. However, I can guarantee you that if the first competition goes well that their next one will be considerably larger. XY7 is known for giving huge prizes away. Take a look at the post I made a few days ago showing some videos of the larger prizes they're known for giving away.
There is a total of $7,500 worth of prizes up for grabs (which is quite a bit considering it's their first contest), including a 55-inch 1080 HDTV, Sony 60GB HD Camcorder, Playstation 3 & Rock Band 2, and yes… even a freaking Segway i2!
Whether you're a super affiliate, medium affiliate, or brand new to affiliate marketing, we have prizes aimed just for your skill level.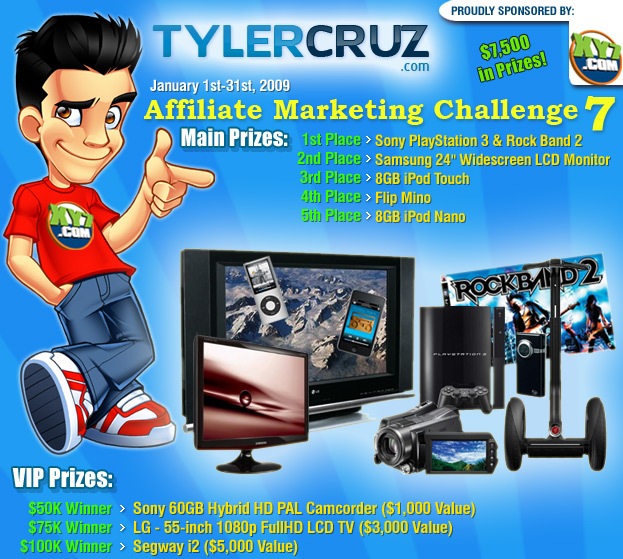 Do NOT Dismiss This
I know I've been running these Affiliate Marketing Challenges on my blog for a while now. Hell, this is the 7th month in a row. But you would be missing out on a huge opportunity to win great prizes if you dismiss this as "just another contest".
You see, since this is the first time I've promoted XY7 on my blog, it also means I have no referrals, which in turn means no competition for you. I did a small pre-launch teaser of this competition a few days ago and as a result signed up 12 referrals, however only one of these have actually generated any commissions so far ($18).
This means that if you were to compete and generate only $1 you'd currently be in second place, ready to take home a 24-inch Samsung monitor. While my MarketLeverage contests are just as great, they are also harder to compete in since I have 150 referrals there, a few of which generate big numbers.
Since I'm new to promoting XY7, your chances of taking away a big prize are very good. Do not waste this opportunity!
Overview
The competition runs from January 1st (12:00AM Eastern time) to January 31st (11:59PM Eastern time).
However, the earlier you register, the more time you have to start making some dough and the better your chances, so the sooner the better!
The process of the challenge is simple: publishers register with XY7 under my referral link and then proceed to make as much money as they can until competition ends on January 31st.
How to Participate
There are two different prize categories:
Main Prizes: Compete with others to be in the top-5 commission generators from XY7.
Sign up to XY7 through my referral link by clicking here. It is very important that you register under my referral link or you will not be eligible. If you've already registered to XY7 from somewhere else previously then you are unfortunately not eligible to participate as I cannot track your generated revenue.
Get your account approved (they will phone you or ask you to phone them).
Earn as much as you can!
VIP Categories: 
If you're a super affiliate who can generate big numbers then you are eligible for the luxurious VIP prizes. You will need to generate at least $50,000 a month in order to be eligible.
There are three tiers. If you generate enough to hit a certain tier and finish as the highest in your tier, you win the corresponding prize for that tier.
The tiers are as follows:
$50,000-$74,999
$75,000-$99,999
$100,000+
Note: Once you generate over $50,000 you are only eligible for the VIP prizes and not the main prizes. Therefore, you cannot win a prize in both the Main Category and VIP Category.
VIP Prizes
$100,000+ Tier: Segway i2
 
Take it indoors or out. Go fast or go slow. With the i2, all of your local transportation needs are met in one modern, balanced, intelligent machine.
Completely versatile and consistently enjoyable, the i2 is ideal in more ways than one. Not only does it take you out of rush-hour traffic and away from congested parking lots, it's battery operated, totally wireless, and intuitively moves where your body tells it to.
Here are some more details:
105 lbs (47.7 kg)
Max Speed of 12.5 mph (20 km/h)
Range of up to 24 miles (38 km)
For full details of this machine, check it out on the Segway website.
$75,000-$99,999 Tier: LG 55-inch 1080p FullHD LCD HDTV
  
Apart from a brand new car, the #1 toy that you can easily brag to your friends about is a nice 55-inch big screen TV. Why go to the movie theatre when you have your own private one in your living room? Or, hook it to your computer as an additional monitor to show off your sick earnings to all your buddies!
Here are some specs:
TFT active matrix
16:9 aspect ratio
1920×1080 true HD resolution
1200:1 contrast radio
For full details, check it out on Amazon.
$50,000-$74,999 Tier: Sony 60GB Hybrid HD PAL Camcorder    
The HDR-SR11E 60GB Hard Drive HD Handycam(R) Camcorder delivers everything you need to shoot stunning Full High-Definition 1920×1080 resolution video and 10.2-Megapixel still images. With Hybrid recording technology, you can record to either an internal 60GB hard disk drive or removable Memory Stick(R) Duo or Memory Stick(R) PRO Duo media.
Here are some features:
3.2 Wide (16 – 9) Hybrid Touch Panel Clear Photo LCD Plus Display (921K Pixels)
5-Megapixel ClearVid CMOS Sensor with Exmor Technology and BIONZ Image Processor
Professional Quality Carl Zeiss Vario-Sonnar T Lens – 12x optical zoom, 150x digital zoom
3mm Equivalent – 49 – 588mm (4 – 3 Camera Mode), 40 – 480mm (16 – 9 Camera Mode)
For full details, check it out on Amazon.
Main Prizes
1st Place: PlayStation 3 & Rock Band 2
 
In addition to a brand new 80GB PlayStation 3, take home a complete Rock Band 2 package including the game, microphone, guitar, and yes – wireless drum set.
Featuring a track list with more than 100 on-disc and downloadable tracks from some of the most hallowed bands of the rock pantheon, Rock Band 2 challenges rockers to master lead guitar, bass guitar, drums and vocals.
Check out more details of Rock Band 2 here.
2nd Place: Samsung 24" Widescreen LCD Monitor
A monitor that mirrors art? Samsung designed the T240 with gracefully sculpted edges and a bezel with a soft hint of rich red. It also delivers impressive features like a 20,000:1 dynamic contrast ratio for sharper images and 2 ms response time which eliminates blurring. The Samsung T240 is more than just a monitor, its high-style combined with impressive technology.
Here are some spec details:
1920 x 1200 Resolution
20000:1 dynamic contrast ratio
16.7 million display colors
5ms response time
Check out more details here.
3rd Place: 8GB iPod Touch
This sexy new line of iPod's has multi-touch technology, Wi-Fi, and can play smooth high resolution video to name but a few of it's many features.
Here are some more spec details:
Can hold up to 20,000 photos, 3,500 songs, or 20 hours of video
Comes with earphones, dock adapter, USB 2.0 cable, and polishing cloth
3.5-inch LCD display
640×480 video resolution
For more details, check out the Apple iPod Site.
4th Place: Flip Mino
The Mino Flip is the predecessor of the original Flip video cameras. It is smaller, better, and simply overall sexier than both the original Flip and the Ultra.
In addition to being smaller and having new features such as illuminated pause/fast forward/rewind buttons, it also sports a rechargeable lithium ion battery (compared to the double AA batteries the original Flip and Flip Ultra use).
Here are some more spec details:
Built-in flash memory holds up to 60 minutes of high-quality video
Rechargeable lithium ion battery power
Start recording within 3 seconds of power-up
1.5" color high-brightness (transflective) display
More details can be found on TheFlip's website.
5th Place: 8GB iPod Nano

The iPod nano now comes in nine vibrant colors and a new curved aluminum and glass design. The crisp, bright picture makes watching movies and TV shows amazing.
Thanks to the built-in accelerometer, you can rotate iPod nano to flip through album art with Cover Flow. Watch movies and TV shows in widescreen. And view photos in either portrait or landscape.
Just give iPod nano a shake and it shuffles to a different song in your music library.
Here are some more details:
2-inch LCD screen
Includes earphones, USB2.0 cable, and dock adapter.
Holds up to 7,000 photos, 2,000 songs, or 8 hours of video.
Built-in rechargeable lithium ion battery
Check out more details on the Apple iPod Site.
Now go make some money!
I strongly urge everyone to participate in this challenge. The prizes alone should be enough incentive for you to join, but on top of that, this competition is a very good way to get started in affiliate marketing and put positive pressure on yourself to improve your earnings.
Why earn money from affiliate marketing when you can earn money PLUS cool prizes? It's a win-win-win-win situation for everybody: I get my referrals, the advertisers with the networks get more leads and sales, the networks get more volume, and you win great prizes.
Since this is the first competition I've ran with XY7, my personal goal for this competition is for the total amount of commissions to hit $8,000. The very first affiliate marketing challenge I ran with MarketLeverage brought in $7,816 so I'm aiming to beat that. I look forward to seeing how this challenge progresses and hope to see a lot of you participate.
Good Luck!
Posted: December 29th, 2008 under Contests