February 4, 2009
Posted by Tyler Cruz
In December, XY7 sponsored my 7th Affiliate Marketing Challenge for the first time. The turnout and participation was greater than I had expected, with nearly 60 affiliates signing up, a third of which were busy generating commissions!
While none of the VIP categories were met, the Main Category was definitely filled with a lot of action. Congratulations to BeerNuts from BeerMonies.com for securing 1st place.
I'd like to thank everyone who participated for entering, and especially thank XY7 for putting up all the prizes.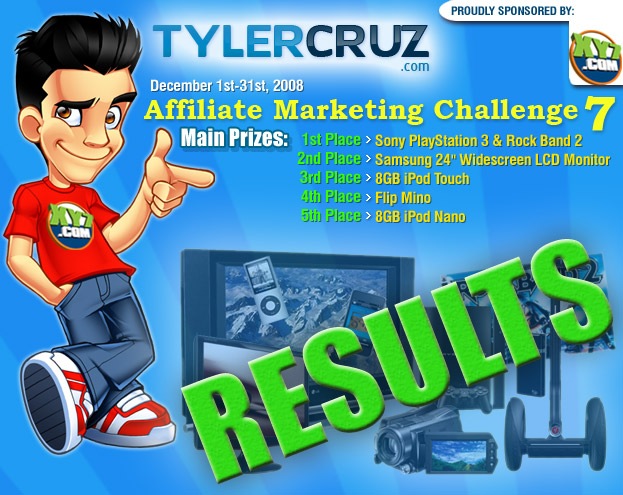 Winners
Congratulations to all of the following winners. You can expect your prizes on your doorsteps soon.
1st Place: BeerNuts – $3,488.00
Prize: Sony PlayStation 3 & Rock Band 2

Congratulations to CD11497, who is actually BeerNuts from BeerMonies.com for taking home 1st place. He actually makes quite a lot more from affiliate marketing than shown here but decided to run an offer with XY7 to  win himself an easy PlayStation 3 and Complete Rock Band 2 kit.
I know that he is looking forward to the prize because he told me yesterday how he already went out and bought himself a few games and an extra controller for it! I'll get XY7 to ship out his prize right away so he won't have to wait any longer 🙂
2nd Place: CD11330 – $1,672.00
Prize: Samsung 24" Widescreen LCD Monitor

CD11330 placed 2nd to win himself a nice Samsung 24-inch monitor. He appeared to have a pretty steady and straightforward running campaign which helped him stay near the top of the competition. Congratulations to him, I'm sure he'll enjoy the monitor.
3rd Place: CD11384 – $1,020.20
Prize: 8GB iPod Touch

Congratulations to CD11384 for securing 3rd place with just over a thousand dollars. For his efforts he'll be receiving an iPod Touch soon.
These things are pretty cool. I saw Apple's new commercial for it the other day and the games for it are better than I thought. Check this YouTube video out.
4th Place: Richard Bonner – $544.00
Prize: Flip Mino

Richard Bonner from RichardBonner.net took home 4th place with $544, most of which he generated mostly within the first week of the competition. Richard is one of these new affiliates you'll want to keep an eye on due to their tremendous growth in a short amount of time. He's only been doing PPC affiliate marketing for less than a year now but has already hit his first $2,000/day.
5th Place: Becky Marie – $205.80
Prize: 8GB iPod Nano

CD11513, aka Becky Marie from BeckyMarie.com managed to hold onto 5th place to win herself an 8GB iPod Nano. I'm thrilled to see Becky win a prize. She is new to PPC affiliate marketing and actually making money online period and has been working hard to learn everything.
Congratulations Becky, you are the first woman to win a prize in my Affiliate Marketing Challenges!
Perhaps it's karma for being one of the donators in my SPCA Fundraiser 🙂 I hope you can put it to good use during your dog walks!
Final Rankings
In my first competition I've held with XY7, an impressive 57 affiliates signed up, 18 of which have actively generated commissions.
Together, they generated a total of $7,422.40 in commissions. The final standings are shown below (Note: only the top 15 places are shown for the sake of space):
Top Main Affiliates
Rank
Participant

Earnings

1st
BeerNuts
$3,488.00
2nd
CD11330
$1,672.00
3rd
CD11384
$1,020.20
4th
Richard Bonner
$544.00
5th
Becky Marie
$205.80
6th
CD11306
$154.80
7th
CD11465
$111.00
8th
CD11494
$43.00
9th
CD11700
$39.00
10th
CD11903
$34.60
11th
CD11336
$24.00
12th
CD11393
$23.40
13th
CD11443
$22.60
14th
CD11842
$13.60
15th
CD11418
$11.40
 
Total (all main affiliates):
$7,422.40
My goal for the competition was for the total commissions to hit $8,000. While we didn't make it, we came extremely close! Even though we didn't make it, I'm very happy with the results of this competition as signing up 57 referrals in a month is pretty good.
Thank You XY7!
This competition would simply not have been possible without the sponsorship of XY7. They are putting up all the prizes, not me. Thanks a lot guys, we really appreciate it!
Posted: February 4th, 2009 under Contests