January 17, 2009
Posted by Tyler Cruz
Last week I visited the Nanaimo SPCA to meet some of the staff, volunteers, and residents and took some photos and video for my Tyler's SPCA Fundraiser – Save the Animals! post.
I had the idea of the fundraiser in mind for over a year so it was great to finally get it done. My goal was to raise a total of $1,000 for the Nanaimo SPCA, of which $500 would be donated by my corporation Merendi Networks Inc.
Even though the fundraiser was delayed because of a lot of snowfall here which prevented me from running it before Christmas, and even though the economy is in poor shape, close to a dozen readers were kind enough to donate to the Nanaimo SPCA and help the animals. To learn about other fundraising events you can support, take a look at https://norgesbriketten.no/dugnad-russ/.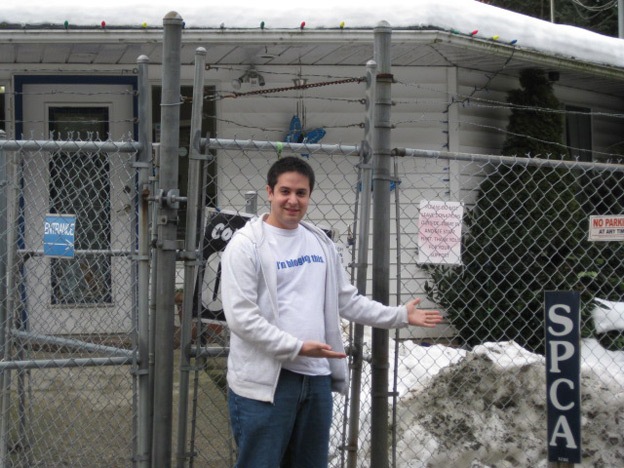 The Results
So, did we meet my goal of $1,000? Yes! The end total came to $1,115 which is pretty good considering the economic situation and the fact that this was the first fundraiser I've ever fun on my blog.
Below is a list of those who donated with a link to their site or blog and the name of the dog or cat they sponsored (if any). Please check out their sites since they were kind enough to donate. It really speaks a lot for their character.
I'm pleased to announce that each of the dogs and cats listed in my original post ended up getting sponsored. I'd also like to give special shoutout's to Dina, John Chow, and Mike for helping spreading the word of the fundraiser in addition to donating.
And since I required all donators send me a copy of their e-mail receipt to prove their donation, I thought it'd be only be fair for me to do the same: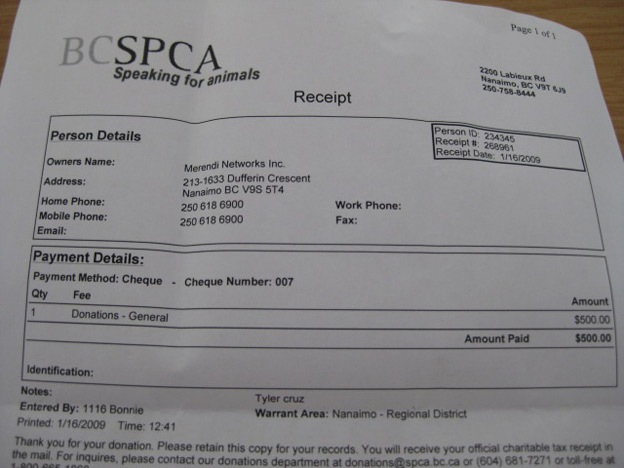 PayPal in the Works
When I visited the Nanaimo SPCA this afternoon to drop of my cheque and tell Bonnie the results of the fundraiser (which she was very happy with and grateful for, BTW), she told me that she had spoken to some of the "higher-up's" in the chain of command about adding PayPal as one of the available payments for donating online.
They are now looking into it. Apparently they had just never really considered it or understood how valuable it would be and how many people use it.
Hopefully, when I run another fundraiser for the Nanaimo SPCA a year from now, they'll have PayPal all set up
Thank You!
I'd like to once again thank everyone who donated for doing so. If you haven't donated yet and would still like to, there's nothing stopping you just because my personal fundraiser is over. The Nanaimo SPCA can of course always use donations, not just once a year. Donation instructions to the Nanaimo SPCA can be found in my original post.
I hope to double the amount raised next year and set a goal of $2,000! Thanks again everyone!