February 3, 2009
Posted by Tyler Cruz
Note: The results of the Affiliate Marketing Challenge 7 will be posted on February 4th.
Just 2 days after launching my Affiliate Marketing Challenge 8 I'm launching Affiliate Marketing Challenge 9! Due to the delay of PublisherChallenge's launch, I'm having to announce my competitions on my blog instead.
This competition is being sponsored by AmpedMedia for the first time. AmpedMedia is a nice clean network which is starting to grow quickly. I describe them as clean because in addition to being a very open and transparent company that is open to new ideas and change, their actual site design, navigation, and control panel is clean, easy-to-use, and organized as well.
I finalized my competition with AmpedMedia earlier today by speaking with their CEO, Jonathan Gies. As mentioned above, they are very open to ideas and suggestions. As a result, they took my recommendation of both expanding and increasing the payouts of the VIP tiers.
Because of this, we have an awesome competition sponsored by AmpedMedia for you. Not only is there $1,500 worth of guaranteed prizes with no minimum prerequisite required, but there are now two more VIP tiers – one higher and one lower – with the prize value of the $50K tier having been increased by 50%. Also, every affiliate who reaches a VIP tier will win the corresponding prize – it's not limited to the highest earner in that bracket anymore!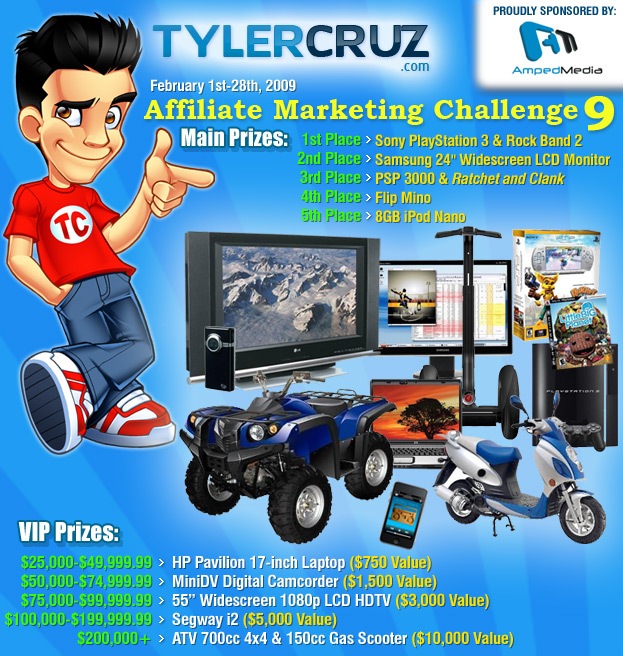 So, What Are Your Chances?
I've been running these Affiliate Marketing Challenges on my blog for a while now. This isn't called the Affiliate Marketing Challenge 9 for no reason. But you would be missing out on a huge opportunity to win great prizes if you dismiss this as "just another competition".
You see, since this is the first time I've personally promoted AmpedMedia on my blog, it means I have no referrals, which in turn means no competition for you, at least not yet. As I write this, I currently have 2 referrals with AmpedMedia, both of which have generated a total of $0.00. Since AmpedMedia is putting $1,500 worth of prizes in the Main Category – which has no minimum prerequisite – it means that those prizes will be given away to the top 5 earners under $25,000.
Essentially this means that if you were to compete and generate only $5 you'd currently be in first place, ready to take home a PS3 and Rock Band 2 kit.
Since I'm new to promoting AmpedMedia, your chances of taking away a nice prize are very good. Do not waste this opportunity, as the competition will inevitably get harder as I hold more competitions with them in the future and sign up more people.
Overview
The competition runs from February 1st (12:00AM Eastern time) to February 28th (11:59PM Eastern time).
Since I didn't announce this competition until the 3rd, and considering that there are only 28 days in February, the sooner you sign up and start racking up your commission, the better.
The process of the challenge is simple: publishers register with AmpedMedia under my referral link and then proceed to make as much money as they can until competition ends on February 28th.
How to Participate
There are two different prize categories:
Main Prizes: Compete with others to be in the top-5 commission generators from AmpedMedia.
Sign up to AmpedMedia through my referral link by clicking here. It is very important that you register under my referral link or you will not be eligible. If you've already registered to AmpedMedia from somewhere else previously then you are unfortunately not eligible to participate.
Get your account approved (they will phone you or ask you to phone them).
Earn as much as you can! The top 5 earners will each win a prize.
VIP Categories: 
If you're a super affiliate who can generate big numbers then you are eligible for the luxurious VIP prizes. You will need to generate at least $25,000 a month in order to be eligible.
There are 5 tiers. If you generate enough to hit a certain tier then you win the corresponding prize for that tier, regardless of if other affiliates reach that tier as well.
The tiers are as follows:
$25,000-$49,999.99
$50,000-$74,999.99
$75,000-$99,999.99
$100,000-$199,999.99
$200,000+: $10,000
(Note: Once you generate $25,000 you are only eligible for the VIP prizes and not the main prizes. Therefore, you cannot win a prize in both the Main Category and VIP Category.)
VIP Prizes
$200,000+ Tier: ATV 700cc 4×4 & 150cc Gas Scooter
  
You've worked long and hard on your campaigns. You deserve a little fun.
Go off-road on rugged terrain with your powerful 700cc 4×4 ATV on Fridays and casually cruise the streets with your 150cc Gas Scooter on Saturdays.
Or, race your buddy. Okay, the 700cc ATV might have a slight edge over the 150cc scooter, but at least you know which one you'll be using in the race 🙂
Here are some more details on the ATV 700cc 4×4:
4 Stroke, 1 Cylinder
Water Cooled
4 Wheel Drive
Shaft Drive
For full details, check it out on Amazon.
Here are some more details on the 150cc Gas Scooter:
4 Stroke 1 Cylinder Air Cooled
1 Speed Automatic Transmission
CDI Ignition
Moped 150cc Milano Piggio Style
For full details, check it out on Amazon.
$100,000-$199,999.99 Tier: Segway i2
 
Take it indoors or out. Go fast or go slow. With the i2, all of your local transportation needs are met in one modern, balanced, intelligent machine.
Completely versatile and consistently enjoyable, the i2 is ideal in more ways than one. Not only does it take you out of rush-hour traffic and away from congested parking lots, it's battery operated, totally wireless, and intuitively moves where your body tells it to.
Oh. And we'll throw in an extra $300 cash as well 🙂
Here are some more details:
105 lbs (47.7 kg)
Max Speed of 12.5 mph (20 km/h)
Range of up to 24 miles (38 km)
For full details of this machine, check it out on the Segway website.
$75,000-$99,999.99 Tier: LG 55-inch 1080p FullHD LCD HDTV
  
Apart from a brand new car, the #1 toy that you can easily brag to your friends about is a nice 55-inch big screen TV. Why go to the movie theatre when you have your own private one in your living room? Or, hook it to your computer as an additional monitor to show off your sick earnings to all your buddies!
Here are some specs:
TFT active matrix
16:9 aspect ratio
1920×1080 true HD resolution
1200:1 contrast radio
For full details, check it out on Amazon.
$50,000-$74,999 Tier: Canon XL1S MiniDV Digital Camcorder
     
The XL1S produces such high-quality results that it is sure to be the top choice for many independent filmmakers who demand full features and controls. Like its predecessor, the XL1, this camera uses three separate 270,000 pixel CCDs (one for each primary color) for the best picture quality. The XL1S records digital audio, with two channels of 16 bit/48 KHz sound or four channels of 12 bit/32 KHz sound. The body is based on a magnesium-alloy frame for maximum durability. It ships with a 16x optical zoom lens with optical image stabilization, but is also compatible with other XL camcorder lenses. With an optional adapter, you can use Canon EF (EOS) still-camera lenses–some of which also feature optical image stabilization.
Here are some features:
Professional-quality MiniDV camcorder and still camera with 3 CCD lens
16x optical zoom lens (digital zoom to 320x) and image stabilizer
Interchangeable lens system–can use Canon EOS lenses with optional adapter
Record for up to 90 minutes on one battery charge
For full details, check it out on Amazon.
$25,000-$49,999.99 Tier: HP Pavilion 17-inch Laptop
     
For those who want rich digital entertainment capability coupled with desktop caliber performance in a mobile design, the HP Pavilion DV9930US Entertainment Notebook PC delivers. The innovative design of the DV9930US truly integrates fashion and technology. The DV9930US Radiance Imprint, featuring a pattern inspired by the interconnectedness of our digital lives, is more durable than traditional painted surfaces. Backlit media controls respond to the touch or sweep of a finger. Providing more choices than ever, QuickPlay enables access to DVDs, videos, photos, music, karaoke, games, Internet TV, and streamed or recorded TV, with an optional TV Tuner at the touch of a button. Built-in demos show you how to add music to your slide shows or videos with drag and drop functionality, and much more. Dual headphone jacks enable you to share films and music without disturbing others.
Oh. And we'll throw in an extra $300 cash as well 🙂
Here are some features:
17-inch WXGA plus High Definition BrightView Widescreen Display, 1440 x 900 resolution
2.00 GHz Intel Core 2 Duo Processor T5750 with 2 MB L2 Cache
4096 MB DDR2 Memory
320 GB (5400RPM) Hard Drive (SATA)
NVIDIA GeForce 8600M GS
Windows Vista Home Premium
For full details, check it out on Amazon.
Main Prizes
1st Place: PlayStation 3 & Rock Band 2
 
In addition to a brand new 80GB PlayStation 3, take home a complete Rock Band 2 package including the game, microphone, guitar, and yes – wireless drum set.
Featuring a track list with more than 100 on-disc and downloadable tracks from some of the most hallowed bands of the rock pantheon, Rock Band 2 challenges rockers to master lead guitar, bass guitar, drums and vocals.
Check out more details of Rock Band 2 here.
2nd Place: Samsung 24" Widescreen LCD Monitor
The 2493HM has everything that you need. With a Height Adjustable Stand (HAS), built-in-speakers, HDMI technology, full 1080p HD, 10,000:1 Contrast Ratio and fast response time, you will be able to power through a work day and watch a movie or play games with all of the extra free time that you will have. Not to mention, the eye catching bezel design will fit perfectly in public view or in the comfort of your home office. The 2493HM is Microsoft Vista Certified and works hard while looking good. With the 2493HM it's not hard to imagine.
Here are some spec details:
24 display
1920 x 1200 Native Resolution
400 cd/m² Brightness
10000 – 1 Dynamic Contrast Ratio; 1000 – 1 Contrast Ratio
5 ms Response Time
Check out more details here.
3rd Place: PSP 3000 & Ratchet and Clank

The PlayStation Portable Limited Edition Ratchet and Clank PSP-3000 Entertainment Pack brings together the latest revision of the PlayStation Portable (PSP) with the fun mayhem of the latest Ratchet and Clank: Size Matters game. Play technological games, listen to music, connect to the Internet, and do more with this Entertainment Pack.
Here are some more spec details:
Limited Edition pack includes PlayStation Portable and Ratchet and Clank game
Newest PSP-3000 revision has built-in microphone
Includes National Treasure 2 UMD movie and 1 GB Memory Stick Duo
Built-in WiFi lets connect to the Internet and play against others wirelessly
Portable Media Player lets you watch movies and listen to music via UMD and Memory Stick Duo
For more details, check out the PSP bundle package on Amazon.
4th Place: Flip Mino
The Mino Flip is the predecessor of the original Flip video cameras. It is smaller, better, and simply overall sexier than both the original Flip and the Ultra.
In addition to being smaller and having new features such as illuminated pause/fast forward/rewind buttons, it also sports a rechargeable lithium ion battery (compared to the double AA batteries the original Flip and Flip Ultra use).
Here are some more spec details:
Built-in flash memory holds up to 60 minutes of high-quality video
Rechargeable lithium ion battery power
Start recording within 3 seconds of power-up
1.5" color high-brightness (transflective) display
More details can be found on TheFlip's website.
5th Place: 8GB iPod Nano

The iPod nano now comes in nine vibrant colors and a new curved aluminum and glass design. The crisp, bright picture makes watching movies and TV shows amazing.
Thanks to the built-in accelerometer, you can rotate iPod nano to flip through album art with Cover Flow. Watch movies and TV shows in widescreen. And view photos in either portrait or landscape.
Just give iPod nano a shake and it shuffles to a different song in your music library.
Here are some more details:
2-inch LCD screen
Includes earphones, USB2.0 cable, and dock adapter.
Holds up to 7,000 photos, 2,000 songs, or 8 hours of video.
Built-in rechargeable lithium ion battery
Check out more details on the Apple iPod Site.
More Information
Prizes will be sent out on a Net-30 basis. This is done to verify that leads and traffic are genuine and nobody is sending in fake or fradulant traffic.
Winners may swap their prize for a PayPal or bank wire payment (depending on the prize value) payment of equal value, but must make contact before the prize is sent.
For international publishers (residing outside of the US) or in the event that we cannot find a company that ships your prize internationally to your country, AmpedMedia will compensate you by sending a PayPal payment or bank wire payment (depending on the prize value) for the value of the prize.
Any publisher caught doing illegal measures such as fraud or being in violation of the affiliate network's Terms of Service will not be eligible for a prize.
Good Luck!
I strongly urge everyone to participate in this challenge. The prizes alone should be enough incentive for you to join, but on top of that, this competition is a very good way to get started in affiliate marketing and put positive pressure on yourself to improve your earnings.
Better yet, this is the first competition I've run with AmpedMedia which in turn means a great chance for you to win something since the competition will be relatively low.
I look forward to seeing how this challenge progresses and hope to see a lot of you participate!
Posted: February 3rd, 2009 under Contests