July 3, 2008
Posted by Tyler Cruz
There is just over one week left until my Affiliate Marketing Challenge will come to and end.
The competition, sponsored by MarketLeverage, started 3 weeks ago and has performed better than I had could have hoped for. What's great is that once this competition ends, I'll be holding another competition shortly after with even bigger and better prizes!
The Affiliate Marketing Challenge ends on July 11th at midnight, so there are still 8 full days left for you to catch up to the leaders if you haven't signed up yet. For more information and full competition details, check out the original post for more details.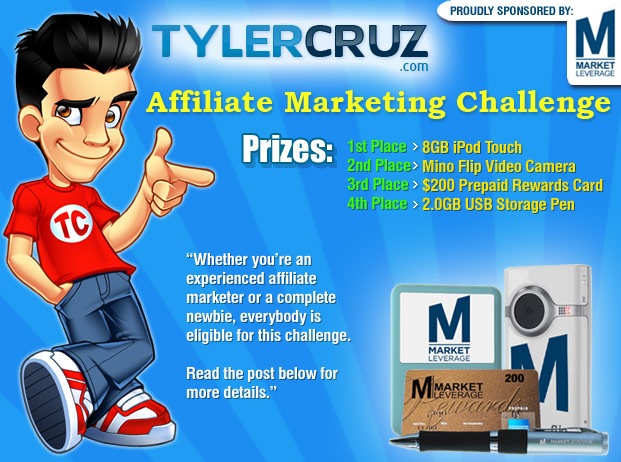 Current Rankings
I must say, I'm really proud of you guys. A lot of you stepped up by registering to MarketLeverage and giving it try. As a result, I'm sure that those of you who signed up are glad you did.
In fact, David Lithman just made a blog post yesterday showing how great switching over to MarketLeverage and entering this competition has been for him.
After only 3 weeks, I've referred 51 affiliates to MarketLeverage who have now generated over $3,600 in commissions:
| | | |
| --- | --- | --- |
| Rank | Participant | Earnings |
| 1st | CD8107 | $996.60 |
| 2nd | CD8470 | $747.40 |
| 3rd | CD8137 | $462.00 |
| 4th | CD8346 | $359.40 |
| | | $3,691.40 |
Participant CD8470 came out of absolutely nowhere to securely take 2nd place with $747. He looks to be on pace to finally overtake CD8107 and lead the competition. CD8137 is not too far behind, and might be able to take back second place. CD8346 is hanging on – there is a lot of competition around 4th-8th place right now so he'll have to stay strong in order to stay on the leaderboard.
My goal is for my referrals to generate $5,000 by the time the contest ends. It will be tight, but they might be able to make it. I hope that when the competition ends, that they will continue to stick with MarketLeverage and enjoy their nice earnings.
Prizes
Since we are in the final week of the competition, I thought I'd remind the participants just what they're competing for (along with the glory of winning):
1st Place: 8GB iPod Touch

Talk about a classy first place prize, an 8GB iPod Touch! This sexy new line of iPods has multi-touch technology, Wi-Fi, and can play smooth high resolution video to name but a few of it's many features.
Win the Affiliate Marketing Challenge and it's yours. More details can be found on Apple's iPod Touch page.
2nd Place: Mino Flip Video Camera

I am truly jealous of this prize. The Mino Flip is the latest line of Flip Video cameras. It is smaller, better, and simply overall sexier than both the original Flip and the Ultra.
In addition to being smaller and having new features such as pause/fast forward/rewind buttons, it also sports a rechargeable lithium ion battery (compared to the double AA batteries the original Flip and Flip Ultra use). More details can be found on TheFlip's website.
3rd Place: $200 Market Leverage Rewards Amex Card
Let's be honest: cold, hard, cash is one of the best prizes you could ask for. This American Express/Market Leverage Rewards card is prepaid with $200 and can be used just like any other credit card, only it is prepaid and can be thrown away when emptied.
You would normally need to generate $20,000+ in commissions in a given month in order to get one of these as per MarketLeverage's rewards program
So, what will you spend your $200 on? I suggest spending some of it on a nice dinner out to celebrate your 3rd place finish!
4th Place: 2.0GB USB Pen
MarketLeverage was kind enough to send me one of these pens. Act out your favourite spy character from your favourite spy movie with this high-tech pen. It's a fully-functioning pen, which, when unscrewed, unveils the USB connector from inside.
With a storage capacity of 2.0 gigabytes, this pen can hold a huge amount of data on it for quick and easy data transfers.
Ready, Set, Earn!
These prizes should help inspire some motivation – now go get cracking, and good luck!