June 11, 2008
Posted by Tyler Cruz
It's been a while since I ran a contest. In fact, I believe I've only run 2 in the past. I don't run many contests because I like to come up with unique and fun ideas for when I do run them. I also want to make them bigger and better each time.
Here then, is my latest contest. I've partnered up with my good friends from MarketLeverage to be able to launch this contest, and I hope it goes well so that I can run more in the future. There are absolutely fantastic prizes up for grabs, and to be honest I'm quite jealous of you guys as I want to participate myself!
I'm proud to present my Affiliate Marketing Challenge!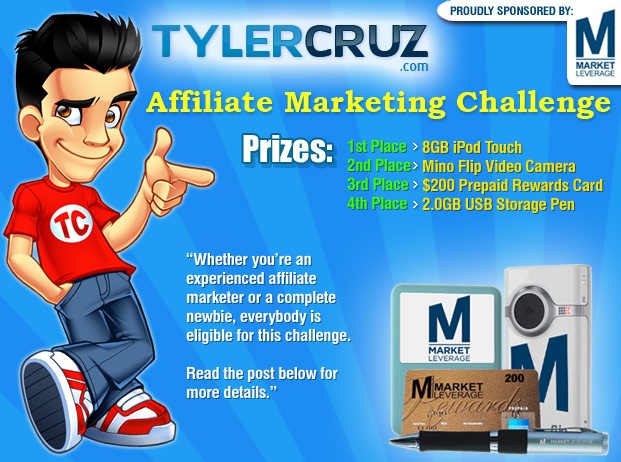 Overview
The Tyler Cruz Affiliate Marketing Challenge runs from June 11th to July 11th (midnight Pacific, 3:00am Eastern time) and you are welcome to register anytime inbetween. However the earlier you register, the more time you have to start making some dough, so the sooner the better!
The process of the challenge is simple: publishers register to MarketLeverage under my referral link and then start to make as much money as they can. When the challenge ends on July 11th, the top 4 earners will each receive a corresponding prize.
The challenge only tracks participant's income during the contest timeline, so nobody has a head start.
How to Participate
Sign up to MarketLeverage by clicking here. It is important that you register under my referral link so that I can track your commissions. If you've already registered there previously, you are not eligible unfortunately as I cannot track you.
Earn as much as you can!
That's it! At the end of the challenge, if you generated one of the top-4 amounts in commission, you win one of the four prizes!
Prizes
1st Place: 8GB iPod Touch

Talk about a classy first place prize. Win the Affiliate Marketing Challenge and it's yours. More details can be found on Apple's iPod Touch page.
2nd Place: Mino Flip Video Camera

I am truly jealous of this prize. The Mino Flip is the latest line of Flip Video cameras. It is smaller, better, and simply overall sexier than both the original Flip and the Ultra.
In addition to being smaller and having new features such as pause/fast forward/rewind buttons, it also sports a rechargeable lithium ion battery (compared to the double AA batteries the original Flip and Flip Ultra use). More details can be found on TheFlip's website.
3rd Place: $200 Market Leverage Rewards Amex Card
Let's be honest: cold, hard, cash is one of the best prizes you could ask for. This American Express/Market Leverage Rewards card is prepaid with $200 and can be used just like any other credit card, only it is prepaid and can be thrown away when emptied.
So, what will you spend your $200 on? I suggest spending some of it on a nice dinner out to celebrate your 3rd place finish!
4th Place: 2.0GB USB Pen
MarketLeverage was kind enough to send me one of these pens. Act out your favourite spy character from your favourite spy movie with this high-tech pen. It's a fully-functioning pen, which, when unscrewed, unveils the USB connector from inside.
With a storage capacity of 2.0 gigabytes, this pen can hold a huge amount of data on it for quick and easy data transfers.
More Information
I will be making regular posts (and/or keep an updated list on the right column of my blog) updating the current rankings and revenue earned so that you can check your ranking and see how you're doing in comparison to others.
Don't worry, your name will never be used on the site. I don't even have access to it if I wanted to (MarketLeverage can still ship the winner's prizes as they have access to it).
I strongly urge everyone to participate in this challenge. A lot of people may see this challenge and think to themselves "Too much effort" or "I don't make very much… I won't win". Well, not with that attitude you won't.
Look at this way: there are absolutely no minimum earning restrictions in order to be eligible for a prize. If the top earning participant earns $14.50, 2nd place, $11.23, and 3rd place $6.42, you might have only made $1.62 but would still win 4th place!
And, of course, you'll keep all your profits you generated from MarketLeverage.
I look forward to seeing how this challenge progresses and hope to see a lot of you participate.
Good Luck!