June 18, 2008
Posted by Tyler Cruz
As usual, I'll begin with an update on the Affiliate Marketing Challenge. I'd like to encourage everyone who hasn't entered yet and is eligible (hasn't signed up to MarketLeverage) to sign-up. There is an 8GB iPod Touch, Mino Flip Video Camera, $200 Market Leverage Rewards Amex Card, and a 2.0GB USB Pen up for grabs in addition to all the revenue you generate.
There was quite a change in the rankings. Participant CD8107 came out of nowhere to generate nearly $1,000 in one day! While this may discourage some people, keep in mind that this was on Father's Day and his earnings slowed down dramatically since then. In any case, if he does continue to be beast in this challenge, 2nd, 3rd, and 4th place are still up for grabs. I don't know about you but I'd sure like to win that Mino Flip Video Camera.
Remember, this isn't a random drawing – you earn the prizes. Why put your 8GB iPod Touch in the lottery of a luckfest when you can guarantee the prize by putting a bit of effort in? There are only 28 participants and 4 prizes after all…
| | | |
| --- | --- | --- |
| 1st | CD8107 | $973.60 |
| 2nd | CD8036 | $72.00 |
| 3rd | CD8065 | $36.40 |
| 4th | CD7580 | $5.60 |
| | | $1,089.00 |
I'd keep a close eye on participant CD8036. He hasn't been generating any big numbers, but he is the most consistent earner so far. I think he could actually be the dark horse to take first place as long as he's actively learning and improving his campaigns.
So, do you have what it takes to dethrone CD8107? Or should I send out his 8GB iPod Touch now?
It's not too late to enter: in fact, the contest doesn't end until July 11th so you still have 23 days to participate, which is plenty of time. Full competition details of the Affiliate Marketing Challenge can be found here.
If you want to increase your chance of winning a prize, the following blogs are holding similar MarketLeverage contests as well. I know that I'll be entering a few of them since I'm not eligible for my own contest:
JonathanVolk.com
UberAffiliate.com
JohnChow.ca
ZacJohnson.com
CDFNetworks.com
AffiliateConfession.com
DatMoney.com
MoneyBites.com
Plunging Away
I've been continuing to plunge away with affiliate marketing, and it's basically been all I've been doing lately.
I need to really start getting on a routine though, as my sleep schedule is just beyond chaotic now. The "high" I get from seeing a new lead come through completely kills any previous attempt or planning of a routine I had scheduled.
I've actually made almost very little change to my campaign since my last update. I basically just created a new landing page for a specific ad group and have been split testing it to see if how it performs. However, that ad group is not converting for me anymore so it's not that important since I'll probably be reducing my bid for it.
It's weird, I'm really sleepy right now even though I just ate breakfast and finished a coffee… after sleeping for 13 hours! I think I exercised a bit too much last night and my body is trying to recover. Well… too bad body! You have to work! We have to make some money!
Here are my latest stats, as of yesterday: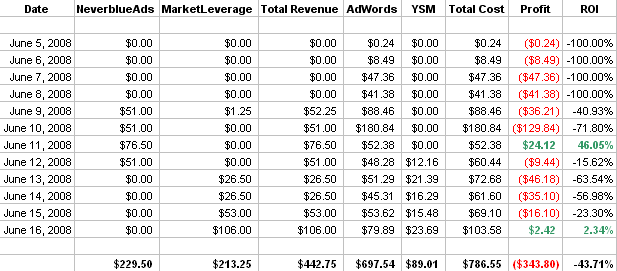 Yesterday was my second day in the green.. but just barely with a profit of… $2.42!
The important thing to notice though, is that my overall ROI is now -43.71%. While still "pathetic" and "laughable", it has been increasing.
It started at -57.12%, then increased to -53.42% a few days ago. My ROI has now improved by another 10% to -43.71%.
I plan on doing more split testing on my other Ad Groups… hopefully it will reveal something to help me optimize more.
Wish me luck, and stay tuned as usual to see how my numbers change.