June 29, 2008
Posted by Tyler Cruz
As usual, I'll begin by giving another update on the Affiliate Marketing Challenge. I'd like to encourage everyone who hasn't entered yet and is eligible (hasn't signed up to MarketLeverage) to sign-up. There is an 8GB iPod Touch, Mino Flip Video Camera, $200 Market Leverage Rewards Amex Card, and a 2.0GB USB Pen up for grabs in addition to all the revenue you generate.
Participant CD8137 managed to overtake a placement during the past few days, stealing 2nd place. However, the battle for 2nd, 3rd, and 4th place is very fierce and I often find myself moving the ranks around every time I update the stats.
The 49 affiliates who have participated in this competition have now generated over $2,500 in commissions:
| | | |
| --- | --- | --- |
| Rank | Participant | Earnings |
| 1st | CD8107 | $996.60 |
| 2nd | CD8137 | $294.00 |
| 3rd | CD8346 | $266.40 |
| 4th | CD8306 | $250.60 |
| | | $2,506.20 |
There are still 11 days left in the competition so if you haven't signed up yet there's still time to sign up and put up a good fight.
Finding my Rhythm
Here are my latest PPC affiliate marketing stats as of yesterday: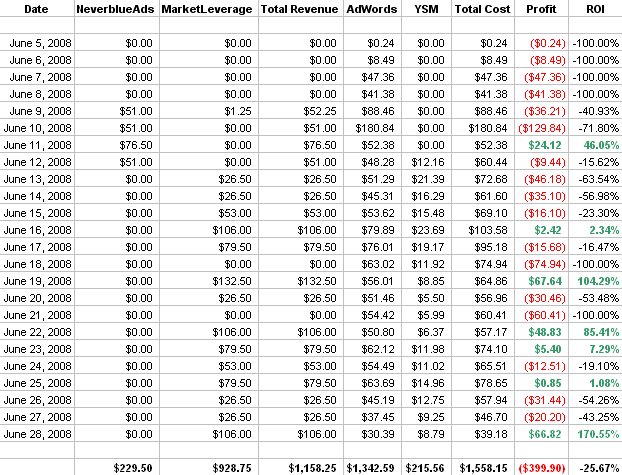 I can't believe it. I somehow managed to improve my ROI from the -31.76% I had 4 days ago to -25.67%.
Here is the progress of my total average ROI, taken after the first week and then every few days thereafter: -57.12%, -53.42%, -43.71%, -36.83%, -31.76%, and now -25.67%!
After 24 days I've spent a total of $1,558.15 to make $1,158.25, putting me $399.90 behind at the moment.
However, if you take the stats from the past 7 days you'll notice that my ROI comes out to +13.77% with a net profit of $57.75. Something to think about… 🙂
While I've been working an incredible amount of hours the past few weeks, I have not been working as much as much as I should be on my PPC affiliate marketing campaigns. Now, that isn't to say I haven't done anything because I have, but I could (should) be doing a lot more.
Part of the problem is that my brain often completely freezes when analyzing my stats. There are so many variables and different factors to test: PPC networks, keywords, landing pages, ad text, offers, etc. The thing is, it's not as simple as just testing landing page versus landing page.
For example, I've been split testing some of my landing pages lately, with surprising results. One of them has a higher CTR than the other, but a lower sign-up rate. While you'd think I could conclude a result by simply taking a look at the average EPC (Earning Per Click) per landing page, I then have to consider they keyword factor. That is, better-performing keywords may have been sent more often to the one landing page over the other.
When you take all of the variables and factors together and think of all of the possible permutations and combinations that could be calculated, you get a brain freeze, or at least I do. Perhaps I'm just going overboard with the analysis. There's a difference between analyzing and optimizing, and I should be doing more of the latter. It's a classic "watching vs doing" scenario.
I might make a screencast showing what tool I use to track my campaigns, and some of the ways I analyze and optimize my campaigns… although it will be a bit difficult to do due to having to hide all my private information (keywords, landing pages, etc.)
Anyhow, wish me luck on improving my numbers. To be perfectly honest, I'm really feeling the pressure now to keep improving my numbers every post, and I don't know if I'll able to improve on my -25.67% but we'll see what happens…