October 25, 2011
Posted by Tyler Cruz
Exactly two weeks ago, I published a screencast of me showing my recent resurgence into PPC affiliate marketing. If you wish to get PPC ads and campaigns done, a PPC company Mumbai – based people recommend can help.
While most of you seemed interested in the content, the majority of you also felt that the screencast was far too long and would prefer simple screenshots instead.
In addition, some of you mentioned how you would really prefer to see data in the form of dollars and profits more so than clicks, CTR, and conversion rates.
Since the majority of you (at least those who commented) felt so strongly about this, I decided to listen to the masses and give the people what they want

Here then, is the traffic data since my last update PPC update 2 weeks ago: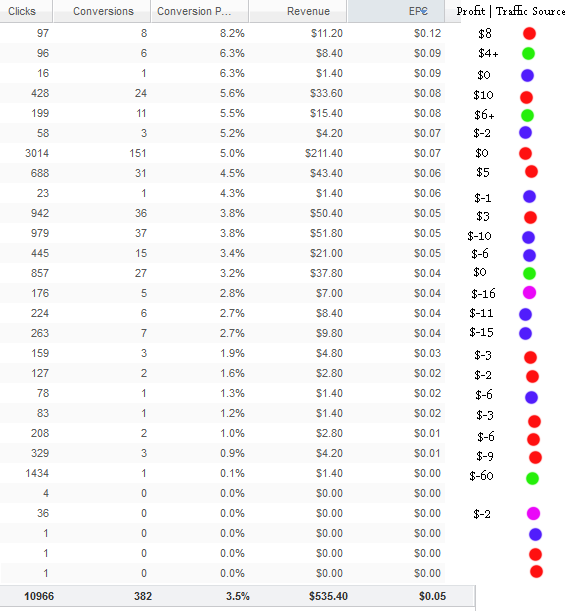 As you can see, the only thing I censored were my SubID's. Then again… it's not like I have anything going that exactly screams "I'm going to steal your campaigns!"

Below is a breakdown of the total profits, based by traffic source:

Yes, I lost money during the past 2 weeks

However, things aren't as bad as they may seem at first.
For one thing, the majority of these campaigns were test campaigns, meaning that I can simply throw the losers away and continue to work on the winners and continue to tweak things.
There's nothing stopping me from doing that right now, and then I'd be making $72 a month profit. But what good is $72? Obviously I'm testing things here with the intention of finding campaigns that have scale potential.
I did 11,000 clicks and close to 400 leads in the past 2 weeks, which shows that there is a TON of traffic available – I just need to find a campaign that has both a higher profit margin and traffic so that I can scale it.
For example, the "red" campaign at $8 profit was doing awesome, so I bid more to get more traffic. That is what the red campaign at $10 profit is. The odd thing is that the traffic quadrupled but the CR dropped by 3%. I scaled that up again, which is what the red campaign at $5 profit is, at nearly 700 clicks… but the CR dropped again, by another 1%.
So, it's a bit odd that when I scale that winning campaign, the CR drops. I think the traffic source is somehow opening my ads to other, crappier publishers when I scale things up.
The blue source really sucks. It's just too expensive. It has a ton of traffic, but the bidding prices are just too high.
The purple source is horrible and recommended to me by a certain affiliate manager (you know who you are!

), but now I know it sucks and to avoid it.
The green source is the most interesting and has the most potential, even though it shows as having lost me $50.
The profit numbers I put down on the green campaigns are actually very loose. It's difficult to explain without revealing too much, but I am currently uncertain as to what the real numbers are.
I am currently unable to get reports of the click and cost data from the traffic source, and in addition to that, I am uncertain as to the country data. For example, it is possible that some international traffic – which the offers don't accept, is being sent there… I just asked my AM to make sure, but will have to wait and find out.
If international traffic IS being sent there, then my profit margins will be through the roof (except for that one miserable campaign with 1,500 clicks and only 1 lead).
The other notable thing to mention is that the green traffic source is going to be adding special reporting and tracking/blocking features in place so that I'll be able to block out the low quality publishers and focus my ads on the converting publishers, which could double my CR right there.
Power of a Bump
The power of asking for a "bump", or payout increase, from your AM on an offer really shows its effect when you're doing any kind of half-decent volume.
Even though I'm running different offers – most are around the same payout. If I were to get a $0.25 bump, at 382 leads that would equate to $95, which completely changes the way you look at my campaigns.
For example, that one red campaign with 151 leads which broke even at $0, suddenly would have made $37 profit, or $70 in 1 month.
This is why I'm not scared to keep testing even though I'm currently losing money.
Anyway, that's my update on my PPC campaigns from the past 2 weeks. I've been busy with a lot of stuff, so this is obviously just a side thing for me.
I'll have updates on the other stuff I've been busy with soon – I still need to finish updates from my trip