December 16, 2011
Posted by Tyler Cruz
I set a new personal affiliate marketing record yesterday, grossing a total of $441.90 in a single day!
My previous high was on January 12th, 2010 at $397.
I fully understand that it's rather silly to "celebrate" a gross income record, as anyone could have spent $400 or $800 and done the same thing, but I still like to celebrate it anyway as it hopefully means I'm moving in the right direction. Plus, I've always loved celebrating new personal bests in anything I do.
Below is a screenshot of the development of my campaigns in December so far: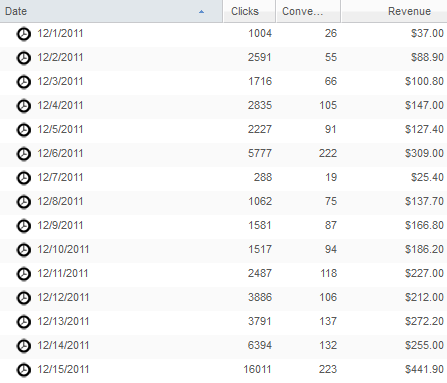 While I set a new personal gross revenue day, I didn't break my best net profit day, which was $233.39. However, I did come fairly close, ending up with a net profit of $166.96 for the day:

However, due to the variety of traffic sources, time zone differences, and bidding methods (CPM and flat daily/month rate, for example), these numbers may be off by 10%-20%.
This is one problem with calculating things on a daily basis. The longer the period I calculate, the more accurate it will be though, to the point where a calculation of 1 month should should yield 99.5% accuracy (I just made that number up, but you know what I mean).
223 Leads
I also ended up doing 223 leads for the day, which comes close to the record I set on November 7th, of 250.
I mention this because I want to again point you to the power of the bump. As mentioned in my previous post, I am expecting (and hoping) for a bump next week. It will probably be $0.25 but may be higher.
At 223 leads, a $0.25 bump works out to $55.75. So if I get a bump and have another exact day like yesterday, I will profit $222.71 – that's nearly a 35% increase in net profit just by getting a bump.
Anyway, we'll see how things go. The bad news is that a large majority of my traffic completely tanked yesterday, netting me exactly $1.01. I'm hoping that yesterday was just a bad day for that traffic source but we'll have to see.