April 23, 2015
Posted by Tyler Cruz
48 Hours after my last post, I'm already back with another one.
This is actually a direct follow-up to my previous post where I show how the real money made in the rental properties I'm looking at is through the equity gain, not the cashflow.
I've accounted for virtually every cost imaginable, but left some out such as market fluctuations (such as mortgage rates, rent increase, and the housing market in general (appreciation only hopefully).
One of the costs I didn't factor into my previous numbers was the closing costs when selling. I had accounted for the closing costs when buying, but not when selling. And this is actually a very significant cost, so I thought I better just bite the bullet and add it into my spreadsheet equations.
Ouch.
It's a good thing I did, too, because what a dent in profit and ROI it makes.
Actually, it's much more than a dent… it's more like a samurai sliced everything in half!
Below I have the numbers from another property I'm interested in. In fact, it's the leader of the pack so far and there's a good chance I'll be placing an offer on it soon.
Check out the total closing costs first (this is assuming the sales price of the property is the same as the amount I purchased it for, again, I did not account for any appreciation), and then compare the CoCR numbers from before closing costs and after closing costs: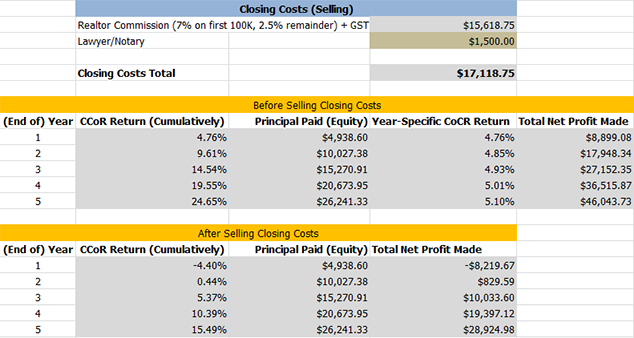 I'll say it again: ouch.
It hurts because on a sales price of $415,000, I'll have to fork out over $17,000 in fees.
After the selling closing costs, I'll actually lose over $8,000 in the first year. The 2nd year I'll barely break even at $800, and the 3rd year is when things finally turn around with a profit of $10,000.
Now remember, this is what the net profits would be if I SOLD at the end of each of the corresponding years. The longer I hold onto the property, the better the return. On this property (and I assume most if not all), I have to hold onto them for at least 3 years in order to see any reasonable profit.
The Positive Side
It's not the end of the world though.
This property does has a monthly net cashflow of $330.04 after all expenses, so it's no problem to hold onto, which works out to $4K/year in passive income. And after year 3, the ROI from the original investment starts to skyrocket.
For example, in 10 years the net profit would be $79,209.74 (an ROI of 42%). That's not the greatest for a 10-year-investment though, so I'd likely sell long before that.
And unlike the property's numbers I used in my previous post, these numbers are including property management, meaning that it really is passive income.
Self-Managed
Ah what the hell, let's take a look at the numbers if I managed it myself. This is a very nice duplex in a nice neighbourhood so it wouldn't be that difficult to manage (as far as managing in general goes anyway).
In addition, I dropped vacancy rates from 7% to 5% and rental costs from 5% to 4% just to get the numbers a bit tighter (they were fairly padded before; this is a nice building).
Here's how it looks. Now it has a yearly net cashflow of $8,900:

Still not the greatest, but definitely not horrible. That's a 4-year profit of $40K – although this does mean I'd have to do the property management myself, which I'm still not sure if I want to do.
Leveraging
If we leveraged better, buying two similar properties at 20% down ($166K total in this scenario), then the 4-year profit between both properties would be $59,298.24 ($29,649.12 per property).
Not horrible. Managed, with everything else the same that would be $29,058.24.
That's quite a difference… $60K (self-managed) vs. $30K (professionally managed) profit over 4-years. I'd literally make twice as much if I managed the properties (in this case, 4 "doors" since it'd be 2 duplexes) myself… over a 4 year span though.
Thoughts
So, excitement-wise, I'm basically left somewhere between where I was before when I only looked at cashflow with very low ROI numbers and where I was a few days ago when I started to look at the equity gain over time.
The selling closing costs just really take a huge bite out of profits.
At the end of the day though, I still think rental properties are a pretty decent way to invest your money, and I'll likely be buying some stuff very soon.
For those interested in all the numbers, here's a screenshot of the Main sheet of my analysis spreadsheet.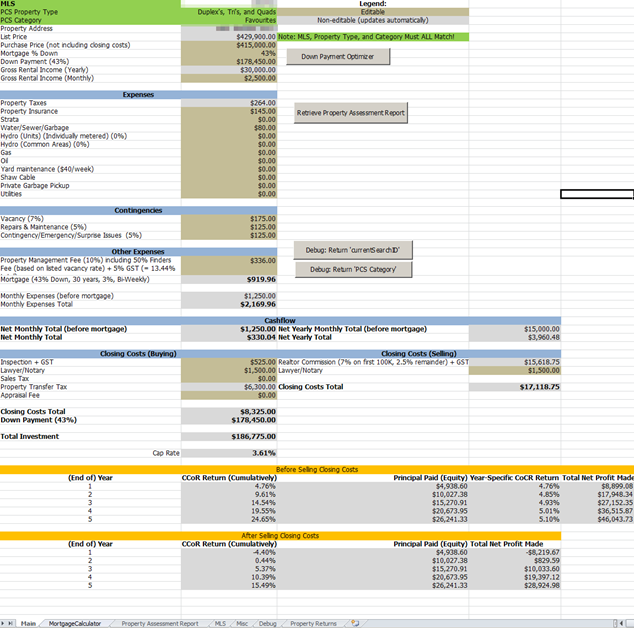 Click on the screenshot to see it full-size.