February 4, 2010
Posted by Tyler Cruz
I've been continuing to focus on my e-mail submit campaigns during the past few days. It's rather addicting actually.
I'm really loving the change from promoting $30-$50 offers to promoting e-mail submits. I can find out if a campaign is working or not within hours, my risk is far less due to the low payout, there are countless submit offers out there to choose from, and I can direct link.
Being able to direct link actually saves me countless hours. When I built landing sites for my $30-$50 offers, they'd take me between 7-12 hours to build. Now I can launch 10 e-mail submits within 15-45 minutes.
$1,000+ Extra Profit per Month
Based off of 2 of my best performing e-mail submit campaigns from yesterday's data, I profited $34. That works out to $1,000 a month.
Even being new to submit offers, after just 10 days from starting on them, I now have 2 offers that can bring in an additional $1,000 profit a month. That's $1,000 extra cash each month I found out of nowhere, and it only took a week-and-a-half!
Now, this is of course assuming that those 2 campaigns can stay like that, but e-mail submit offers are usually "evergreen" campaigns in that they aren't seasonal or won't dry up overnight.
While I'm starting to see some profit come in, I'm by no means going to stop here. I'm only getting started. While there are limits to how much volume I can push with my traffic source, I have seen good progress since I started so I'm certain there is still more room to profit more.
One of my goals for 2010 was to hit an average of $100/day profit from affiliate marketing and I think that these e-mail submit offers may just be the key.
Here's another screencast video of me showing and explaining my offers. You can skip ahead to around the 10-minute mark if you want to get straight to all the number talk:
If you're reading this in an RSS viewer or via E-mail that you will probably not see the above video. In that case you will need to visit my blog via your browser in order to watch it: https://www.tylercruz.com.
Below is a screenshot for those who don't want to watch the video: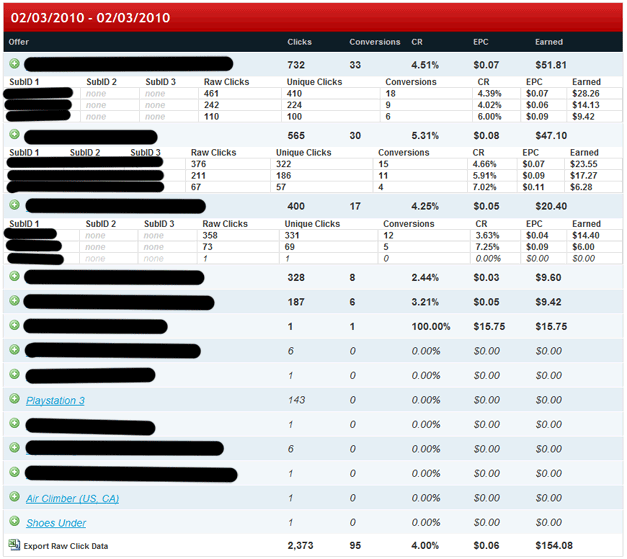 Proof PeerFly Rocks
As mentioned in the beginning of the video above, PeerFly continues to prove why they're one of the best affiliate networks out there by implementing the requests I made to their reporting stats.
I can now see the EPC, SubID's of each offer, and the grand total at the bottom. This makes optimizing and evaluating my campaigns 10x easier (especially with the SubID addition).
If you haven't signed up to PeerFly yet, you don't know what you're missing.