May 6, 2010
Posted by Tyler Cruz
It has actually been 3 months since I last gave an update on my affiliate marketing efforts.
As explained in the screencast below, I paused all of my campaigns on February 11th as I didn't have the time to focus and optimize my campaigns due to being busy with many of my websites such as revamping Movie-Vault.com.
One of my work goals for 2010 was to hit an average of $100/day profit from affiliate marketing. Based on the past 7 days, I made that goal. Now, I obviously won't consider the goal officially reached until I can consistently average $100+ a day profit for several months straight, but I'm trying to be optimistic.
During the past 7 days, my affiliate marketing campaigns brought in a total of $739.94 profit which is a new 7-day record for me. Most of this was due to my main campaign converting an an insanely high 23.47% conversion rate, but my recent foray into e-mail and zip submit offers contributed as well.
Several days ago I started to do some extensive split-testing on my secret traffic source, and came up with some very interesting results.
Below is a 30-minute screencast in which I go into great detail on the split-testing, how I plan to scale, as well as explain my e-mail submit strategies. I also divulge a very effective bidding strategy/tip that many super affiliates use these days on Facebook to get a lower CPC:
If you're reading this in an RSS viewer or via E-mail that you will probably not see the above video. In that case you will need to visit my blog via your browser in order to watch it: https://www.tylercruz.com.
Below are 2 screenshots for those who don't want to watch the video: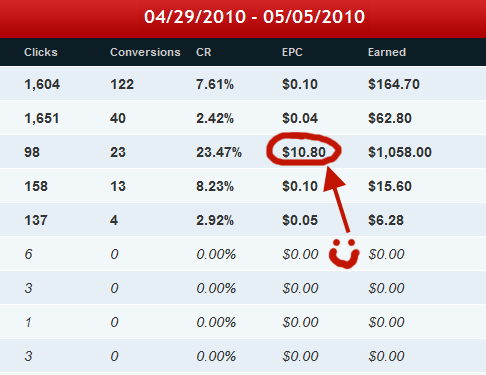 I'll try to keep you guys posted on how my e-mail submit scaling goes, as there is a lot of potential there as explained in the video.