July 31, 2008
Posted by Tyler Cruz
The following is a paid review and is completely of my own opinion and is not influenced by being paid. If you're interested in having me review your site or product, please view my advertising page.
There is certainly no shortage of affiliate networks out there. In fact, more and more are popping up all the time. With so many affiliate networks and the competition for new affiliate acquisitions being fierce to say the least, this review of XY7Elite.com may surprise you.
This is because 99% of affiliates are not even eligible to join XY7Elite. XY7Elite is, as the name suggests, for elite affiliates only. Essentially this means super affiliates. The absolute minimum prerequisite to joining is generating at least $5,000 in commissions per week. This is not a network for newbies or small affiliates.
While XY7Elite originally only allowed E-mail Super Affiliates (affiliates who promote offers via mailing lists), they've recently added a number of web offers due to strong affiliate demand.

XY7 vs XY7Elite
A lot of you may be familiar with or have heard of the affiliate network XY7.com. XY7Elite is simply an offspring of the XY7 network, but catered to strong affiliates who can generate big numbers and perform.
There are two main differences between XY7 and XY7Elite apart from the highly exclusive membership:
Pre-Tested Offers
All offers on XY7Elite have been pre-tested and have proved to run well. A lot of affiliate networks constantly add new offers all the time, but it's usually left up to the affiliate to actually test which offers run well and which don't, since basing things on the network's reported eCPC isn't all that reliable.
Paid Weekly by Wire
Since the application requirements of joining XY7 are so high, once approved, all XY7 applicants are automatically approved to be paid weekly and by wire.
Payment is wired out every Tuesday for commissions generated up to the midnight the previous Sunday. This means that if you generated $18,000 on Sunday, you'd see it in your bank account on Tuesday (or perhaps a day or two after depending on how fast your bank processes wire transfers).
Such a fast payment service is often essential for super affiliates since they are usually constantly growing and invest a lot of their income back into promoting new offers.
Payment is also available via a traditional check, although I'm not sure why a big affiliate would opt for that over a wire transfer.
Invitation Only
XY7Elite is by invitation only. You must be invited by an XY7 representative (usually your affiliate manager) or by a current XY7 affiliate doing at least $5,000 a week.
You may be wondering, since it is by invitation only, why did they purchase a paid review on my blog? I asked them the same thing. Basically, you can apply without an invitation, but will need to prove yourself first.
If you apply to XY7Elite and are not already a current XY7 affiliate, you will be asked to first join XY7 so that they can "see what you can do". They are very adamant about only letting big affiliates in. This is truly an elite members-only program.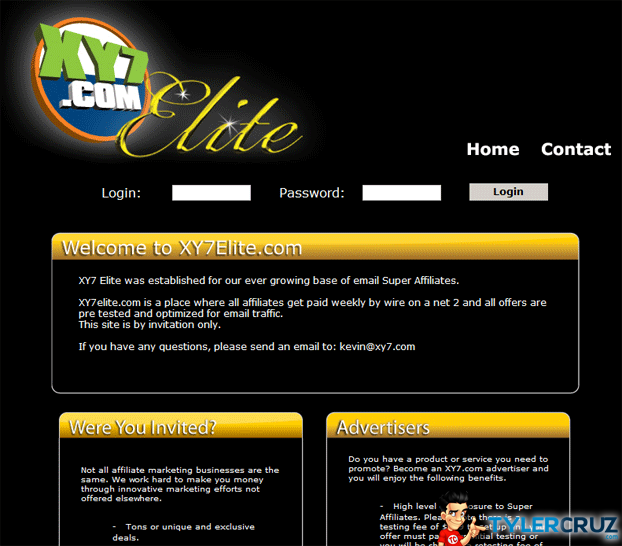 Bare Bones
XY7Elite is a "bare bones" system. There are no fancy graphics, motivational pitches, or tutorials. The features are minimal, and only the ones that are absolutely necessary actually exist.
Basically, you can find offers, grab HTML code and creative, and check your stats. That's all an affiliate, big or small, really needs anyhow.
However, as the number of offers on XY7Elite continues to grow, an improvement on the offers page will be needed such as a search function and being able to sort the columns.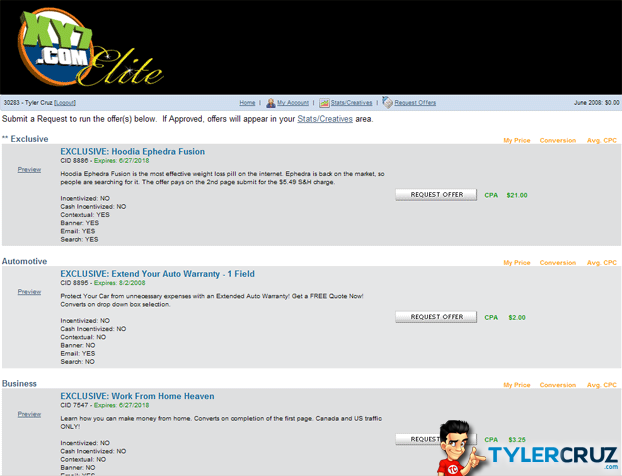 The Offers
I was going to compare the payout's of the offers on XY7Elite to other affiliate networks, but wasn't able to since currently all the offers on XY7Elite are exclusive offers, which is a good thing.
I spoke to the CEO, Kevin De Vincenzi, and asked him straight out just how lucrative the payout's were and he was very adamant in telling me that they hold the best payout's on the offers they carry. I asked him if he could guarantee that XY7Elite has the highest payout's on their offers and he replied with:
"We built this network to ensure our affiliates always had the most exclusive deals with the highest payout's. I guarantee it."  — Kevin De Vincenzi, CEO of Rapid Response Marketing, LLC
At the time of this writing, there are 36 offers available in a number of different categories including Automotive, Business, Ringtones, Education, E-mail/Zip submits, and Finance to name about half of them.
More offers are being added all the time, since I've noticed a lot more from when I started reviewing and checking out the site about a week ago.
Support
Most XY7Elite members will probably continue to stay in touch with their existing XY7 affiliate manager and use them for support.
However, the actual CEO of both XY7 and XY7Elite, Kevin De Vincenzi, is often available for assistance as well. In fact, he is online and available pretty much every day for the majority of the day and night, and I've been able to get all my questions answered by him either immediately by AIM if he is online, or else later that day if he is offline, by e-mail.
Both XY7 and XY7Elite are a bit more casual in how they conduct themselves compared to other affiliate networks, but don't take this casual approach as a sign of amateurism since XY7 has been around a long time and has many longtime super affiliates with them.
Basically, expect them to talk to you more like a close buddy than a traditional "representative". This is a good thing, but may take some traditional people a bit off guard at first.
Conclusion
XY7Elite is truly an affiliate network for elite affiliate marketers. To be eligible, you need to be generating at least $5,000 a week.
The entire program is catered to super affiliates who can perform, and in return they get lucrative payout's and weekly payments by wire.
If you're somebody who is generating over $5,000 a week in affiliate commissions, you may want to consider checking XY7Elite out.