December 20, 2008
Posted by Tyler Cruz
A week-and-a-half ago I made a post titled An Update on My Web Projects which many readers were happy to read. It had been so long since I had made such a simple post updating the progress on my various projects and what I've been working on that I simply forgot that that was the initial reason why I started my blog in the first place.
Here then, is another update on what I've been working on!
First, allow me to give meaning to the title of this post. I live in Canada, but on Vancouver Island which is pretty temperate throughout the year (think Seattle), and is not one giant igloo like some people may like to think. However, this past week it started to snow… a lot. In fact, it snowed so much that yesterday that schools and many stores were closed.
While this didn't affect me too much since I work from home, it did affect a very special trip I've been planning to do with my blog for over a year now. So, that is on hold for the moment but I hope to reschedule it and get that trip done soon.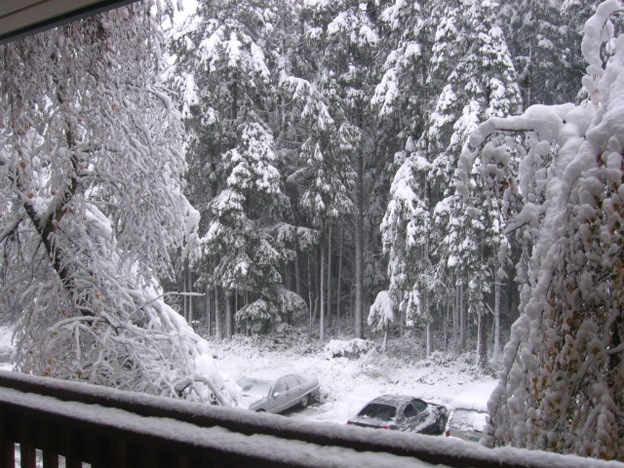 (The view from my old apartment 2 years ago since I was too lazy to take a quick photo for this post)
Other than that slight setback, the snow has been nice. Apart from being nice to look at, it's great at getting me to sit down and work. Why exactly, I don't know. But I guess you could equate it to a writer being stuck in a snowed-in cabin who ends up getting out of his writer block and writes 50-pages overnight.
E-Mails
I managed to weed through all of my e-mails and finally respond to some really old ones. What bugs me though is that I still have 13 in my inbox that are awaiting responses. I'm never fully satisfied until they're all deleted and done with (or archived). 13 is very good for me though, at times I'll have a couple hundred e-mails that need attending to (I don't count spam or personal e-mails).
TylerCruz.com
I upgraded WordPress and spent a fair bit of time upgrading various plugins as well as trying to sort out some issues with a couple plugins as well (If anyone knows why my Digg This plugin isn't working, please help me out!)
I also had an issue with Windows Live Writer in which whenever I tried to post it stripped and parsed out all the < and > tags in the HTML and output that as the actual post. It took a while to fix, but after a number of e-mails to Microsoft (surprisingly their tech support for WLW is actually pretty responsive!) and my network administration company, we found out it was due to PHP being upgraded from 5.2.5 to 5.2.8 without the XMLRPC being installed.
This will explain the reason behind the "Test Post" some RSS e-mail subscribers will have received… sorry for that!
The Big Project
We've made some decent progress with The Big Project. The design was finalized and is now in the hands of the XHTML/CSS coder who is 90% done coding it. The code wasn't commented or formatted to my liking, and there were a few other minor things that needed attending to so I sent it back to him to complete. I'm hoping to get the finalized version by tomorrow.
Once that is done, I will begin writing my long and boring detailed description that I will hand off to my programming team. It will probably span close to a dozen pages and be very technical so I won't be looking forward to that. The programming on this project will be very complex, but my launch date for this project is February 1st, 2009.
It will probably be close but I think we can make it by then. That will give them 5 weeks to complete the programming.
New Sites Set Up
I set up a bunch of domains I had purchased into sites, setting them up in WHM and CPanel and documenting their details (such as usernames and passwords) and setting up e-mails for them, etc.
One of these was for The Big Project and the others were for various sites I'll be launching for future PPC affiliate marketing efforts (see below).
PPC Affiliate Marketing
I'm a little bit excited because I've been working hard this week which in turn has allowed me to get caught up with other projects. And being caught up with other projects means that I'll soon have time less excuses to put off my PPC affiliate marketing efforts.
In fact, I might get back into affiliate marketing (AM) later tonight or tomorrow. I truly believe I can make $100,000 a month from AM if I put in the time and effort, which is my main motivator.
The first thing I'll do is take all the data accumulated during the past 4 months or so for my campaign, analyze it, and optimize it. The next thing will be to get started creating several sites for various new campaigns (offers) I'll be trying.