August 8, 2007
Posted by Tyler Cruz
Last month I launched my new "Blog Earnings" post series with this post. Here's how July finished: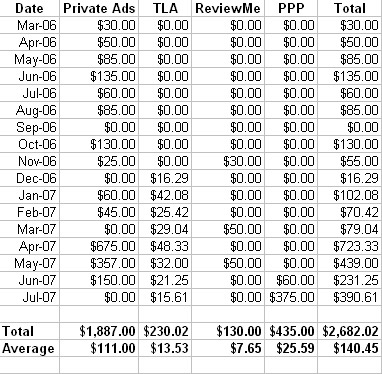 As you can see, I made $375 from PayPerPost last month. I'm nowhere near the top PPP earners yet, but I do appear to be the top PPP Direct earner, surpassing even Colleen – the #1 PPP earner. There's still a lot of resentment from the majority of the PPP crowd.. they really do hate me there, which I'm starting to actually enjoy more and more as my PPP earnings start to increase.
PPP is proving to be a good source of income… I hope August will beat July, which it might considering I've already done two reviews this month, one for $100 and the other for $70. I'm considering raising my price from $65 to $70 soon, but will wait for more offers to come in as they slowed down a little. However, I did decline a few paid reviews… even though some were paying $100. I just didn't think they suited my audience close enough.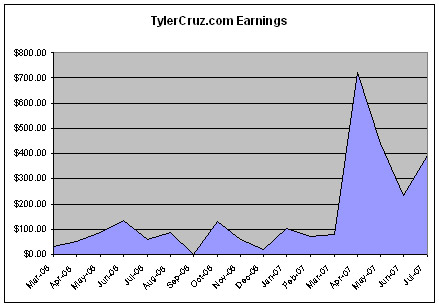 The pie-chart below is the breakdown of my blog's earnings from the beginnining (March '06). In just one month, PPP increased by 10%, now accounting for 16% of my blog's total revenue. And take into account that I've only been using them since June!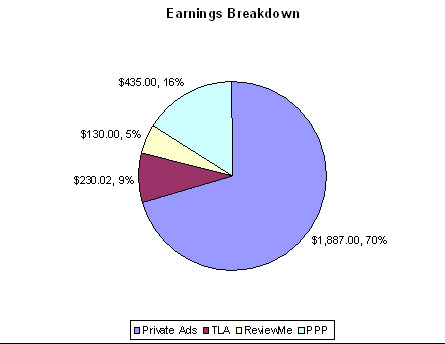 So far, my plan with PPP has been working just dandy. August will be an important month to help gauge just how much I'm improving with my PPP Direct reviews.
Stay tuned next month for the next update!