July 6, 2007
Posted by Tyler Cruz
I'm starting a new post series called "Blog Earnings". Once a month I'll break down the earnings that my blog is making. I should have started this on the 1st, but I don't have the willpower to wait.
I didn't make my blog to make money, but since it is now my 3rd largest site and takes a lot of my time, I've recently started to monetize it more. I've decided to document it's earnings publicly — it's not much, in fact, it may surprise people how little I make from it.
Currently, I only sell advertising through 3 methods:
1. Private Advertising (text links, 728×90 leaderboard banner)
2. Text Link Ads
3. Paid Reviews such as ReviewMe and PayPerPost
There are other residual benefits such as referral sign-ups and driving traffic to my other sites, but I will only focus on the top 3.
Here then, is the breakdown of my blog's earnings. You'll notice a large spike from private ads in April and May. This is from selling a bunch of text links for a long period: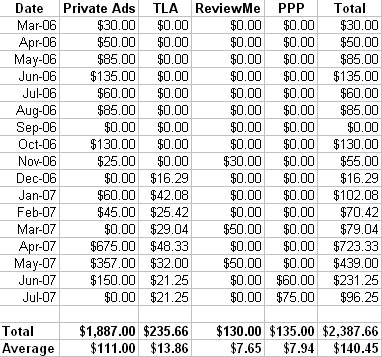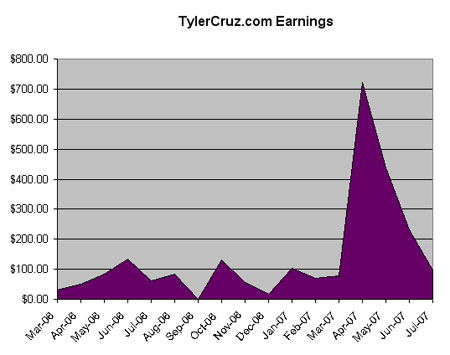 Are you can see, I've only made a total of $2386 over the past year and a half since I started monetizing my blog, averaging only $140 a month. Here's a breakdown pie chart for you: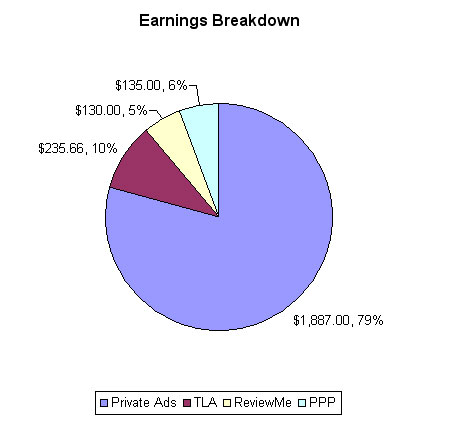 Obviously the vast majority is from private ad sales, but that's largely because I've only recently started to use the other programs. I haven't even used PPP for 2 months yet, and it already accounts for 6% of my earnings. I actually have another 2 PPP reviews backlogged already, one is for $80 and the other $60, so July may end with $300+ from PPP posts alone.
PayPerPost is proving to indeed be a good source to monetize a blog.
 Anyhow, I'll have an update on my blog earnings a month from now.