October 2, 2007
Posted by Tyler Cruz
It's always exciting for me and I always get excited when it's time to write a new Blog Earnings update post. I'm always eager to see how much I've made, and most importantly – if I've made a new month record.
Here are my blog's earnings, including September: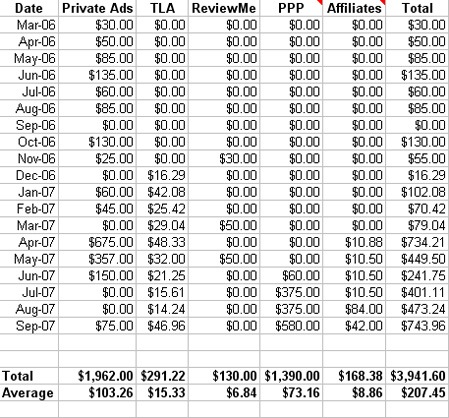 As you can see, last month made a new record high for me at $743.96! I had suspected early on in the month that it might make a new record, as I was getting an armful of offers for paid reviews.
In fact, September also made a new record for my PayPerPost earnings at $580.
Unfortunately, the paid review offers have slowed down significantly. As such, I don't think October will beat September. My prediction is that it will make around $600-$650, but I hope I'm wrong!
The affiliate column is currently only the income from WordZe. WordZe has a fantastic affiliate program which is two-tiers and pays for life. They originally purchased a paid review from me, and on top of that I've made over $150 from them in residual income, so that makes it a win-win for both WordZe and I.
Now that my 728×90 leaderboard has proven itself, I suspect that it should be sold out from now on, giving me an added $80 a month (I've increased it by $5).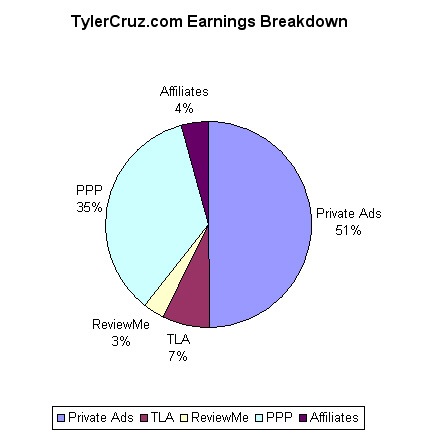 PayPerPost is quickly becoming my main source of revenue on the blog though, so hopefully I'll get some more offers soon.
I really don't have much advertising on my site though. I'm still wondering how I can add my leaderboard to my RSS feed – how to display it at the very top once. I think that if I did this that I could double its price to $150. Still, none of you savvy readers know how to do this yet? 🙂 I suspect I could hand-modify one of the feed template files within WordPress, but I don't want to break anything, and if there's an easier way such as using some form of SSI, that'd be even better so I wouldn't have to update two different areas whenever I update the banner.
Speak up if you know how, I'd be appreciative!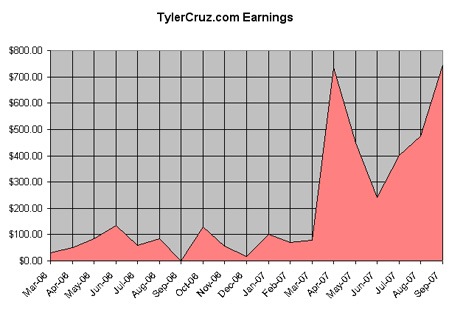 It's nice seeing another peak. I don't have any goals for earnings on my blog other than hoping to break a new monthly record.
Again, I doubt that October will beat September, but who knows. I definitely hope I'm wrong!