November 4, 2007
Posted by Tyler Cruz
It's hard to believe just how fast October flew by… it only seemed like a few days to me!
I always get excited when it's time to write a new Blog Earnings update post. I'm always eager to see how much I've made, and most importantly – if I've made a new month record.
Unfortunately, as I had predicted during my September earnings recap, October was not a very good month for me in terms of blog income. While my RSS and traffic have been increasing and I revitalized my blog with the new theme, October's income is very low because I didn't receive a single paid review from PayPerPost.
Here are my updated numbers: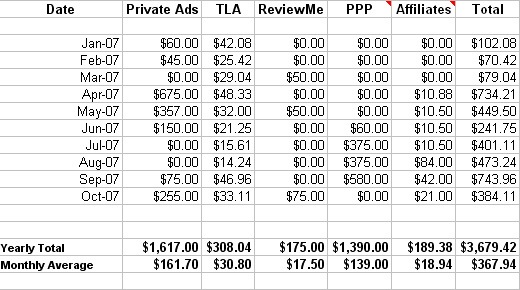 It just goes to show how much paid reviews affect my blog's income. September brought in nearly $600 from paid reviews alone, while I only made $175 from the two reviews I did last month (one was paid privately).
I need to find a way to get more offers for paid reviews. I thought my Order a Paid Review From Me post back in mid-October would have brought forth a slew of offers, but I didn't get a single one… odd!
Even though I haven't been getting many offers for paid review lately, I raised my price from $75 to $80 for paid reviews a couple days ago. Yesterday I hit a new RSS record of 882, my traffic has been increasing, and I write very long and detailed reviews.
In fact, a paid review that I just finished, took me around a total of 12-14 focused working hours to review and write. For the amount of work I put into my reviews and the exposure they get, I actually think they're worth at least a couple hundred dollars, so I'm constantly perplexed why I don't receive more offers. $80 is an absolute bargain in my eyes…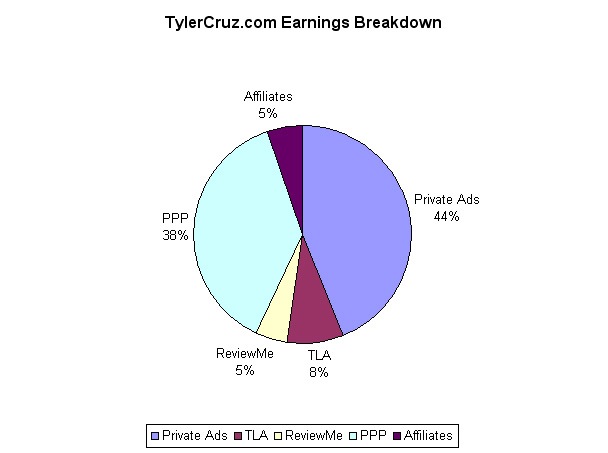 My earnings breakdown still has Private Ads and PPP composing the majority of my blog's income. I'm fine with how it is distributed now, but it will be interesting to see how it changes as my blog's income (hopefully) increases.
Another advertising change I made to my blog was the addition of sitewide side 125×125 banners, which came available with the launch of my new theme. Wanting to sell these spots out as fast as possible, I priced them at only $15, and within several days sold them all out. Even John Chow bought one! I'm only allowing a maximum of 6 slots to make sure that all the advertisers get a fair amount of exposure.
I've already increased the price to $20 a month for them now, so if they wish to renew near the end of November, it will be $5 more, which is still cheap in my eyes.
I also increased the price of my 728×90 leaderboard by $5 from $80 to $85, since I have several people on the waiting list for it and the current advertiser keeps renewing. Supply and demand, my friends… this is slot is an incredible value.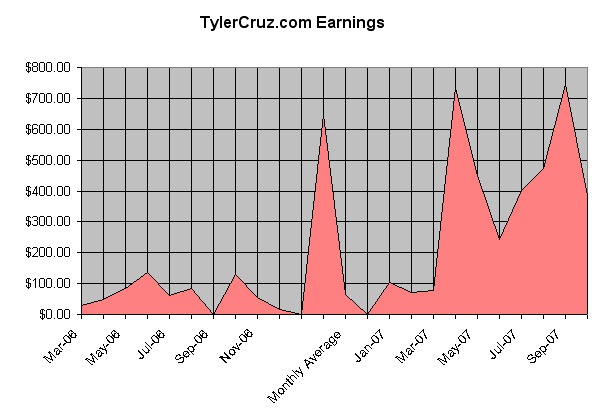 So there you have it. Unfortunately October was a pretty bad month for me, but I had predicted it so it's okay 🙂
The good news is that I expect November to do quite well, very possibly beating September to set a new record. Stay tuned!