March 15, 2011
Posted by Tyler Cruz
My original intention with my "Blog Update" series was to publish them once every 6-8 weeks or so, and it actually started that way. But seeing as my last one was 6 months ago, and the one before that was 13 months ago (from today), I have now come to terms with the fact that they are more likely to be published about twice a year.
Since I haven't published a Blog Update post in half a year, this post is pretty long, so bare with me.
In these "Blog Update" posts I list any notable improvements, modifications, or milestones related to my blog such as new plugins installed, design changes, or new features. However, I try to only list things here that I haven't already announced or touched on in other posts.
You may wonder why I make these Blog Update posts, where I mention very small or seemingly unimportant improvements and modifications. Well, while they may not seem too notable by themselves, over time these small things can (and do) make a big impact. The key is to keep looking over your blog or site with a very critical eye and to constantly try improving it.
By simply making small improvements here and there, my blog has evolved by leaps and bounds since its genesis five years ago. So, maybe you'll pick up an idea or two by reading my blog updates. Feel free to search for my past Blog Update posts to get even more ideas on how you can improve your blog. 
New RSS Record
Way back on October 26th, I set a new RSS record of 2,552.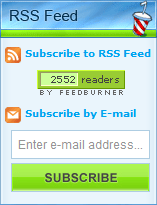 As I write this, however, it is currently only 2336. It dropped a bit around November-December when I started to really slow down on my post frequency (only 3 posts were made in all of November!).
Now that I have a goal to post more frequently (see below), I hope my numbers to rise again in the not too distant future.
Increased Post Frequency
One of my 2011 work goals I set at the beginning of the year was to publish 140 blog posts by the end of the year. Last year, in 2010, I published only 82 posts, so 140 is quite the increase.
In fact, 140 posts in a year works out to an average of 11.6 posts a month – roughly 1 every 3 days.
I started out well, publishing 10 posts in January and 12 in February, but as you may have noticed, I have been slacking in March so far. Counting this post, that makes 26 posts done this year, meaning that I have 114 more to go with approximately 285 days left.
That means in order to complete my goal, I'll still need to post a new post every 2.5 days on average.
If you take a look at my archives page, you'll see that I really am making an posting more often these days.
Custom Changes & Modifications
Added SEO Category
Since I started posting on SEO with my case studies and recommendations of various programs and services, I thought it would be prudent to add a new category for SEO for those interested in reading only SEO-related blog posts.
Added HostGator Button to Bottom
Switching to HostGator was the best business decision I made in 2009, and so I added a small  "Powered by HostGator" button to the very bottom of my blog. I can't tell you how much easier my life is due to switching to them.
Added Popup Domination – Highly Recommended!
I will be doing a dedicated post on this later, but I added Popup Domination, which is that lightbox popup that appears on my blog once every 2 weeks to encourage signing up to my newsletter.
You can find out more information and/or purchase it by clicking on the link above. I can tell you now that I have certainly seen the same (if not better) results as the testimonials given on their sales page.
Installed MobilePress – Highly Recommended!
I installed MobilePress, which is a plugin that creates a mobile-friendly version of your blog.
It's free, only took me 1 minute to install, and allows you to customize your mobile theme as well. You can even set it up to integrate Aduity with it to monetize your mobile version.
I love it. Go ahead and check out my blog on your phone. It's very fast and is better than just an RSS feed.
I was originally going to use Mobify after reading about it on JohnChow.com, but didn't really care for it. Part of the reason was because you had to create a separate domain (Ex. mobile.tylercruz.com) for it. With MobilePress, when people visit TylerCruz.com on their phone, it will automatically show the mobile-friendly version.
And for those with larger smartphone screens who want to view my blog as they would on a computer, there is a link at the bottom to do just that 🙂
Increased Newsletter Blog Broadcast Frequency
Paul Piotrowski suggested to me in a response to a comment I left on one of his blog posts that I should increase the frequency of when my automated blog broadcasts go out. Previously, it was set to sent out an e-mail out once every 10 new posts, but Paul pointed out how that was really too infrequent. I agreed, and changed it to sent out every 5 new posts now.
WordPress & Plugin Upgrades
As always, WordPress and the various plugins I use are constantly coming out with new versions, and I try to keep up with them the best I can.
Upgraded WordPress from 3.0.1 to 3.0.5
I got tired of updating WordPress all the time since new versions are constantly coming out, so I waited a for several new minor versions to come out before upgrading from v3.0.1 to v3.0.5.
They are rarely very important changes anyway… usually just obscure security fixes.
Upgraded WP-Polls from v2.5 to v2.61
I upgraded my WP-Polls plugin from v2.5 to v2.6, and then again from v2.6 to v2.6.1, which fixed an XSS vulnerability. This is a great plugin which I should utilize more often.
Upgraded Google (XML) Sitemaps Generator from v3.2.4 to v4.0 BETA 3
I upgraded my Google (XML) Sitemaps Generator plugin from v3.2.4 to v4.0 BETA 3. This was a necessary upgrade that fortunately fixed all the issues I was having before.
Some time back, I noticed that my sitemap (for the search engines) wasn't being automatically updated, and I would have to manually run it in order for it to work.
Upgrading to v4.0 BETA 3 finally fixed this for me.
Upgraded Email Users plugin from v3.1.8 to v3.2.0
I upgraded my Email Users plugin from v3.1.8 to v3.2.0. Unfortunately, I have absolutely no idea what the new version did as the release information isn't up to date.
Upgraded WordPress Exploit Scanner from v0.97.2 to v0.97.6
I upgraded my WordPress Exploit Scanner plugin from v0.97.2 to v0.97.6.
The new version only had very minor changes.
Upgraded Akismet from v2.4.0 to v2.5.3
I upgraded Akismet from v2.4.0 to v2.5.3, skipping a good number of versions inbetween.
I shouldn't have let myself get so behind on upgrading Akismet, as it is one of my most important plugins. My blog gets a ton of spam and I have to weed out spammers manually everyday, even with Akismet, so I should really be keeping an eye to make sure it is up-to-date more often.
I upgraded this automatically since it ports with WordPress.
Advertising Changes
Increased Paid Reviews from $250 to $275
I increased the price of my paid reviews and paid plugs from $250 to $275. Right before increasing the price, I was actually backlogged with 5 paid reviews, so that is usually my queue that the price needs increasing.
Also, I hadn't raised the price in a year-and-a-half and I tend to keep paid reviews up as the latest post for longer these days so they have more value.