May 3, 2009
Posted by Tyler Cruz
Another week has passed which means that the Blogging Weight Loss Challenge: Cruz vs Volk has already hit its 3 week mark. That's 3 weeks down and 7 more to go, or 46 days to be exact.
I've been sticking with my workout routine so far, and decided to finally start making some food changes as well. Right now I'm focusing more on not what I eat but how I eat. For example, I hadn't eaten breakfast for probably 10 years or so, since I around 15. I was just never hungry in the morning and always waited until lunch.
But since I always hear that "breakfast is the most important meal in the day", I decided to start forcing myself to eat breakfast every day. I started doing this close to a week ago and haven't missed a day yet. I'm still hungry in the morning so I just eat something small like a banana or orange, but at least it's something.
Part, if not the main, reason I was never hungry in the morning is because I have an extremely bad habit of eating a big meal right before bed. I've done since ever since I was a teenager so it's very ingrained in me. I know how bad this is for you in terms of gaining weight, so I'd like to try to cut down on how much I eat shortly before bed and/or increase the gap of time from when I eat and when I go to bed. To be honest though, this will be extremely difficult for me.
I also started making some very minor food changes as well. I haven't eaten out for around 10 days now, got SunChips (multigrain) instead of Doritos or Lays, and I look at the calories of what I'm eating. That doesn't prevent me from eating what whatever it is, but I think it's good to be aware of how many calories things are and to be more conscious of it. And I make other small changes such as always opt for whole grain bread instead of white. I'm willing to make small changes to my food choices if it helps with my weight loss, but nothing drastic as I just love my food to much to give it up 🙂
My Sneaky Evil "Get Jonathan Volk Fat" Plan
After a bit of research, I discovered that my rival in this competition, Jonathan Volk, has a special weakness when it comes to pop, in particular Jones soda.
In order to take advantage of this, I ordered a case of 12 Jones soda to Jonathan's doorstep. I had custom labels made for each bottle with the "before" photos of Jonathan and me on them. I also sent him a small pack of Jones carbonated candy.
Each bottle contains 190 calories so hopefully he will not be able to resist the delicious and refreshing Strawberry Lime flavour and will pack on the pounds… haha, that was my evil plan.
Here's a video of Jonathan receiving my evil package:
In his latest update on our weight loss challenge he mentioned how he has lost 3.5 pounds so far. That is very good, especially considering his starting weight was 16 pounds less than me.
While he's my rival in this competition, the real goal was for both of us to lose weight, so I'm happy he's doing well so far. Remember, if either of us doesn't lose 10 pounds in 10 weeks then we have to pay $500, so it's not just our pride on the line.
Jonathan also posted a video of himself biking. He sported a Clickbooth headband and shirt which immediately reminded me of Michael Cera in Juno. I compiled a quick comparison in the photo below – the likeness is uncanny, isn't it? Haha!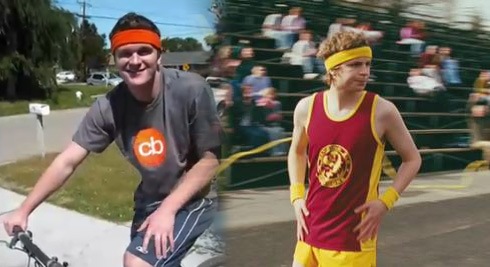 A New Personal Record
A couple days ago I completed my 8th "run" around Westwood Lake. That works out to a total of 48 KM (or 30 Miles).
I managed to set a new personal record during the last run, finishing in 59:35, which is exactly 10 seconds faster than my previous best. Lisa has really improved on her time as well, with her best being 50:06 now, so I have a lot of catching up to do, but she also jogs 85% of it.
My feet, ankles, and shins are still absolutely killing me. I'd have thought they would be fine by now as it's been 3 weeks since I started, but they're just as bad as when I started. On my last run I tried using a different pair of shoes than I had tried before. It seemed to have helped reduce the pain in my ankles and shins, but amplified the pain on my feet. It also caused a massive blister on my right baby toe which I had to endure with every step.
Is it normal for such foot, ankle, and shin pain to continue after 3 weeks? It's really annoying because I could improve my time if I wasn't forced to walk such long stretches due to foot pain.
On the last run I stopped using my Blackberry headphones since they kept falling out of my ears and I constantly had to adjust them, especially during jogging sessions. Also, the right earphone stopped working. As a replacement, I used my wireless Bluetooth behind-the-head headphones which worked great as I didn't have to adjust them and could change the songs, pause them, etc. with the touch of a button. The funny thing is I can even accept or make phone calls through voice activation with the headset while jogging if I wanted.
Anyhow, I managed to set a new record because I had a fantastic first 2-3 KM. I jogged longer stretches and added about 2-3 more jogging stretches than I normally do which cut off a minute-and-a-half by the 3KM mark.
Westwood Lake Time
| | | |
| --- | --- | --- |
| Date | Time | Comments |
| My 2007 Best Time | 1:00:34 | My previous record… |
| April 8, 2009 | 1:06:00 | Feet and calves absolutely painful |
| April 12, 2009 | 1:05:33 | Feet, shins, and calves still absolutely painful |
| April 15, 2009 | 59:45 | Jogged a couple extra stretches |
| April 20, 2009 | 1:00:45 | Off my record by a minute Shins killed me |
| April 22, 2009 | 1:02:30 | Shins and calves still very painful |
| April 24, 2009 | 1:01:45 | Came close to record but couldn't push near the end |
| April 26, 2009 | 1:03:30 | Had a very bad first 2-3 KM |
| April 29, 2009 | 59:35 | New Record! Had a fantastic first 2KM |
Weight Loss Status
| | | | |
| --- | --- | --- | --- |
| Date | Weight | Total Pounds Lost | Days Left |
| April 11, 2009 | 205 | 0 | 68 |
| April 14, 2009 | 205 | 0 | 65 |
| April 19, 2009 | 205 | 0 | 60 |
| April 23, 2009 | 204 | 1 | 56 |
| May 3, 2009 | 201 | 4 | 46 |
Please note: I had a real ordeal last night and didn't eat very much as I didn't have time (was unable to), so the May 3rd numbers were probably affected in my favour as a result. However, I think this would only contribute for 1-1.5 pounds so there is progress being made.
Don't Forget to Participate to Win up to $250
Remember, all you need to do is blog about my Weight Loss Challenge with Jonathan Volk and predict who you think might not make the challenge to be eligible to win a possible $100-$250. Full details can be found in the original post.