April 10, 2009
Posted by Tyler Cruz
Some of you may ask what the hell this has to do with making money online or being an internet entrepreneur. Well, it's simple: making money isn't much use if you're dead. While I'm not morbidly obese, I could sure lose a few pounds. But if you are, then it's time to make a difference. You can start by doing some research such as learning the Amputation Prevention option.
When you work from home sitting at your computer, it's amazing how the pounds can tack on over the years. I'm not the only one with this problem. In fact, pretty much every internet entrepreneur I know has put on extra weight.
I love games and competition, so I figured: why not make losing weight a competition? Better yet, why not make it public and put money on the table? Once I found a willing participant to compete against me, the Blogging Weight Loss Challenge was born.
The Challenge
The challenge is between the $300,000/month super affiliate Jonathan Volk and me. We each must lose 10 pounds within 10 weeks, by June 18th, 2009.
The weight loss will be weighed on June 18th, 2009. If it is lost earlier, that does not declare a win; it must stay off on June 18th, 2009.
The $500 Penalty
Each person who does not make the 10 pound loss (even if it is by half a pound) by June 18th, 2009 will have to pay $500 to bloggers who predicted that they would lose (see the Bloggers Challenge section below for more details).
If both Jonathan and I make the goal, no penalty is paid out. If neither of us make it, then we will each have to pay out $500!
Bloggers Challenge: Win an Easy $100
To let other bloggers participate in this challenge, we're giving 10 bloggers a chance of winning $100 each. Here's how it works:
Write a blog post about this challenge, linking to BOTH of our blogs. Your blog must be "make money online" or affiliate marketing related and your post can not be copy/pasted from either of our posts.
In your post, predict who you think might lose the challenge. You can only choose one person.
If that person ends up losing the challenge, you will be put into a draw to win 1 of 5 $100 prizes that the loser will be forced to pay. For example: if you write a blog post predicting that Tyler will lose the challenge, and Tyler ends up losing the challenge, then you will be put into a draw with all the other bloggers who predicted that Tyler would lose and a random draw for 5 of those bloggers will win $100 each.
Once the post is up, you must leave a comment on whichever blog you predicted wouldn't make the goal with the URL of your post or you won't be eligible.
Notes:
The post must be published no later than May 10th, 2009 (to prevent people from "predicting" a loser a few days before the challenge ends).
If both Tyler and Jonathan make the goal, no prizes are given out. It is only if one of us fails. On the other hand, if we both fail, then we'll be giving out a total of $1,000.
If there are not 5 entries, then the $500 will be broken down (ex. if only 2 entries, each person would win $250).
Challenge Rules
Both Jonathan and I have agreed to the following rules for this challenge:
We each must make an official post announcing the challenge with an overview, the rules, etc. In this post we must each post a current "before" photo of ourselves (preferably a front and side portrait). We must also post a short video clip of ourselves getting on the scale to prove our current weight at the beginning of the challenge.
Similarly, at the end of the competition on June 18th, 2009, we must again post current photos and a video of getting on the scale.
Preferably about once every week or 10 days or so, we must each make a post updating the status of the competition (current weight, things we're doing to lose the weight, etc.) Photos and or videos here are not mandatory but would be nice.
No weight loss pills, supplements, colon cleansers (haha), starving of oneself, etc. of any kind. Must be all natural old fashioned weight loss.
Let it Begin!
Here is my official starting weigh-in video:
I weighed in at just over 206 pounds, but since my average is 205, my goal for this challenge is 195 (10 pounds). That works out to an average of a pound a week for 10 weeks: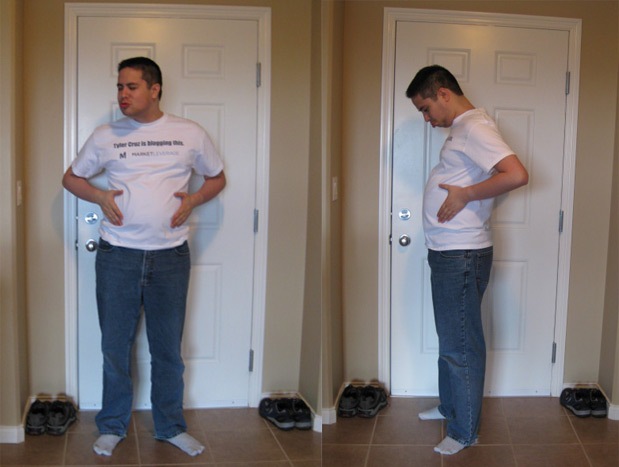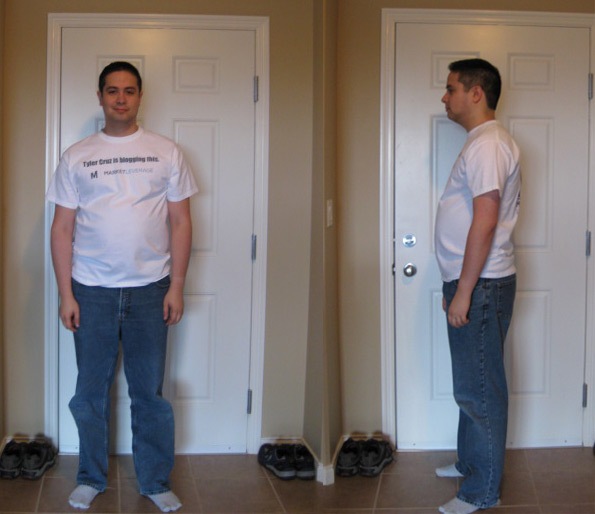 Let the humility begin! Jonathan Volk's post should be up soon.