April 23, 2008
Posted by Tyler Cruz
The following is a paid review and is completely of my own opinion and is not influenced by being paid. If you're interested in having me review your site or product, please view my advertising page.
Have you ever wondered how much certain types of businesses would cost to buy, or perhaps wonder how much they make? If you're anything like me, you've certainly thought of this before. Whether you're simply curious or are genuinely interested in purchasing an established  brick and mortar business, BusinessMart.com is a great resource to bookmark on your journey to finding the right business for you.
BusinessMart is essentially a search engine that lists businesses for sale, helping buyers and sellers of small businesses and franchises. They have many resources to help visitors start their own business, sell their existing business, open a franchise, or simply manage their existing business, but their main feature is their massive listings of businesses for sale.

Buying a Business
At the time of writing this review, BusinessMart returned over 17,000 listings of businesses for sale. Currently, BusinessMart contains listings from the US and Canada, and you can search for listings by state and even major cities. Additionally, you can use the advanced search and customize your search by price range, categories, or keywords.
While there are listings from Canada, unfortunately they are not searchable by province, which would be a nice improvement BusinessMart might want to consider for Canadians.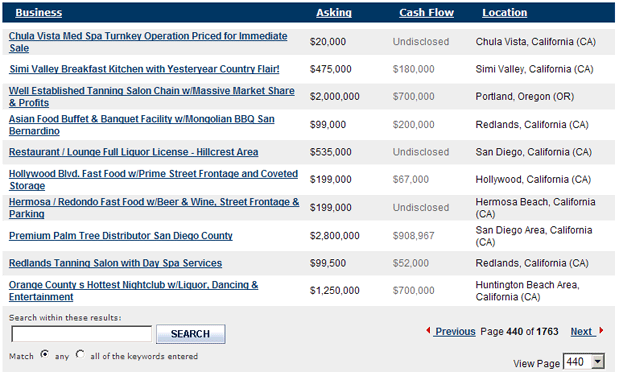 The vast majority of businesses listed on BusinessMart are for existing, brick and mortar businesses, so it is not geared towards online businesses or websites although there is indeed a category specifically for that entitled Internet Based/E-Commerce with around 200 listings.
Most of the Internet businesses listed, however, are E-commerce/dropshipping websites and are not content websites. Although, I did find the listing Fully Developed Web Site for Doggie Info/sales which is a 7-year-old established website with 50,000 hits a month asking for $12,000, so there might be some hidden goldmines or diamonds in the rough if you look hard enough.
The main core of listings though are for brick and mortar businesses, and asking prices can range from $15,000 to half a billion dollars. However, most businesses seem to have an asking price around $50,000 to $300,000.
Another interesting listing I found was for an Internet Hosting & Website Design company. They're asking $190,000 for their company which grosses $140,000 per year and nets around $50,000 per year. As the listing states: "Hosting fees are automatic and are currently generating approximately $5,000 per month." That's not too bad an asking price for an 8-year-old established company already making a profit. Plus, it comes with $25,000 worth of furniture and fixtures.
While some listings may not publicly disclose an asking price or other financial information, all listings include a business summary, the year the business was established, current number of employees, as well as other information including facility information and if any training is included. To request more information or to make an offer, a basic contact is provided for interested buyers to fill out.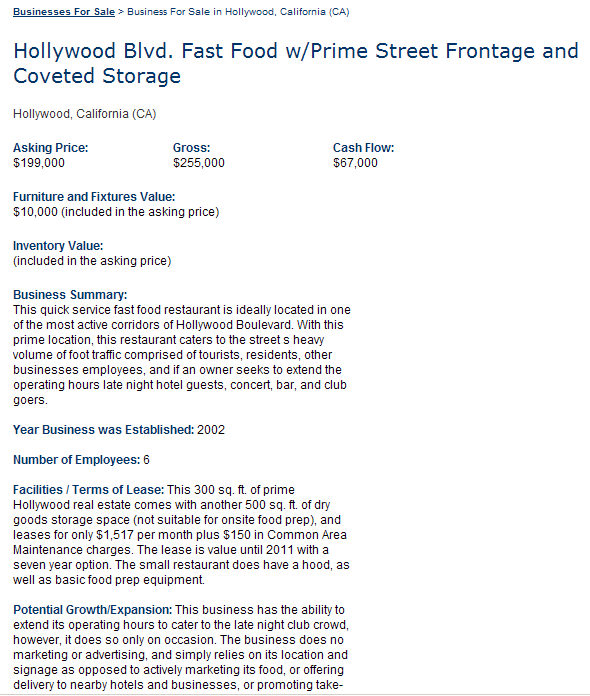 Selling a Business
As you might expect, BusinessMart of course allows you to sell a business in addition to finding one to buy. The price to list a business for sale on BusinessMart varies depending on the listing length and optional additional features chosen (such as being listed at the top of each page).
For a 3-months listing you can expect to pay $69, but 12-months is the better deal at only $169. BusinessMart takes absolutely no commission (thank God…) and works on a basic listing-fee only, similar to eBay.
Buying a Franchise
Have you ever wanted to own your very own McDonalds or Burger King? BusinessMart has a comprehensive franchises section which lists all of the major franchise opportunities available.
In addition to having scores of franchises listed by state and category, BusinessMart's franchise section also contains related articles such as Franchises – What To Consider, Questions to Ask a Franchisor When Buying a Franchise, and Seven Secrets to Buying a Franchise. The articles, while rather short, are very informational reads and are useful for those seriously considering purchasing a franchise.
Additional Resources
In addition to business listings and franchise information, BusinessMart also has several resources for small business owners and business-minded people.
Their business broker section lists professional business broker agencies within the US and Canada. This can be a useful resource for those seeking professional localized help in purchasing or selling a business, although they probably cost a lot more than the $69 fee BusinessMart charges.
BusinessMart also contains valuable information in their resource center including many articles for small business owners, information on loans, incorporating a business online, forming an LLC online, as well as tools such as a small business loan calculator.
Conclusion
There are businesses of all kinds available on BusinessMart, from spas to restaurants, and with over 17,000 listings it is certainly one of the largest business search engines out there.
If you're an investor or are seeking a change in industry as a small business owner, you'll certainly be interested in BusinessMart.com. If you're a small business owner as well, strictly picking aspects like small business payment solutions may help you get an edge on the competition.