May 3, 2008
Posted by Tyler Cruz
In my previous blog earnings update, I announced how March had made a new record by bringing in $1,746.14. Unfortunately, after two months of back-to-back record high's, April broke the momentum by bringing in a disappointing $655.90.
The good news, if you can call it that, is that this was not a surprise and was certainly to be expected due to my server crash. It wasn't that private advertisers cancelled their campaigns, as only one advertiser out of a dozen didn't renew. It was because in order to compensate the advertisers for the downtime incurred, I extended everybody's campaign by 10 days. This extension essentially pushed my advertisers renewal dates into May.
I had also been extremely busy working on fixing my server that I didn't have time to write paid reviews. I am currently backlogged with 3-4 paid reviews, so that will certainly help May get "back on track".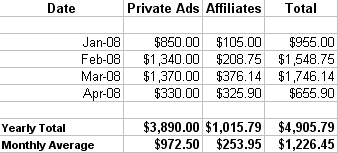 Yes, the graph now sports an ugly scar for April 2008, but that's the name of the game. There will be high's and there will be low's. As long as the generally trend of the chart is directed on an incline, that's all that matters.
Take October 2007 for example. It may have looked discouraging at the time, having dropped to $400. But the next month shot up to over $1,000: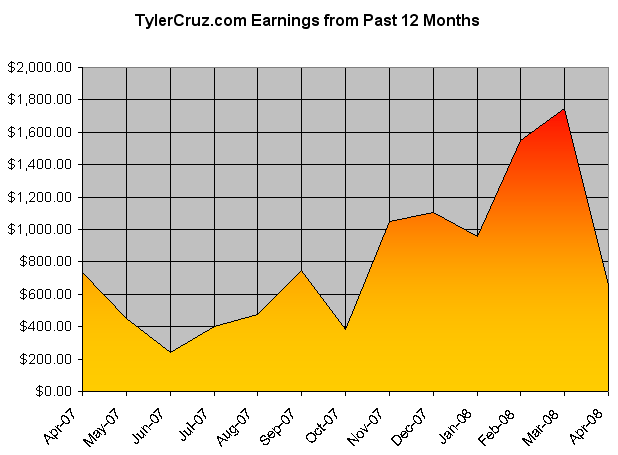 Surprisingly, affiliate income almost tied with last month. Actually, I guess it's not too surprising due to the extension reasons listed above:

Kontera currently accounts for half of my affiliate earnings, while AdToll is starting to grow. My Peel Away Ad has been booked on AdToll until July 15th: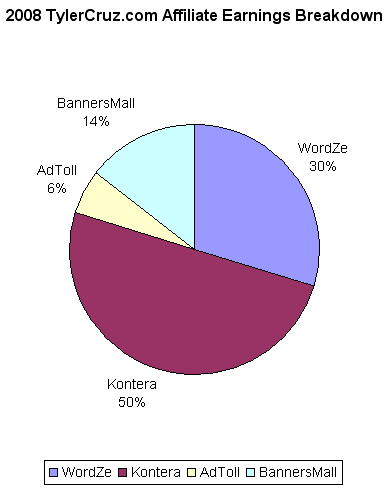 Affiliate income has very slowly been growing as overall blog income. This is great as it diversifies sources of income, making it more stable and predictable: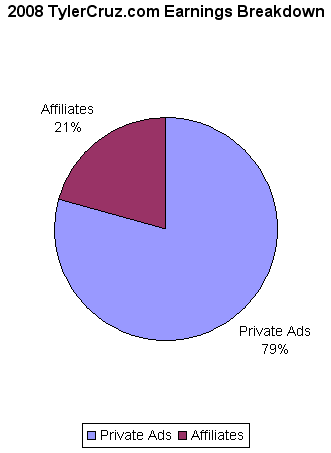 WordZe has continued to prove to be a consistent source of residual affiliate income. I only wish I catered more to affiliate marketers so I could promote it more. Their referral program is really lucrative, check it out if you have the chance, or read my extensive review of them.
Kontera have been very good to me. They have been great with responding to all my questions via e-mail, and have worked with me directly to maximize and tweak Kontera's earnings. They've also recently been making improvements to their network by introducing new features and improving existing ones.
My AdToll income has been growing as more advertisers discover the value of my Peel Away Ad. I'm now booked out until July 15th! I love Peel Away Ads because they are a new and unique form of advertisement. They are also very visible yet not over intrusive.
If you want to buy a Peel Away Slot on my blog, the cost is $15 per week through AdToll. You can see on my AdToll rate card that the average CPC is only $0.25, which is a great rate for such targeted traffic in this niche.
BannersMall has an affiliate program and since their service is awesome their conversion rate is very high. I made $85 from them in March which says a lot about their conversion rate considering I only get 10% and their banner prices are cheap…
Private Ad Shoutouts
I'd like to give some quick shoutouts to my repeat sponsors and advertisers:
TTZMedia – John Chow has continued to renew his ad for his TheTechZone affiliate program on my blog and has made his way up to the top of my left sidebar. Check out TTZMedia.com and try John Chow's very own affiliate program.
Motive Interactive – Motive Interactive purchased both a paid review as well as the Embedded 300×250 banner, and have just renewed. Stay tuned for another paid review they purchased where I'll be discussing new features and improvements they're launching.
BooksWealth.com – This is their 4th month renewing their 125×125 Sitewide Banner with us, so if you haven't checked them out yet, maybe you should!
SharpWitDesigns.com – Another advertiser who has renewed many times. Need a custom WordPress skin? Check out their colourful designs.
Side Sitewide 125×125 Banners Available
I currently have TWO sitewide 125×125 banners available. Priced at $40 a month, they are displayed across 100% of the site. New campaigns always start at the bottom to encourage renewals.
Get a Paid Review
I'm not afraid to say that my paid reviews are arguably the best value you'll find. In fact, I'm not the only one to say so… For $130, you can order a custom review written by me on your website, service, or product. I cannot guarantee a positive review as it is after all a review and not one long ad. However, you will get the benefit of receiving an entire post written about your company or product in great detail.
Feel free to view some of the many past paid posts I wrote. Below are some recent ones:
Every single person that has ever purchased them have been extremely satisfied, with the exception of one advertiser who was angry not with the actual review, but because of the negative comments he received (he wanted me to delete them).
The only reason they are priced so cheap is because I'm trying to build demand for them. I have an RSS readership of over 1,500 highly targeted readers, and so for the price, I think that my paid reviews are an absolute steal.
May Goals and Predictions
Going through the numbers, I think that it will be very difficult to beat March's income record of $1,746 in May. The only way that this is possible is if I get a lot of orders for paid reviews, or earn a lot through a new affiliate program. While I don't think I'll set a new record, I predict that I'll get close, finishing in the $1,400-$1,500 range.
My goal for May is to make $1,800 from my blog, but that is no small task. Stay tuned a month from now to see the results!