March 17, 2008
Posted by Tyler Cruz
I'll admit, I did reinstall World of Warcraft a few days ago, but I've also been pretty good at keeping my promise of working hard on PublisherSpot.
My programmers are still working on batch #2 (actually, they haven't started yet. I just finished answering all of the project manager's questions regarding the finer details, and so they should be starting soon). It's hard to estimate how long it will take them, but I'm going to estimate two weeks.
While I just finished giving them a whole new batch of tasks to work on, I've already began compiling a list for batch #3!

As you've probably heard me say a million times by now, I've been eager to start advertising and market the site. My plan was to do so once batch #2 was finished, but I'm going to have to wait even longer now, because it would be silly to launch an advertising campaign before batch #3.
That's because batch #3 is all about community. PublisherSpot is already a great site and resource, and will only be better in a couple weeks once the second batch has been completed. But if there's one thing that blogging and the recent social networking trend has taught me, it's that nothing can grow and explode a site like a strong community.
Therefore, batch 3 will focus solely on building community integration into PublisherSpot.
Member System
First, a member system will be created. Visitors can sign up for an account, which (for now) will allow them to vote and comment on reviews. Currently, visitors can rate networks, and security measures are in place to prevent the same C-Class IP range from voting on a review more than once every three weeks. However, this is not a fool-proof system, and thus reviews are still open to… manipulation. A member system would reduce any cheating attempts to about as much as possible.
The commenting of reviews will be a major improvement. All of the reviews on PublisherSpot are written in as much an objective, journalistic manner as possible, and so comments allow the more personal feedback and experiences to be shared, whether negative or positive.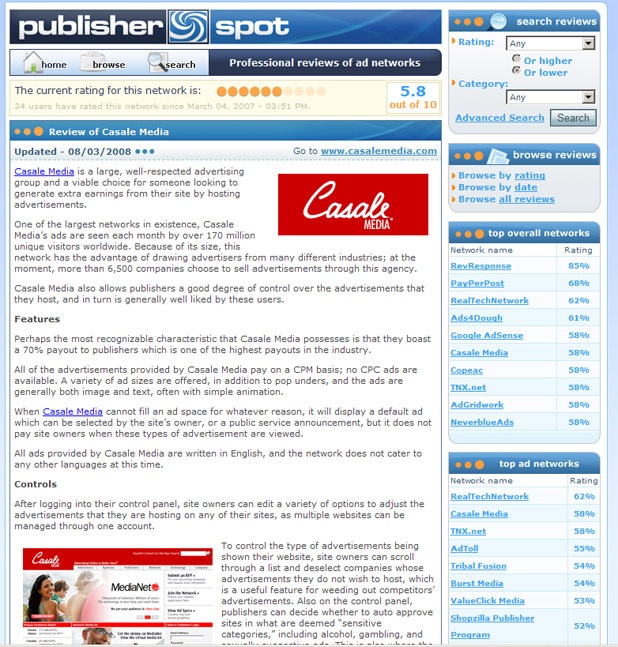 Forum
A forum will be added to PublisherSpot. Currently, the site is referring discussion to PublisherForums.com, but it makes more sense to create a forum dedicated to the site. This will greatly help to build community, and allow visitors to pose and ask questions.
It will allow for network representatives to come and answer questions to help promote their company.
Blog
I've been hand-updating an HTML file each time there is an update to PublisherSpot, which appears on the front page. There is no archive, no commenting system, or anything other than a static display of the most recent updates, so naturally a blog is badly needed.
And, of course, a blog will go a long way to building the community, especially with commenting enabled. RSS integration and E-mail subscriptions are a bonus.
Complete Integration
Best of all, though, is that all three of these systems: the custom Members Section, the Forum, and the Blog will all be completely integrated. Therefore, only one account is needed on the site. Each account will have access to all the separate areas of the site. For example, if you sign up an account to the site, when you visit the forum you will automatically be logged in. The same goes with the blog.
This seamless integration throughout the site makes interacting the community as simple and hassle-free as possible.
The Road Ahead
All of this will take a lot of work, as well as lot more cash on my part. But I'm going full-steam ahead with this project. PublisherSpot is a valuable resource, and once batch-2 and batch-3 are complete, I think it will be difficult to ignore the site as the best place to go if you are seeking information on an ad network.
Again, I've put a lot of time and money into PublisherSpot, and will putting a lot more in. Sure, the site may never take off, but I'm an entrepreneur and I have to try. The rewards are simply too great not to.