March 11, 2008
Posted by Tyler Cruz
I haven't made a post in 4-days, but there is good reason for it: I've been working hard.
In my last PublisherSpot update post from three weeks ago, I had mentioned how I was starting to focus back again on my sites, in particular PublisherSpot.com. I'm pleased to say that I've indeed kept my promise, and have a fair bit to show for it, too.
It feels good to work again. I've neglected my sites for far too long. Blogging, while certainly being enjoyable, and at times rewarding, also takes a lot of time to regularly update and maintain. But blogging is not really an excuse to neglect my sites the way I have over the past year. So watch out, because here I come!

New Features & Improvements Implemented
In my last PublisherSpot update, I revealed that I had commissioned a new programming team to undertake a number of tasks and improvements to the site. It was my first time working with them, so I was very apprehensive as to how things might go.
Fortunately, things went very well, and they completed all the tasks to my satisfaction (which is not as easy as it may sound). The improvements they made to the site included: Search Page Modification (Minor Improvement), Image Gallery Support (Major Improvement), Sortable Columns (Medium Improvement), and a bug fix.
The biggest improvement made to the site was the Image Gallery. All reviews now sport images and screenshots of their associated network, which really brings the reviews to life. Previously, they were rather bland when displayed as pure text, so the images really bring in personality and lure to the reviews.
Believe it or not, but it took me at least 6-7 hours to add all of the screenshots. There are 31 networks reviewed, which meant close to 100 images and screenshots had to be added. It takes time to log into each network, take screenshots, crop each one, blot out any sensitive details, watermark them, and then add them to each review.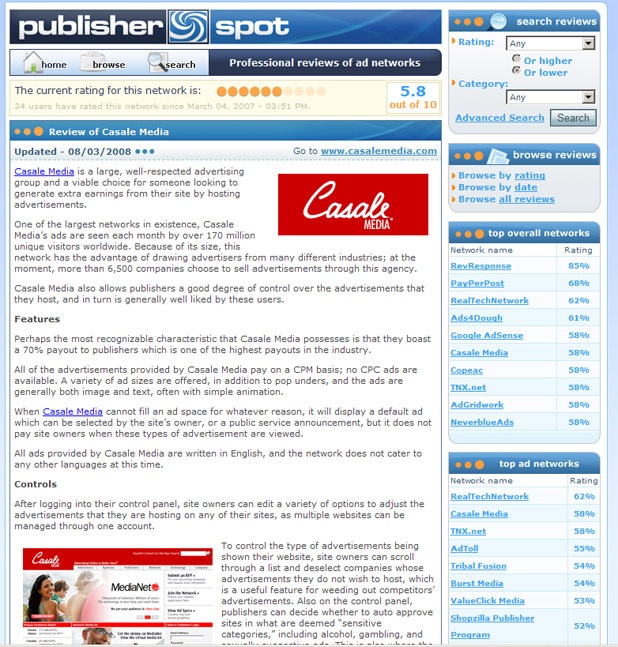 Upcoming Features & Improvements
I was happy enough with my new programmers that I've already hired them again for another batch of improvements for the site. Once these improvements have been completed, I will be undertaking another marketing and advertising campaign for PublisherSpot:
Staff Contributor Accounts (Medium Feature)
The administrator has complete access to all of the administration functions. Because of this, when hired freelance writers finish a review, the administrator is forced with the task of adding the review. This usually takes a fair bit of time, since it needs to be converted to BBCode, not to mention the extra feature details and images need to be applied as well.
Therefore, a manageable staff account feature is planned. For now, there will be two levels of staff access: Reviewer and Administrator. The administrator has the same access as now, but the reviewer has a limited access.
This works similar to how WordPress handles users; the administrator can set a user to Contributor status. The Contributor can then send in posts, and the administrator can publish it. In the future, PublisherSpot will likely add additional staff usergroups such as Editor and Member (in which Members have no staff access, but have access to features on the site such as commenting in reviews).
Editors Choice Feature (Minor Improvement)
While visitors can vote on any of the ad networks listed on PublisherSpot, there are some networks which are strangely rated higher than others. Therefore, the administrator will be able to reward/designate certain reviews with an "Editors Choice" designation.
Improved "Search by Ad Creative" Area (Minor Improvement)
On PublisherSpot's Search page, the "Search by Ad Creative" area is much too cumbersome. In addition to being fairly long in height due to the number of checkboxes, the way the HTML and CSS is set up, it does not stretch. Therefore, when a new ad creative is added in the administration area, it gets cut off on the page. The only solution to this is to hand modify each of the CSS files (one for MSIE and one for FF since the render differently) to specify a new height for a couple elements.
All of this is very time-consuming and inefficient. Therefore, a better solution is needed. Ideas from the developer are welcome, but a possible solution would be to create the checkboxes horizontal, removing the second "cell" where they are currently placed, and putting them in the left "cell". In the end, it's all about usability for both the visitor and the administrator that is key here. Currently it is a big pain for the administrator.
Bold to Header Tag Conversion (Minor Improvement)
All of PublisherSpot's reviews use the BOLD BBCode element as title/headings to separate sections. For example, the review of Casale Media uses BOLD for: Features, Controls, Available Types and Formats, Reporting, etc.
For SEO reasons as well as styling practicalities in addition to simply making the reviews more visually appealing, all of these BOLD subheadings will be changed to a special BBCode header tag (Ex. [H][/H] for Header). It should be noted that some reviews such as for NeverBlueAds contain the BOLD styling for areas in addition to the section titles. Therefore, a simple global text/replace will not work in this case, as it will break legitimate BOLD stylings. This is one of the reasons why this needs to be changed.
The new HEADER tags will have their own CSS styling applied, obviously, and will look different from their current BOLD styling. The new HEADER stylings will have the text much larger, and preferably have actual images (or CSS styling) separating them, such as a line or background.
Care will be taken to make sure they appear identical in MSIE, and FF, of course.
Newline Parenthesis Bug Fix (Bug Fix)
There is currently a bug within reviews where if there is a parenthesis in a list, it displays it on a new line. For example, in the review of SearchFeed, "(the default is mostly blue and purple)" and "("partners")" both appear on new lines, even though there is no newline in the BBCode.
Minor Image Modifications (Minor Update)
The image gallery's image check function will increase the maximum image dimensions from 750×500 to 750×580. In addition, in order to help keep PublisherSpot's loading times to a minimum, there will be a maximum image file size check.
More Networks Reviewed
Two new ad networks have been reviewed, bringing the total of networks reviewed on PublisherSpot to 31. The two new reviews are of RevResponse and Spottt.
In addition, two past reviews have been rewritten and updated to reflect changes of the networks since their original creation. The first was for AdBrite, because the original review was a bit outdated, and the second was for ShoppingAds. We had reviewed AuctionAds, but it was later fully bought out from Shoemoney by MediaWhiz which was part-owner, and then renamed ShoppingAds.
Suggestions and Requests Welcome
While I have a big list of ideas for improvements already, I'd love to hear your own ideas and suggestions as well. How can I improve PublisherSpot?
Also, if there is an ad network you'd like to see reviewed, or you simply know of any that we're missing, please let me know. I'll be sure to have them reviewed!