November 16, 2009
Posted by Tyler Cruz
Since the development of RobotWarz has been making pretty good progress, I thought I would unveil what the game is all about.
RobotWarz is an online robot fighting game in an arena-style environment. The best way to describe it would be as a combination of the old 1995 PC game One Must Fall 2097 and the recent Flash game MyBrute. However, we actually borrowed elements and play design ideas from several games including World of Warcraft (respecing) and Fallout 3 (Attribute upgrading).
Only two-and-a-half weeks in, we're obviously still in the very early stages of development. So far, work has focused mainly on the actual fighting mechanics of the game. It turned out to be much more complicated than originally anticipated as we had to factor in a plethora of different variables such as the physical size of objects for ranging calculations and accuracy attributes of robots in order to determine trajectories.
Summary of the Game
First, let's keep in mind that this is an online Flash game and not something produced by a multi-million dollar game studio, so don't go about comparing it to Half-Life or anything ;).
Here's how the game works:
Players create a free account and then proceed by building their own robot which is highly customizable. They begin by choosing between one of 3 possible robot 'core' designs: Android, Industrial, Tank (we need a better name for this one). Each core has a distinctly different look and has different starting attributes and strengths. For example, the Android has a higher Intelligence attribute but lower Armor.
New robots are given 10 Attribute Points (APs) in which they can distribute between 7 different attributes. Players can also use credits, the game's currency, to purchase weapons and add-on's for their robot. These choices of customizations not only allows for a unique character, but also provides a strong strategical factor to the game.
Credits can be earned by winning fights and referring other members. Experience points (XP) are earned solely through combat, in both winning and fighting (obviously winning fights will yield more XP).
The actual fights are not controllable by the user but are predetermined based on how the opposing robots are built. Each fight result between the same opposing robots is different since there is still a small element of probability and chance based on various variables that is factored into the game engine.
While many people may be put off by the fact that you cannot directly control the robot, we chose to make this gameplay decision as it instead forces players to make strong decisions on how they build their robot as opposed to how fast they can move their fingers. In that sense, RobotWarz is more of a strategical game than anything else.
Game Features
Here is a very summarized feature list that RobotWarz will have upon launch. More will come in the future:
3 Robot "Cores" to choose from. These can then be customized by each robotic part, colours, textures, etc. Each robot core has its own special bonuses.
20+ Different Weapons and Add-On's that can be purchased with credits earned from the game and physically added to the robots. (Ex. Laser Gun, Plasma Shield, Laser-Targeting System, etc.)
20+ Special Abilities (available from the in-game store with credits). A special ability is used in lieu of a normal attack with a weapon and costs Capacity (or energy). (Ex Reflect: Reflect portion of the damage, Self-Repair: Repairs portion of the Condition etc.)
8 Attributes that are upgradeable with Attribute Points (APs): Condition, Armor, Power, Mobility, Agility, Accuracy, Intelligence, Capacity.
Store Credit System that allows players to purchase/upgrade their weapons and add-on's and special abilities among other things. Players earn credits through winning fights and sending in referrals.
Helper Bots – Players can purchase small 'Helper Bots" which will aid them in their battles.
Respecing – For those familiar with World of Warcraft, RobotWarz will offer a rebuilding option, which will cost 1 credit and increment by 1 for each time it is used thereafter, which allows users to effectively start from scratch, regaining all of their credits to rebuild their robot. This is similar to how players can "re-spec" their characters in World of Warcraft.
Replays – Players can watch their past battles and share them with friends via a simple link.
Future Features:
Team Play – While not planned for the initial release of the game, this will probably be available in the future, allowing for 2v2 and possibly 3v3 or 4v4 teamplay.
Tournaments – Again, not scheduled for the initial release, tournaments will be done in a single or double elimination ladder-type style with the winners possibly receiving credits and/or actual prizes.
Dynamic Maps – Maps that have dynamic objects that can influence the fight (Ex. walls, traps, etc.)
More Weapons, Add-On's, Special Abilities, and Helper Bots
More Robot Core Designs
More Visual Customization
Possible Turn-Based Feature
Early Preview
Below is a screenshot and video of a very early preview of RobotWarz. I want to emphasize that this is an extremely early version of the game and isn't even remotely close to being finished. If I had to guess, I'd say that the game is currently about 6-7% done.
All the graphics are temporary placeholder graphics that are being used until the graphic team is brought in, which should be tomorrow. In fact, the temporary background was Photoshopped from One Must Fall.
While the game is currently playable at a very basic level, it's nowhere near ready for a public beta version yet. We hope to offer a public playable beta version sometime in December, and the game should probably be ready before 2010.
Here's a screenshot: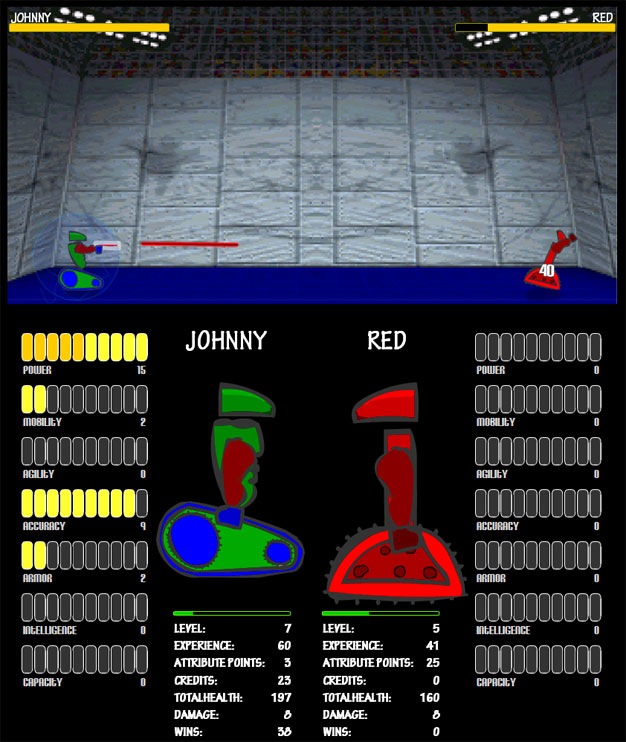 And here's a short 3-minute video demonstration:
I will probably have another update for you in about a week's time, and will probably post another updated video. We should also have the real graphics starting to get developed by then, so I may be able to show you something at that time.
What do you think so far? Outrageously disappointed? Optimistic? Undecided?