December 19, 2009
Posted by Tyler Cruz
It's been a bit over a month since I last gave an update on RobotWarz, the game I've been developing.
My previous post update unveiled what RobotWarz was all about and included a video giving a good glimpse into how the game will function. It proved to be a popular post, garnering 65 comments. People seem to be really interested in the process of developing a game.
For about a week-and-a-half thereafter, the programmer added some new features to the game including the Capacity system (roughly equivalent to "Mana" in other games such as World of Warcraft), a sample Special Ability (Self-Repair), a visual auto-targeting system, and the ability to destroy weapons, add-on's, and helper bots.
Since then, we spent roughly the past 3 weeks or so looking for a competent designer that could deliver what we wanted and needed. We were originally going to go with a company called NixSolutions, but their quote ended up being much larger than they had originally told us.
We scoured the net looking for other sources, which proved to be a very tiring ordeal. There is certainly no shortage of designers out there, but we needed a very specific style of design. It was a very tiring process and in the end we probably ended up "almost hiring" a dozen different sources.
Fortunately, I finally managed to find the right man for the job after finding a Russian freelance site. It had no English on it, but had an easy way to search and look through providers' portfolios.
After roughly 3-weeks of searching for an artist that would suit the style of this game, I finally understood why games are always having their release dates extended!
Concept Art for RobotWarz
Here are the three main robot core design concepts for the game. The Android below is meant to be the weakest out of the three, but has a higher Intelligence attribute (making his Special Abilities more effective, among other perks):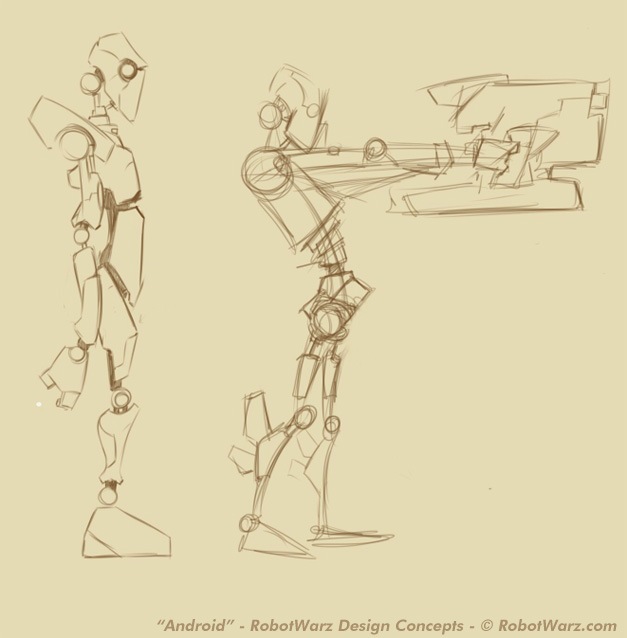 Below is the "Industrial Robot". He is designed to be well-balanced and therefore fairly versatile: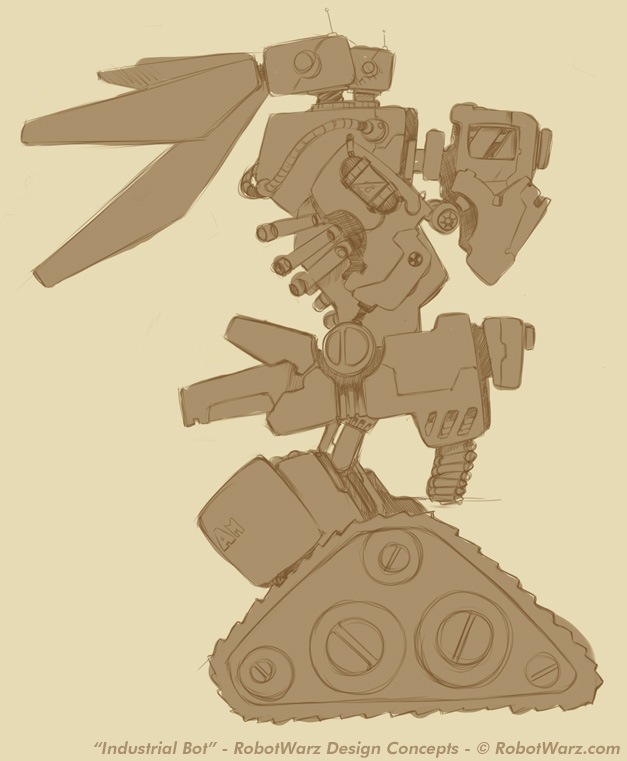 The third main core robot design is the "Tank Bot". It's designed to be very strong in terms of defence but will have a lower Intelligence attribute: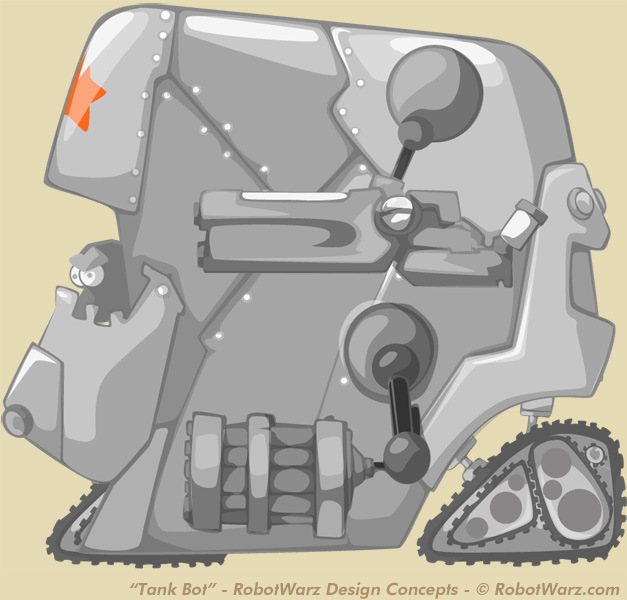 Customization
One of the biggest features and draws to RobotWarz is its level of customization.
Apart from being able to choose and manage your robot type, weapons, add-on's, attributes, special abilities, and helper bots, there is also a lot of visual customization you can make as well.
After selecting a robot type, players can then chose and customize the following:
Head
Arms
Feet/Tracks
Body
Texture (Ex. bullet holes, rivets, knicks, etc.)
Colour (255 colours with primary, secondary, and tertiary colors)
16 Billion Unique Robot Designs
This isn't hyperbole. There are actually over 16 billion unique robot designs that can be created with RobotWarz.
The programmer for this project actually happens to have a Masters in Mathematics from Johns Hopkins University, so I took the opportunity of asking him what the actual number was for unique robot design possibilities.
As the game currently stands, there are 972 (324 per robot type) possible robot designs [4*(3*3*3*3)*3], and when you factor in the colour options, it works out to a staggering 16,307,453,952 [4*(3*3*3*3)*3*256*256*256]!
As a result, it will be extremely rare and almost impossible to ever find 2 robots that look exactly the same.
Next Update
If things go well, I think I may be able to give you guys another update in a week from now, with a video clip of the finalized robots in the game.
What do you guys think?