March 11, 2013
Posted by Tyler Cruz
Warning: long post.
Ugh.
I've been feeling a bit frustrated lately. March is not going nearly as well as February, although it's going a bit better than I expected. But that's not why I'm frustrated.
I'm frustrated because I know that I can reach the "next level" in affiliate marketing if I just focus and work diligently enough, but I have a number of roadblocks in my way, preventing me from getting there.
In order to get to the next level, or even attempt to get to the next level, I need to clear these roadblocks. I will elaborate on these roadblocks in detail below, but before I do, I want to briefly talk about the "next level".
The Next Level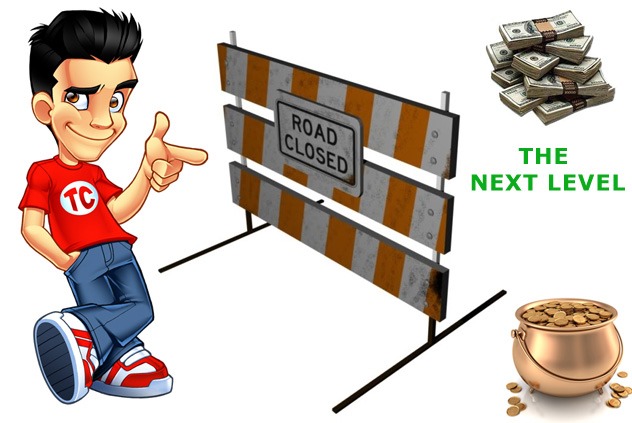 As you know, last month was my best month of affiliate marketing ever, having grossed just over $100,000, with $31,444.64 of that being profit. It was a phenomenal month for me, and I'm very proud of what I accomplished.
But the truth is, $30,000/month profit in affiliate marketing is really not that much. In fact, some guys will see that number and laugh at it, as they are making 10-50+ times as much. And the real kicker is, I'm sure most of them are not doing all that much different from me either – it's mostly a simple matter of scaling and finding new winning campaigns.
As I've lectured a number of times in the past, a $10/day campaign is not much different than a $1,000/day campaign; if you can make $10 a day from affiliate marketing, then you have the ability to make $1,000 a day as it's basically the same thing, just on a larger scale.
With that same logic in mind, I should be able to jump from $30,000 a month to $300,000 a month. But at my current stage, the next level for me is around the $50,000-$60,000 mark. That is where I want to get.
It may sound a little presumptuous – after all, I only had one month over $30,000 profit on my campaigns so far – but I did do $23,349.91 the month before that, and March is currently on pace to be close to that, so that would be a 3-month average of around $25,000/month, which does show some consistency.
Anyhow, as I say, I want to get to the next level, but there are a number of roadblocks in my path. These aren't excuses, but simply an acknowledgement of what is stopping me from getting to the next level.
Apart from some small things here and there, I haven't been launching any new campaigns. I've simply been maintaining and optimizing what I already have running. Before I can launch new campaigns and try to get to the next level, I need to get through some of these roadblocks first.
Here they are in descending order of how disrupting they are:
The Roadblocks
Laziness/Fatigue
This is definitely the biggest thing holding me back.
If I told you how many hours I work per day on average, you'll likely do a Picard facepalm. In fact, I'm embarrassed to say.
In some ways it's good… it means that I'm not working my life away and am actually getting to "play". But it's just stupid when I say I want to get to the next level, because it means that I'm not really serious about it.
I need to put less time into playtime and more time into worktime. Then I can take more of a break when I get to the next level.
Another issue is not just pure laziness though, it's actual fatigue. For example, as I write this, my eyes are already starting to strain, despite it being 11:55am and being a quarter way through my morning coffee.
I think part of it is due to diet. I've been eating crappy again, which usually happens when I'm working more, so I'm going to have to try to work on that.
Lack of Focus
I am usually very diligent when it comes to my work time. I ALWAYS work in 1-hour blocks (for example, I'll work either 1, 2, or 3 hours, but not 90 minutes), and always time my work sessions from start to finish. I don't have anything going on in the background such as laundry or baking something in the oven. And in general I just try to keep work time focused on work. Because of this, I'm usually very efficient when I work.
But lately I've noticed myself starting to lose focus.
For example, I noticed that I'm actually starting to allow myself to peruse Reddit here and there. I'll get through a few e-mails (even if they are simple e-mails to deal with), and then peruse Reddit for 5-10 minutes.
Or, I'll look through some of my instant messaging contacts to see who's online, and start a conversation with them, with the intention of relaxing.
I normally don't waste my time when working like this, but have definitely noticed myself doing this more lately.
Not only is this time wasted on non-work stuff, but it breaks my concentration and focus, which make an impact on actual productivity and efficiency.
I'm not going to bother with any self-exclusion methods such as blocking certain sites at certain hours and whatnot – I just need to be cognisant of the fact that I'm drifting off path and snap out of it.
Websites
This one is a real pain in my ass.
For many years, my network of content-based sites is how I made my living. Over the past couple of years though, I've shifted towards affiliate marketing.
I've already sold a number of my sites, but still own a lot. Even though my remaining sites make hardly anything, they still take a lot of time (and focus).
I've been trying to continue to sell the rest off, but nobody seems interested in grabbing them. People these days seem to only look at current revenue and traffic, and nothing else.
I'm basically giving away the sites for free or at a loss. For example, here's my MMA forum on auction and here's my gymnastics forum. The latter has no reserve and is currently only at $25. It will cost me over $200 simply to renew the vBulletin license for transfer, so it's really odd to me why my auctions aren't getting more action.
I put no reserve on that auction though, even though I'll likely LOSE money as a result, because I just want to get rid of these sites. I have no time to work on them, and they only take time and focus away from me. Time and focus that I could be putting towards my campaigns.
It's weird why I'm still hanging onto some of these sites. All my websites together don't make in a month what I'm making in a day on my affiliate campaigns, so really I should consider putting no reserve on all of them to just get rid of them once and for all. It just hurts a bit because I know I'd be taking a loss on them, and I've never taken a loss on a website before in my life.
And I guess, if I really want to look deep into it, part of me wants to hold on to the sites as a sort of safety net. After all, I used to make my living from my websites. If I sell them all off now, I'll have no safety net for if my affiliate marketing campaigns fail. I'll be in real trouble.
But that'd just wishful thinking – my websites aren't bringing in enough money to live off of, so really they'd be of no help in such a situation anyway. Although, if my affiliate marketing campaigns did fail, I'd have time and focus to put into those sites…
But overall, the cons in keeping the sites outweigh the pros in my situation, and I need to get rid of them. They simply take too much of my energy.
Technical Issues
I hate technical issues more than anything, and I've been running into a number of them lately.
My computer's main hard drive is failing and I need to do a proper backup and transfer to a new hard drive before all my data is lost.
I've been having a lot of problems with Office lately (I use Excel like a madman, so it's very important to me), although I think I finally have that solved.
One of my servers is in the process of migration, which is a pain in the ass.
One of my websites was hacked and I need to get it fixed, which would mean hiring a programmer… which would mean shortlisting scores of outsource programmers and detailing the issues, overseeing the work, etc.
Another of my websites needs serious programming fixes, which again takes a ton of time and focus. Unlike having a plumbing problem, you can't just point to the problem and tell them to fix it. You have to detail exactly what is going on, how the website works, and what you want. All this takes time.
I hate technical issues!
E-mail/Blogging
While I can't really call my blog a roadblock, as it's something I plan on keeping for the long term, it certainly does take a lot of time. Time and focus that I could be spending on my campaigns.
E-mail also seems to be never-ending. As I write this blog post, I currently have 1,825 unread e-mails.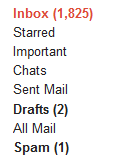 I really want to get that down to 0. I am so behind on e-mail it's ridiculous.
The Only Real Roadblock
In the end, the only real roadblock is myself. All of the roadblocks mentioned above are things that I can address and work on.
If I really want to get to the next level, then I will smash through these roadblocks so that I can get back to work on launching new campaigns.
It would be so awesome to get to the $50,000-$60,000 month mark.