January 4, 2010
Posted by Tyler Cruz
It's been over a year since I last had a giveaway on my blog, so I'm happy to have the opportunity of finally host another one.
Thien Hoang from LPDesigner.com contacted me a few days ago and gave me a ton of landing page packs to give away on my blog.
Just the other day I wrote the blog post How Sending Me Gifts Can Make You Money. Well, giving out free prizes for bloggers to send out to their readers is another effective way of getting noticed. And if you happen to have a product that costs you $0 to give away (such as an e-book or in this case, landing page designs), you're effectively getting a lot of free advertising.

LPDesigner provides pre-built affiliate marketing landing pages. They are sold as monthly 'packs', which each contain 16 individual landing page designs. Each pack of 16 only costs $20 and every landing page design is fully coded to XHTML/CSS and the original PSD is included.
The latest December pack can be seen below: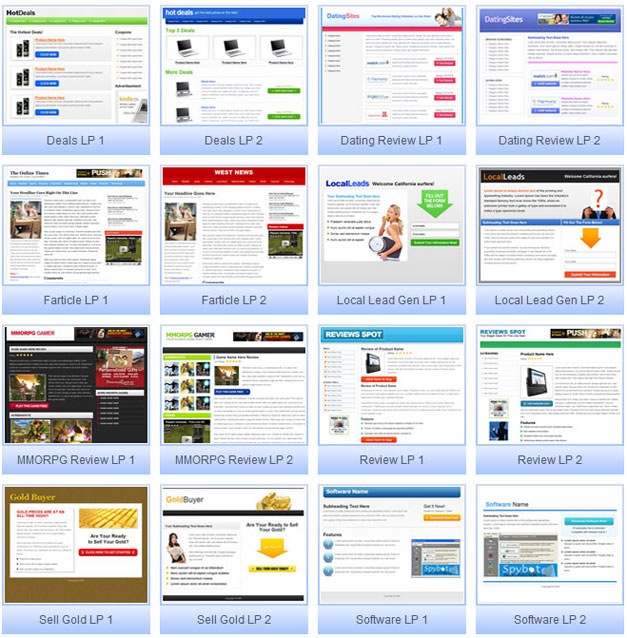 The Giveaway
This giveaway will award 5 winners 2 free packs (a $40 value) each from any of the 5 available packs on LPDesigner. The winners can choose which 2 packs they'd like to receive.
Since each pack contains 16 landing page designs, each winner is actually receiving 32.
How to Win
I wanted to make winning as easy as possible, so all you have to do enter is either subscribe to my RSS by e-mail and/or subscribe to my newsletter. You can sign-up to both my RSS by e-mail and to my newsletter on the right sidebar of my blog.
If you're already subscribed, then you're already eligible!
I will be drawing 5 lucky winners (3 from RSS by e-mail subscribers and 2 from newsletter subscribers) by random on January 7th.
As I write this, there are currently only 139 subscribers to my newsletter so your chances of winning are pretty good.
You may subscribe to the RSS by E-mail and Newsletter only once (no multiple entries under various e-mail addresses), however you may have one entry under RSS by E-mail and one under Newsletter.
Subscribing to my RSS by e-mail will automatically send you my latest posts through e-mail.
Signing up to my newsletter will keep you informed of important or special news and updates to my blog. Don't worry, newsletter e-mails are rarely sent out (I believe I've sent out a total of 3-4 in the past few years) and are mainly to get notified of upcoming contests on my blog.
Newsletter subscribers will also get sent a summary about twice a month of my last 10 posts in case you missed some.
I will be passing the winners e-mails to Thien from LPDesigner on January 7th who will then make contact with the winners to hook them up with their prizes.
Good luck!
Posted: January 4th, 2010 under Contests