December 21, 2009
Posted by Tyler Cruz
While this post is obviously an attempt at getting more free stuff, the title still holds true. Sending promotional gifts like these personalized water bottles from nevadabottledwater.com to larger bloggers within your industry can often give you the best ROI in terms of advertising that you'll ever spend.
Pretty much all the bloggers in the "make money online" niche accept paid reviews.
I charge $250, Zac Johnson charges $500, John Chow charges $500, and Shoemoney charges $3,000.
The funny thing is: you can usually get nearly the same amount of exposure for a fraction of the cost. How? By sending Corporate Gifts Singapore instead of purchasing paid reviews!
Now, there is a slight gamble in that you're not guaranteed any exposure, and even if you are, it will usually not be as detailed as a paid review would be. However, bloggers will naturally be so excited from receiving their gift that they'll usually blog about you in a positive light. And even if the blogger doesn't post about their gift – they won't forget about your gesture, which is a great way to establish a first impression.
Sending gifts to bloggers is, in my mind, partly what got MarketLeverage off the ground and into the vernacular of affiliate marketers and bloggers everywhere. In fact, I would have never paid them any attention, let alone use and promote them, if they hadn't gotten my attention by sending me a truly awesome gift package.
That simple gesture certainly paid off for them, as I have sent them nearly $900,000 through my affiliate referrals as well as over $21,000 from my own campaigns.
Gifts from Amped Media and PeerFly
This year, I received gifts from AmpedMedia and PeerFly.
While it's not an actual present, AmpedMedia sent me a nice Christmas card, just like they did last year. Even though they didn't send me a gift, I really do appreciate the gesture. Just being acknowledged like that is always nice.
I also like how Jonathan, the owner, personally writes a little message in the card and how the whole staff signs it. It shows that they at least went to the trouble of doing that. That may not seem like a lot of work, but when you have thousands of affiliates, I can only imagine how much of a chore that is!
I should also mention that it's nice to receive anything when I barely send them any revenue – below is all I sent them in 2009:

The main network that I've been promoting in 2009 other than MarketLeverage has been PeerFly. They're a really an incredible network that is constantly improving all the time.
I personally don't know a single person who has signed up to PeerFly that doesn't absolutely love them. I only started pushing referrals to PeerFly in April, and running campaigns with them in August, but have already made $20,000 with them.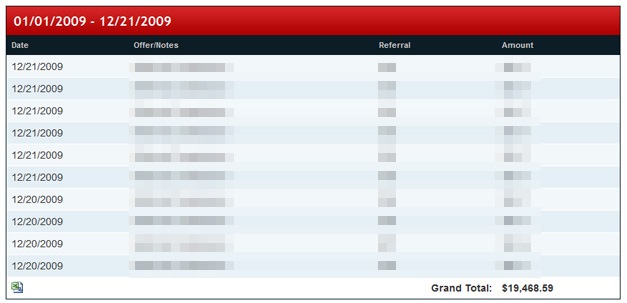 For Christmas this year, PeerFly sent out gift baskets to all of their US and Canadian publishers who did $500+ in revenue during the year. $500 works out to an average of only $1.37 a day, so even if you were a very small publisher with PeerFly, you probably qualified for this present.
All non-US and Canadian resident publishers, regardless of commission generated, will be receiving Christmas cards from PeerFly as well.
Here is what the gift basket contains:
7 oz. Beef Summer Sausage
7 oz. Turkey Summer Sausage
6 oz. Smoked Gouda Blend
2.25 oz. Sweet Hot Mustard
4 oz. Mini Melt Away Mints
2 oz. Well Seasoned Crackers
Custom Hickory Farms® Cheese Slicer
Custom Holiday Gift Box
In addition, the owner of PeerFly just told me that they'll be sending out free money to their publishers on their birthday as well! When you combine this with the amazing prizes they're giving away on PublisherChallenge as well as their top payouts, it's hard to find another network that can even come close to them.
Below is a video showing my AmpedMedia Christmas card and the unboxing of my PeerFly Christmas gift:
Here are a few photos for those who don't want to watch the video above: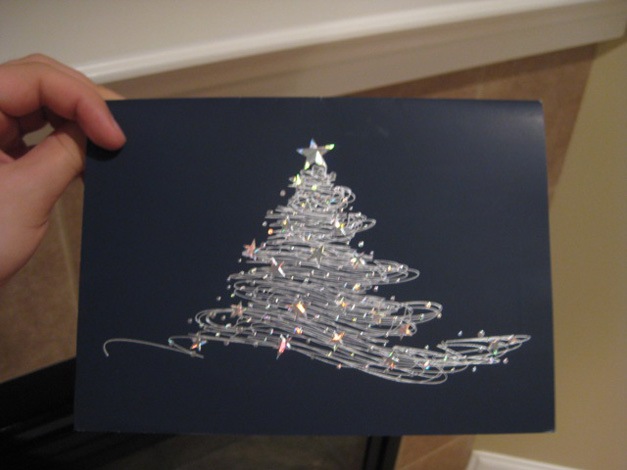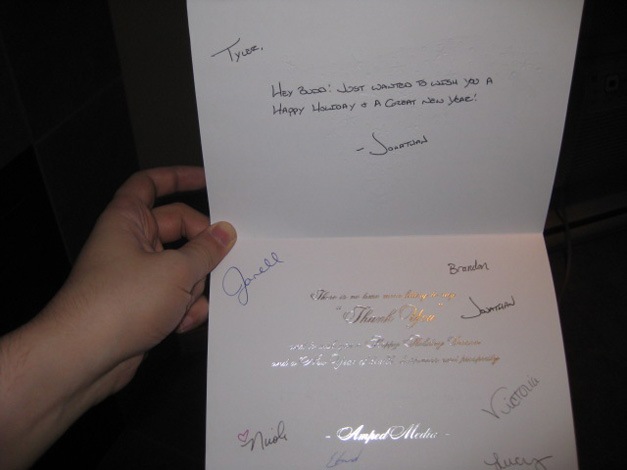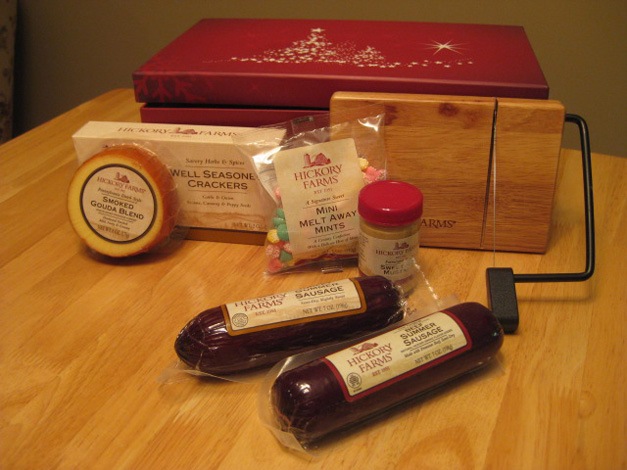 People Will Never Tire of Free Stuff
No matter how much money a person has, people love free stuff, no matter their value. Shoemoney and John Chow are millionaires, yet I can almost guarantee you they still get giddy when they sign for a surprise package from FedEx or UPS.
I'm personally going to utilize this gift-giving tactic in the future. It's just such a terrific way to market yourself that I can't ignore it. I'm not entirely sure what project I'll be using it for, perhaps RobotWarz, although it's hard to find the right sources to target for something like that.
This industry, especially, is ripe for this type of promotion, partly because it's so expensive to advertise in this niche and get noticed.
Why buy a paid review for $500-$3,000 when you could send a $20-$100 gift instead? Or, if you really want to show and prove how baller you are, send in a crazy present to really wow the receiver(s) and their audience. I can assure you they won't forget it.
So, who's going to be the next company to send me something? 😉