August 5, 2007
Posted by Tyler Cruz
The following is a paid review and is completely of my own opinion and is not influenced by being paid. If you're interested in having me review your site or product, you can purchase a review from me through PayPerPost by clicking on the PayPerPost Direct button located at the top left of my blog.

Wouldn't it be cool if you got paid to correctly predict pop-culture events? Well, GuessNow.com has bravely set the stage to allow this luxury.
Even though there is money to be won, with multiple-choice questions ranging anywhere from "What will it be reported that Ozzy Osbourne was in the hospital for?" to "Will Michelle Kwan compete in the next Olympics?", GuessNow.com doesn't require people to be an expert poker player or stock analyst to win money. 
How it Works
The process of playing is simple. Members simply choose an answer from the multiple-choice answers (there are usually between 4-5) available on what they predict will occur. For example, for the question "Which celebrity couple will announce a divorce/break up first?", the available options are:
Katie Holmes & Tom Cruise

Eva Longoria & Tony Parker

Angelina Jolie & Brad Pitt

Victoria & David Beckham

None of the Above
There is no penalty for answering incorrectly, and members can change their answer at any time. When the event actually occurs and you've correctly predicted the event, you will win the amount of points the question was worth. Each question is worth a different amount of points, some are only worth 10 while some others are 50 or 100. The point value of some questions may remain constant or decay over time.
At the end of every month, GuessNow.com takes the total prize pool and divides it by the number of awarded points to determine the cash value of each point. Members can cash out by trading in their points for cash. 
Too good to be true?
When I was given this site to review they were very determined that I understand that they are not a gambling site, since members never put up any of their own cash, can never lose cash, or even lose their points. 
This brings me to an important question that GuessNow.com fails to address properly: How can they afford to give away money when nobody puts up money of their own?
I'm not one of those extreme skeptics who believes everything is a scam, but I am very curious as to how GuessNow's business model can work. Since nobody ever puts up any money, how can this system survive?
After a bit of thought, however, I think I found out how. They have two ways of  doing this. First, and most importantly, points are always "cashed" in and not worth a fixed dollar amount. Their worth will constantly shift since they are directly modified by the current monthly prize pool. Thus, GuessNow has direct control as to how much they want to give away as they will always determine how much the prize pool will be each month. As their site grows, they more they will be able to give away.
The second reason they can afford to give away cash is obvious: through advertising. And GuessNow.com alludes to this in fine prints in the Terms of Service: You understand and agree that the Service may include advertisements and that these advertisements are necessary for Guess to provide the Service.
In any case, I would strongly advise GuessNow to explain on their site how they can afford to run this service for the more skeptical people like me. It may not seem like much, but I really believe that by explaining how they can manage to offer essentially "free money", that they will help gain trust and better sign-up rates. It will also help to convince people that there are no strings attached with hidden fees.
Terms of Service

Another suggestion I have for GuessNow is for them to keep their Terms of Service uniform. The Terms of Service listed on their site is actually slightly different from the one that is shown during actual sign-up. The latter one contains:
"You agree that Guess may be entitled to charge a monthly service charge of $2.50 per month against any user account with a positive balance. Such service charge will not be paid in cash by you, but rather will be charged against your positive account balance."
While it is not disclosed on the other ones. I don't think this was intentional, but they need to fix this as it seems somewhat shady that the $2.50 clause is not in the other Terms of Service.
Signing up
Signing up is fast and easy, requiring only the fields of E-mail, username, and password and accepting the Terms of Service. There is also an option to opt-out of the e-mails. GuessNow is very good with offering easy access to opting-out of e-mails.
And, of course, GuessNow is free.
Payment
Currently, GuessNow pays via PayPal only, with a minimum of $25 withdrawal. Accounts with less than $25 will of course be rolled over to the next month.
One downside to GuessNow is that in order to withdraw, members must submit a completed 1099 form and fax or e-mail it to them. While this is certainly common for sites to require these days due to tax reasons, it still creates an inconvenience to users.
 In addition, they do not list a W8BEN form for non-US residents like me. As a result, I'm left wondering whether I can even participate on the site.
I would strongly recommend GuessNow to look into accepting digital signatures for their W9 Forms. I've seen a few companies do this, I believe Copeac does, and it allows the user to fill out the W9Form online through a form. This would remove the huge hassle of requiring people to print out and scan or fax it instead.
Has anyone been paid?
According to this thread on their forums, people seem to be being paid fine.
And, of course, there's this guy who seems pretty happy: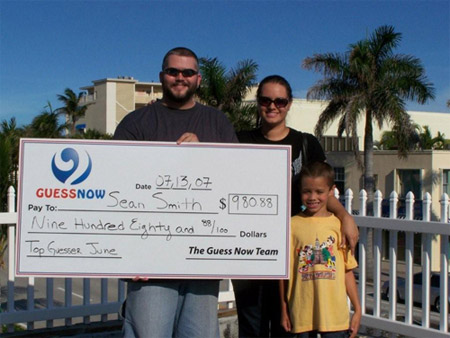 Additional Information
GuessNow offers bonus points to users who submit questions and they end up using them.

There is a wide spectrum of categories for questions including Business & Finance,

People & Entertainment, US & World News, and Sports.
Conclusion
GuessNow is certainly an interesting and new concept, which makes sense considering the CEO is the former owner of Advertising.com, before it got sold to AOL.
While I cannot personally vouch for the sites credibility, it does appear to be legitimate and people do seem to report that they get paid.
As a result, I think GuessNow.com is perfect for the MySpace/Pop Culture/Celebrity crowd as they essentially pay people to predict events in pop culture and offer a fun time at the same time.