September 25, 2010
Posted by Tyler Cruz
My friend Joe Daley is pretty excited. He entered an online contest hosted by Entrepreneur Magazine called the Kodak Home Office Prosper Contest.
The contest is simple, with each entrant submitting a tip on how to make their office or daily workday more productive and efficient. The submission phase is now closed, and the voting phase has begun.
Joe is currently in 1st place on the leaderboard with the highest number of votes! However, he needs your help to keep him there. An hour ago he slid down to 2nd place before crawling back up to 1st again, so he doesn't have this in the bag yet.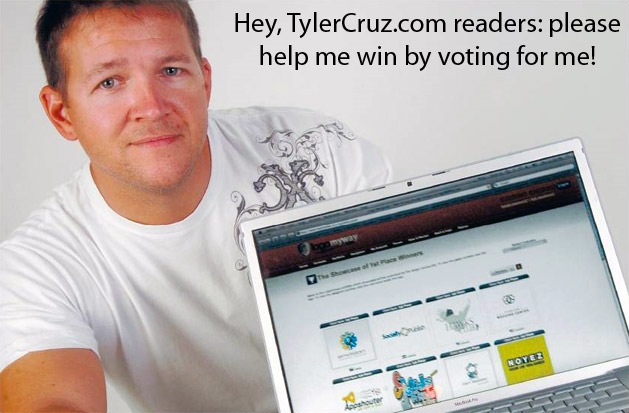 There are 4 prizes:
Grand Prize: $25,000 + Kodak gift package
2nd Prize: $15,000 + Kodak gift package
3rd Prize: $10,000 + Kodak gift package
4th Prize: Home office makeover
Also, the winner will receive a published article about them and their company in Entrepreneur Magazine!
Vote for Joe – It's Easy
Help Joe stay in the #1 spot by voting him – it's really fast and simple and he'll thank you for it.
To vote for Joe, all you need to do is:
Go to his submission profile
Enter your e-mail address and click the "Vote for me" button
Click the link in the e-mail
I did this and did not receive any spam, so I'm pretty sure it's just a way of verifying votes and to help prevent automated voting bots.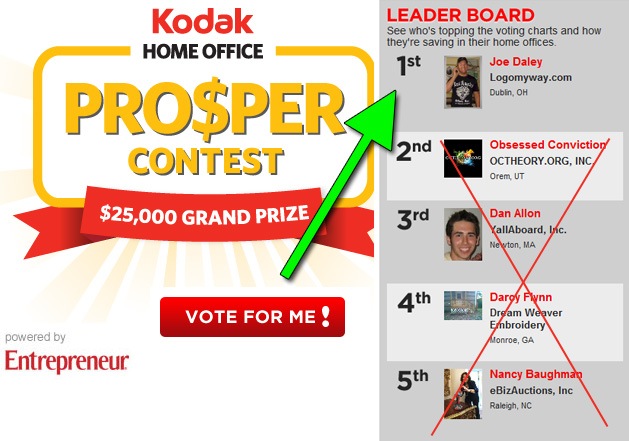 Who is Joe Daley?
Some of you may remember Joe as he has purchased a couple of paid reviews form me in the past (BlingEasy and LogoMyWay). He is an internet entrepreneur like me, only he is smarter because he tends to focus on only 1 or 2 projects at a time.
He is the founder of LogoMyWay.com, which is a huge logo design contest site.