April 17, 2012
Posted by Tyler Cruz
Close to 5 months ago, I published a blog post titled How I Gained 10,000 Real Twitter Followers. If you haven't read it yet, I highly recommend you do, as I am not going to repeat what I already wrote there in this post.
At the time I published that post, nearly 5 months ago, I had 10,383 Twitter followers. I now have 25,439. That means I gained around 15,000 new followers in the past 4.5 months, which is approximately 125 days.
That works out to a daily average of just over 200 new followers per day!
These are all real followers, most with many followers themselves (some with tens or hundreds of thousands), yet I am only following 12 people myself.

The Secret Sauce
So how did I do it?
Well you since you read my first post, you should already know that the answer is: Twiends.

And since you have a good memory, you'll remember that Twiends is a free service that allows Twitter users to list themselves in what is essentially a giant Twitter directory.
But I don't use Twiends the traditional way. That is, I don't spend my day following others so that I can earn 'seeds', which is essentially advertising credit that I can use to gain more exposure to my profile.
Instead, I simply purchase the seeds.
In fact, as I write this, I currently have 33,512 seeds in my Twiends account.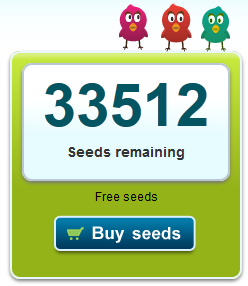 I have my account set to give out 2 seeds whenever somebody follows me, so that means that my current number of seeds will effectively give me another 16,756 followers.
However, the retention rate with my current targeting and settings (again, all mentioned in my original post) is roughly 50% (although I did not track this for a long time so it could be more or less now), so long-term you can expect that to be more like 8,378 followers.
Since I am averaging around 200 new followers a day, that means my seeds will run out in approximately 42 days, at which point I'll need to top up my account again.
Buying in Bulk
Twiends offers a cheaper per-seed cost the bigger the package you purchase, so what I do is buy the biggest package of seeds I possibly can.
Below is a list of Twiends's prices: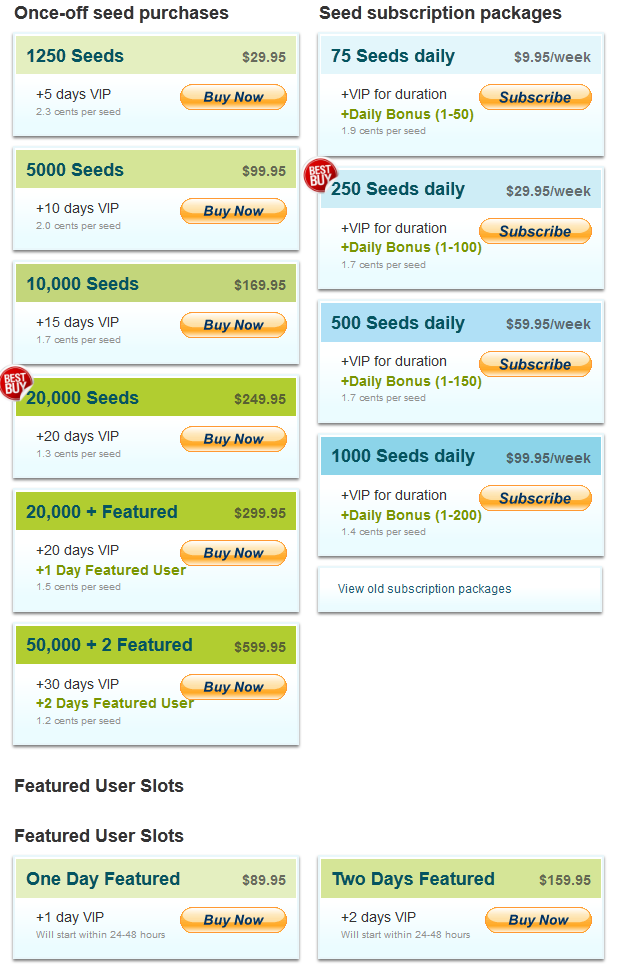 As you can see, you can purchase 1,250 seeds – their smallest "once-off" package – for $29.95. That works out to $0.023 per seed.
However, you can see that their larger package, the $20,000 + Featured one, works out to only $0.015 per seed, and also includes a Featured User spot as well ($90 value). When you factor that in, it's really only $0.01 per seed!
That means that you can gain long-term new followers for approximately $0.04 per follower (assuming a 50% long-term retention rate).
But once you make a purchase (I forget if you have to make a larger package purchase or just any purchase), new options open up to you, such as the 50,000 package which offers an even cheaper per-seed rate.
Going even further, if you're interested in even larger packages, you will get yet better rates. Below are the "private" bulk prices I was originally quoted when I first moved beyond the 50K threshold:
50,000 $599 (1.20 cents per seed) discount of 14%, or $99
100,000 $1,149 (1.15 cents per seed) discount of 18%, or $248
250,000 $2,749 (1.10 cents per seed) discount of 21%, or $744
500,000 $5,249 (1.05 cents per seed) discount of 24%, or $1,738
1,000,000 $9,999 (0.99 cents per seed) discount of 28%, or $3,976
All of those includes 30 days of VIP member plus 2 days of Featured User spots.
When you factor that in, I'm actually getting my seeds at a rate of under $0.01!
It's because of this, coupled with the way I have my settings (explained in the next section), that I am able to get so many new followers at what is essentially a bargain.
Since my first post, they raised their One Day Featured slot by $10, and added the Two Day Featured slot.
The One Day Featured slot price has now been raised twice; it was originally only $59, but as demand for it grows (and the Twiends user base grows as well), so does the price. Actually, I warned you in my original post that prices may rise… and that warning still stands as Twiends continues to grow.
I still recommend grabbing this slot if its your first time buying seeds/advertising on the site, as it will give you the best band for your buck. You can expect to receive 3,000 to 4,000 new followers within 48 hours!
However, keep in mind that I've found the Featured User slot to have diminishing value. That is, the more times you purchase it, the less effective it becomes. It's absolutely fantastic the first 2-3 times, but then quickly loses its power.
I suggest grabbing the One or Two Day Featured slots, then follow up by purchasing a big batch of seeds.
Maximize Your Retention Rate
I wrote about this in my original post, but I have to reiterate it again as it is absolutely crucial.
*** I highly recommend *** that you make these adjustments to your Twiends account before purchasing any credits:
Once logged into Twiends, go to Settings located at the top right, then click on the "Modify Options" link (it's located right after the text "2 seeds offered to some people, with follow back turned off").
Then change your settings to match mine as in the screenshot below: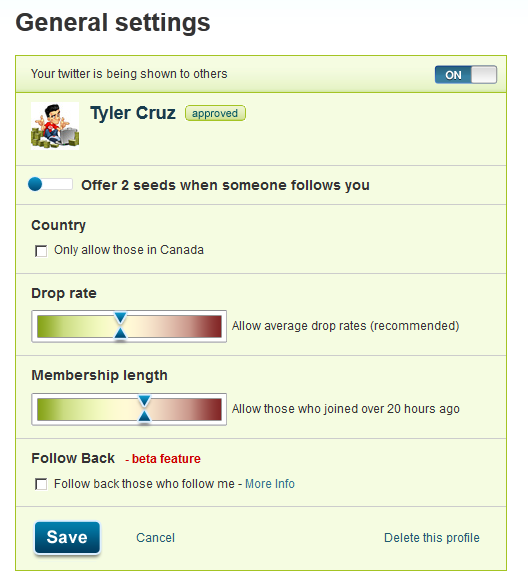 By default, these are set to the very highest which can lead to very high unfollow rates.
If you want to have an even better retention rate you can adjust the knobs further to the left as desired, but keep in mind that you will gain new followers at a much slower rate.
You can freely increase the "Offer 2 seeds when someone follows you" rate to whatever you wish – as this shouldn't affect your retention rate. It will simply drain your seed balance much faster, but will gain you new followers dramatically faster as well.
I personally offer 2 seeds because it's the best value (the lowest you can go), and I'm happy with my new follower rate.
What Twiends is Not
It should be noted that Twiends does not sell, let alone guarantee, new followers.
Instead, they sell seeds, which is a form of currency that is used to get your Twitter profile shown to other Twitter users, and award those users with seeds if they follow you.
Basically, you are purchasing a form of advertising.
Twiends clearly states on their website the following:
At Twiends we don't sell followers, we sell promotion, and we make no claim to automatically add followers to your profile. We're simply a directory where people can find and check out others by interests and country. Please be very cautious of any other websites that try and sell you followers.
So it is up to you to make sure your retention rate is good, and that you're receiving new followers at a decent rate. You are purchasing seeds, not followers.
That being said, the whole process is incredibly easy and once you're set up and have seeds in your account, you really just sit back and watch the new followers come in.
So You Have 25,000+ Followers – Now What?
Some of your have left comments or tweets asking what the value is in having so many Twitter followers.
I was going to address those questions and concerns in this post, but it has already become quite lengthy so I will include them in an upcoming post (either the next one or the one thereafter).
In it I will include some Twiends tips, how I monetize my Twitter account, disclose the traffic received from Twitter, among other influences my gained Twitter followers have had.
Follow me on Twitter
If you haven't already, be sure to follow me on Twitter (@tylercruzdotcom)

I'm actually quite active on Twitter these days, and usually share a lot of stuff that I don't post on my blog.